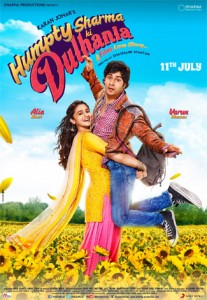 Now this is what you call a rom-com! Frothy, saucy, and having just the right emotional base. Dilwale Dulhania Le Jayenge got it best two decades ago. Lots of films since then have followed the same template. So much so that it has become quite tiresome now. Humpty Sharma Ki Dulhania is also an unapologetic tribute to the evergreen classic and thankfully, one that appears fresh despite having the age-old plot.
Kavya (Alia Bhatt) meets Humpty (Varun Dhawan) when she goes to Delhi from Ambala for her wedding shopping. She is a self-professed 'patakha' and he a sweet rogue. The expected follows, but she has to return home and get married to the NRI that her father has chosen for her. In true Raj-style Humpty follows her to win over his Simran's family.

Despite a predictable plot, debutant director Shashank Khaitan creates a fun ride which ensures that the smile never leaves your face. The first half especially is a breeze with a lot of cute moments and some hilarious one-liners. Alia and Varun share a warm camaraderie and their falling in love seems quite natural (unlike a lot of recent rom-coms). Post-interval the film goes into the DDLJ territory. Fortunately, the narrative stays perky though Khaitan doesn't seem as comfortable with romance as he does with comedy. He also bungles up with the music. Except for old hits 'Saturday Saturday' and 'Samjhaawan', the rest of the songs are mediocre and their picturisation too is lacklustre.

A love story relies a lot on its lead pair and both Alia and Varun come out with flying colours. Alia is just getting better with each film. Her luminous presence overshadowed Arjun Kapoor in 2 States and here too it is difficult to look at anybody else when she is on screen. Varun too is spontaneous and endearing as the goofy Humpty. After Main Tera Hero, this is another confident performance from him. Ashutosh Rana plays Alia's stern father with panache. Makes you wonder why we don't see more of his talented actor on the big screen. Siddharth Shukla makes decent eye candy. A special mention must be made of Gaurav Pandey and Sahil Vaid who are excellent as Varun's loyal friends
Good writing and good performances can bring alive even the most jaded of plots. Watch Humpty Sharma Ki Dulhania without expecting any novelty in terms of storyline. You may just go 'awww' at a few places!