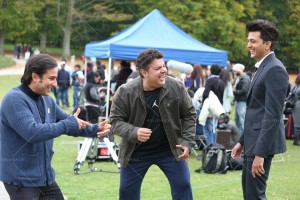 Judging by the response the theatrical trailer of Sajid Khan's upcoming family entertainer Humshakals has received, it seems the film is all set to deliver the fourth comic blockbuster from Sajid Khan. Sajid has been inundated by numerous calls from various laughter clubs from across the country as well as various stand-up comic gigs to screen his upcoming film.
"I am so thankful to the laughter clubs who have mailed and called me in the past few days. This also reinforces the fact that the comedy element has been well appreciated, I would love to show my film to the clubs that have approached me but blame it all on the final copy which will be out only on 16th June," says an elated Sajid.
People have especially been praising the triple role element of the film, which shows various flavors of comedy by the three actors Saif, Riteish and Ram Kapoor. "I am dying to see the film after my grandson showed me the theatrical which had Saif imitating a Gujarati, I am pretty hopeful that the film will give me my quota of laughter that I get everyday at six in the morning at Nana Nani Park," says Dharmesh Patel, 66, resident of Versova, Mumbai.
In Humshakals, it's leading men bring a combination of different forms of humor – whacky, dead pan and over the top. Together, they mutually compliment each other, and create hilarious moments on screen. Laughter clubs have sought to replicate such laugh a minute acts and have consulted Sajid on creating such entertaining chaos in a single story.
The film will also showcase the mimicry prowess of Saif and Riteish as together they have imitated Dilip Kumar, Amitabh Bachchan, Shatrughan Sinha, Pran and Rajendra Nath in the film. The film will also witness Saif Ali Khan imitating his own father-in-law Randhir Kapoor for the first time.
Humshakals is also creating waves on music charts and radio stations, with two of it's numbers 'Caller Tune' and 'Piya Ka Bazaar' rocking popularity charts.
Humshakals releases on 20th June, 2014.