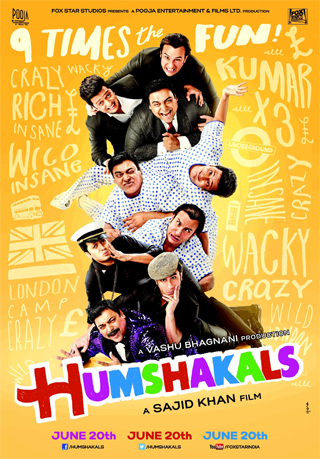 Humshakals is an upcoming comedy starring Saif Ali Khan, Riteish Deshmukh and Ram Kapoor in triple roles. Directed by Sajid Khan, who is famous for films like Housefull and Himmatwala, Humshakals is scheduled to release in cinemas on 20 June 2014. The film also stars Tamannaah Bhatia, Esha Gupta and Bipasha Basu in the female roles in what promises to be a laugh out loud, fall to the edge of your seat comedy. The music to the film has been composed by Himesh Reshammiya, who has composed albums like Son of Sardaar and most recently The Xpose. Lyrics have been penned by Mayur Puri, Sameer and Shabbir Ahmed. So does the music to Humshakals contain anything great that is worth listening to? Read on to find out!
First up we have Caller Tune sung by the lovely Neeti Mohan and Neeraj Shridhar. The song was just weird throughout and it felt like I was listening to a failed Bollywood version of an Ibiza club theme. Though the singers worked their best with what was presented to them, it just didn't have that catch to it in order for me to fully appreciate it. Try it yourselves and see whether or not you agree with me.
Next we have Piya Ke Bazaar which has been performed by Himesh Reshammiya, Shalmali Kholgade and Palak Muchhal. There are a range of instruments which you can hear such as the trumpet and dhol drum, which enhances the volume of this particular track. Like 'Caller Tune,' this one just did not have an effect on me and is sadly lacking in flavour. I can say this with confidence as my mind was drifting off as I was listening to it.
Following this is Just Look into My Eyes by Ash King and Neeti Mohan. I liked some of the drum and bass elements with this song, which gives it that up-tempo feel to it. In addition, the vocal performances are also nice and have been delivered with great effort by Ash and Neeti. Yet for me it's an average track overall (though by no means as tedious as the previous two tracks).
Barbaad Raat is next and has been performed by Sanam Puri and Shalmali Kholgade. Unfortunately, the song was bland throughout and this is largely due to the composition which is weak in terms of quality. There's nothing memorable about it and hence I recommend that you give it a miss!
Next is Hum Pagal Nahin Hai by Himesh Reshammiya. This one was just weird to listen to, though I can understand why it's been produced in such a way due to the theme of the film. However, it was boring and inane and I don't think I will bother to listen to it ever again.
Finally to close the album we have Khol Ke Dil Ki Khiladi sung by Mika Singh and Palak Muchhal. This one was to some extent decent in some places, yet just like the song 'Just Look into My Eyes,' it's average in general and there is nothing special about it. Yet having said this, I think some praise is due to Mika and Palak who deliver great vocals to a composition which is very mediocre.
To sum up, I was very disappointed with the soundtrack to Humshakals. Sadly, Himesh just did not manage to give us any great tunes with this particular album and I was expecting better given the publicity surrounding this film. It was tedious, silly and forgetful and I only wish that it was the opposite. Hopefully the film will be far more enjoyable when it releases on 20 June!