Starring Om Puri, Helen Mirren, Manish Dayal, Charlotte le Bon
Directed by Lasse Hallstrom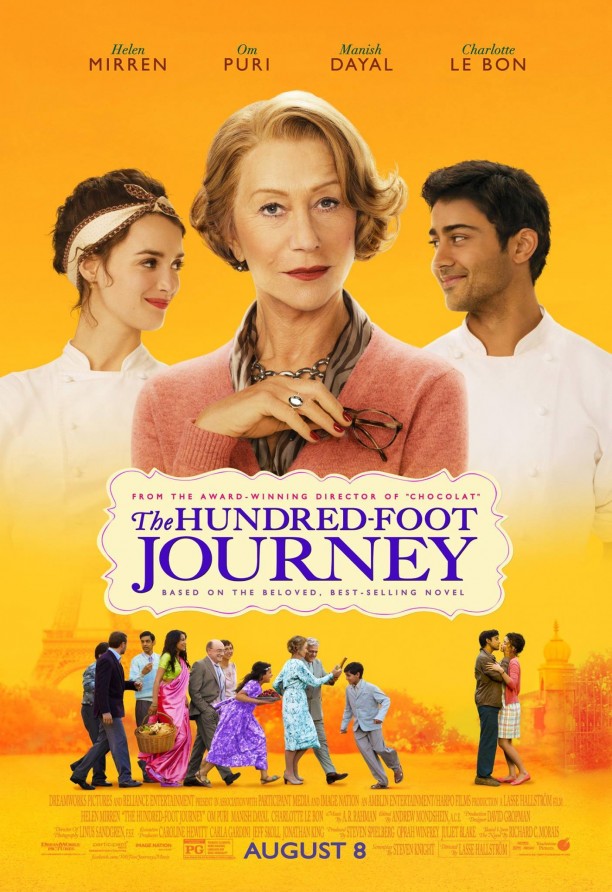 "Food is memory," says the doll-like vision of a woman named Charlotte le Bon to our young hero Hasaan, played with a striking sensitivity by the little-known Manish Dayal (where were you hiding, young man?)
If food is indeed memory then this film about food, love, loyalty and ambition would serve us well in the years to come.
I would certainly count The Hundred-Foot Journey among the most visually and emotionally rich films I've seen in recent times. Dwelling on the compelling culture of culinary confrontation this finely written and robustly performed film immediately transports us into a world where the taste buds simmer in provocative possibilities opened up in the kitchen and transported to a world beyond the physical.
Director Lasse Hallstrom (The Cider House Rules, Chocolat) excels in creating drama in quaint picture-postcard  locales. The Hundred-Foot Journey is shot like a hypnotic dream. Every frame is done up in the tingling palate of a chef d'oeuvre, replete with the spicy aroma of Indian curries wafting in from across the street with insistent invidiousness.
That, in a nutshell, is the mood of the film. You can't escape the scents and aromas of the kitchen as two restaurateurs, so unlike each other they are bound to bond,  declare war in the food space.
And yet, in describing the film through aggressive imagery, I do it grave disservice. The Hundred-Foot Journey is soft supple sensuous stroll through a world created in vivid colours. The narrative, as it makes us familiar with the world of Om Puri's family and Helen Mirren's loneliness and defiance from across the street, is a reposeful and resourceful repertoire of handsomely packaged scenes, each meant to provide and revel in a visual and emotional resplendence.
The film opens in Mumbai where Om Puri's Muslim family loses much in a riot. The theme of displacement hovers darkly at the edges of this beautifully laid-out feast of food and romance, never colouring the bright shades that run through the narrative in cascading pleasurable motions.
Helming the narrative, holding together the family's fortunes and to a  large extent the destiny of this epic culinary pilgrimage, is Om Puri. No stranger to playing Muslim patriarchs in foreign lands Om's Hassan Kadam in this film is far more fun-loving, romantic and playful than the stern bigoted father in My Son The Fanatic. This is Om's warmest performance in years. He imbues his character of the chef trying to keep his family and family business together, with rare warmth as he surrenders to its inner life.
Helen Mirren as the snooty rival in the food business is nearly flawless. However her moral reformation is a little too sudden and mawkish. She is far more engaging in the earlier parts of the film when she is wickedly competitive.
The film, in fact, gets darker and richer with every episode. Towards the end we get an extremely clever twist to young Hassan's culinary aspirations which are removed so far away from their roots that the art of cooking is transformed into a science. Hassan's aspirational climb from a French village to Paris is done in a hurried pace.
There is a wonderfully warm moment of shared camaraderie over a home-cooked Indian meal in Paris where Manish Dayal's performance peaks and brims over with enormous wisdom. Here's an artiste who knows the true art of cooking and acting is in holding back rather than giving all. Dayal is the prized Indian find from abroad. His expressive eyes lend a haunting mischief to his chef's character. He is solemn yet frivolous.
Dayal's romance with the doll-like Charlotte le Bon is the stuff fairytales are made of .And the strain that creeps into the romance between these two very goodlooking people is just so uncalled for, you wonder if the script was looking for reasons to force unhappiness into the lovers' idyllic world.
Don't look for blemishes in the immaculate frames of this film. An intangible inner and outward beauty defines the landscape of The Hundred-Foot Journey. Seldom in recent times has a film looked and felt so harmonious in form and content. Honeyed and yet hefty this is a cross-cultural love story which looks as good as it feels.
Here is a film that is not apologetic about its obsession with aesthetics. If in cooking presentation is paramount then so be it in movie-making too.
This film celebrates the art of looking good.