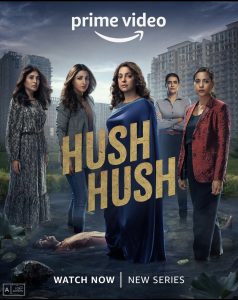 Hush Hush (Amazon Prime Video, 7 Episodes)
Starring Juhi Chawla, Soha Ali Khan, Kritika Kamra, Shahana Goswami, Karishma Tanna
Created and Directed by Tanuja Chandra
This is a very good looking police procedural with some beautiful actresses getting together to play bestfriends for life, and in one case, in death.
What keeps one glued right till the end is the question: where is this going? More importantly, the principal actresses have the looks and sometimes the skills , though not always, to make us partially involved.
Spoiler Alert: Juhi Chawla, looking like an older version of Sanya Malhotra, in a classic case of a monstrous miscast plays Ishi Sangmitra , a high-flying wheelerdealer who gets savagely slayed in the first episode…or is it the second? It becomes a little tough to keep track when the narrative moves forward and back without warning.
What is as clear as daylight (ironical, that, since most of the series is shot during well-lit night-time activities) is that Ishi is up to no good and a lot of the characters feel she had it coming. In one drawing room interrogation a powerful industrialist actually laughs in cop Tehlan(Karishma Tanna)'s face and says, "God is looking…God is great." The look of disgust that Tanna gives this tactless gloater made my day, although I must confess at seven episodes , each of almost one hour's length, this series could do with a sizeable amount of pruning.
Soha Ali Khan's Saiba is a bit of a tantrum-thrower and largely devoted to only herself although there is a caring husband and two lovely children in her.
Shahana Goswami is as usual the stand-out among the five principal actresses. Shahana's Zaira is a star-dress designer dealing with the bipolar moodiness of a co-worker which I found to be of no relevance to the plot.
Kritika Kamra as Dolly is the second most enlivening protagonist. Dolly is sick and tired of her mother-in-law's demands for a baby. She has quit her marriage, though her husband is not an a..hole at all.
My favourite moment in the series features Kamra's Dolly and Saiba's little boy at a vending machine at the hospital where after a near-fatal assault on the boy's father,the boy asks Dolly if his father would die and become a star in the sky.
"Aise thode na star bann jata hai koi," Dolly replies with a distant look in her eyes, almost as if the pretty actress was looking at her own struggle .
It is interesting to see the husbands being painted in believable strokes of empathy in this chic chick flick. In spite of women taking centrestage the spouses are sketched with care and they have a role to play in the plot.
The problem here is one of pacing. The narration at times slackens and needs a good shake by the shoulder. I still don't know what exactly Ayesha Jhulka, with a fake Bengali accent, is doing in the plot. Or how the plot hurled from being about girl bonding to child trafficking.
But if you stay put till the end, Hush Hush is a rewarding experience.