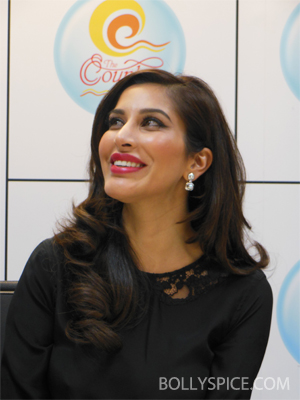 Bollywood diva and singer Sophie Choudry flew into London last week to launch The Country Club (http://www.countryclubindia.net) in the UK. The Hungama singer was the guest of honour at the launch which took place in Brentford, west-London .
Speaking to the media at the launch, Sophie said, "I have had a wonderful association with The Country Club over the past few years. A few years ago, I was asked to perform at The Country Club in India and it was the most amazing experience to see that kind of community spirit. My first show was in Bangalore and the second one was in Dubai. 18,000 people came to see me perform in Hyderabad this year. The most special thing about The Country Club is that, it's all about family."
"I am really excited to welcome them here in the UK and I hope they build the most fantastic centres here. It is important to stay in touch with your roots and being a British Asian I know what that means," added Choudry.
In an interview with BollySpice reporter Sunny Malik, Sophie spoke about The Country Club, her music, working with Preity Zinta and much more.
Welcome back to London.
Thank you. I come to London pretty often but for personal visits. It's nice to be here for something very different, the launch of The Country Club in the UK. It's their first step into the market. It's a company I have had an association with, mainly for events, for some time. It's a family run business, which has become really successful. They believe in the community spirit and entertaining their guests. It's nice to be asked to be here for the launch and it's always nice to be back in my hometown.
You did a few events with The Country Club.
Yes, I did events with them in Bangalore, Calcutta, Hyderabad and Dubai.
Now with the UK launch, will we see you perform here soon?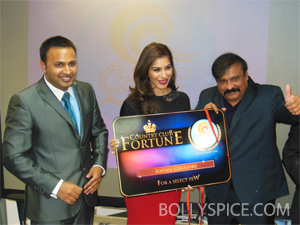 Actually, Mr. Reddy, the owner of The Country Club, did speak to me about doing shows in London. Now that they have made their first step here, it will be something that they will work towards. It has been a long time since I performed here and I would love to do that again.
You released your single Hungama last year.
Yes, it was released as a digital single. The idea is for people to buy the single online. It's available on iTunes, Amazon and other online music stores.
It's been some time since we have seen you in films.
It had been a while since I signed something but I started shooting for a film at the end of the last year, which will release this year in August. I have not even told the Indian media which film it is. It's a huge project which I am happy to be part of. I am with a director I love, which is exciting. There is another one starting soon. I am definitely doing some movies and will definitely carry on with my music too. Last year was really exciting because of Hungama and because I did my first playback song for Preity Zinta's Ishqk in Paris. It's called It's all about Tonight.
How difficult was it for you to write the lyrics for It's all about Tonight?
Considering that I only had thirty minutes to do it, it was very hard. Actually, Preity called me and said that she wanted to meet me for a song because I know French. We met up the next day at the recording studio and Sajid-Wajid (composer duo) loved my ideas but asked me to write a couple of verses in French as well. I sat down on the steps and quickly wrote the French lyrics. They loved it and it made complete sense in the context of the song. I speak fluent French but writing a song is very different. It was an experience but worked out pretty well. When Preity was shooting the song, she invited me to the studio because she wanted to lip-sync it perfectly. Preity wrote down the French lyrics in Hindi and then she practiced them. She is one of my favourite actors and it was nice to see her lip-syncing my voice.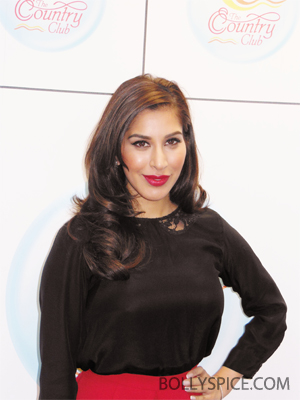 What inspires you to work hard at all times?
I am a bit of a perfectionist. I am never satisfied and always want to do better. I spent a lot of my time doing live shows, which UK audiences don't see. I travel a lot for live shows and it's something I love doing. It takes a toll because it's a two-hour live show where I have to sing and dance live with high energy. I think, anybody who wakes up loving what they do, will work hard. It's not just me. Bebo works hard, Priyanka does and everybody else because they love it. I think, you are blessed to do what you love.
You were a Bollywood fan while growing up in London and started your career here. Then you moved to Mumbai to pursue a career in Bollywood. How has the journey been?
I am the kind of person who always feels that I have not done anything. In the time that I have spent in Mumbai, I have seen so many girls come and go, just disappear. It makes you realise what a tough business it is. I think, I was really ahead of my time. I was multitasking and doing everything; DJing, acting, singing, hosting and performing. Some people could not digest that. When I first moved to Mumbai, people asked me what I am because I did so many things. Today, I look at people like Farhan (Akhtar) who does everything. Ayushman (Khuranna), whom I have judged in a talent round and Karan Johar, who now hosts more than me. This is multitasking and this is what I was doing years ago. It was too early for people. The journey has been amazing. To be accepted, appreciated and known is an amazing thing. It is really funny, I was a Bollywood fan and I never used to go to school until I watched a Salman Khan song video. It's just a great feeling to know them all so well now. I performed with Salman in Dubai in December. These are amazing moments for me. It is amazing when people like Sridevi and Rekhaji know you. They are iconic people to me and I have grown up knowing them.
You are the only British Asian woman who has made it out there in Bollywood. What is your message for the UK people who want to pursue a career in Bollywood?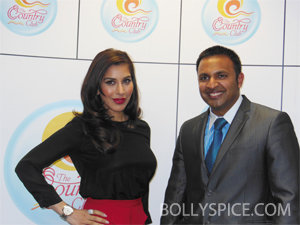 Let's just say, it's not a joyride and is incredibly hard work. You need the hard work and focus. A lot of people think, because of some, that you don't need to speak the language. It is not true because you need to speak the language. It happened to one Katrina Kaif, from the millions of girls who try. Katrina was on her way back to London because she was struggling. Then things started to happen for her. Some people take short cuts and some people don't. Even if you take shortcuts, there is no guarantee that you will make it. It is a really tough business. If you really want to do it, work really hard and give it a shot. Don't expect things to happen overnight.
Priyanka Chopra has also now become a recording artist. Do you think that her releasing her music will open doors for pop music in India again?
The pop music industry has died in India. People say that it is coming back but I don't know. Priyanka is doing it on an international scale, where it's really at. I wish her all the best and hope it does really well and opens doors for everybody. I always believed in Hindi pop and hope it does make a huge comeback. Everything is too Bollywood centric now. I don't know if it will go back to the days of Alisha Chinai and Daler Mehdi. Hungama has done really well. Everyone from Ranbir Kapoor to Raju Hirani told me that they have seen it and loved it. It was made just in two days and has higher standards than many Bollywood song videos.
Photos: Sunny Malik