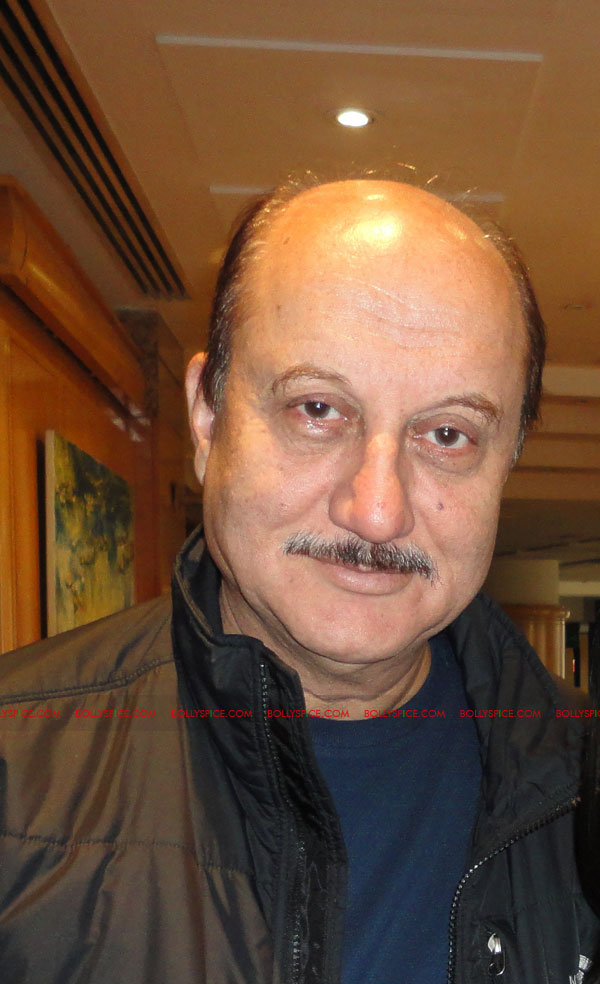 On Anupam Kher's most recent trip to London, BollySpice reporter Sunny Malik caught up with the actor in the city to discuss films, social networking and his acting school with him.
Kher has been part of the Indian Film Industry since 1982. The 57-year-old actor has acted in about 450 films, directed one and produced a couple. He is also one of the actors who have been predominantly cast in Hollywood films such as Bend it like Beckham, Bride and Prejudice and will also be seen in The Silver Linings Playbook next year which also stars Robert De Nero.
Anupam Sir as I fondly call him, calls himself a human psychologist as he understands people due to his vast experience in life. He certainly understood me and gave me advice and also taught me a few things during our two meetings in the British capital.
Talking about teaching, Anupam Kher also runs his own acting school, Actor Prepares and has taught the likes of Deepika Padukone and Abhishek Bachchan.
He has also recently written a book called "The Best thing about you is YOU!", which has become quite popular as it can indeed change the life of an individual and the perspective of how one looks at various things.
The actor also talked about his relationship with India's premier studio Yash Raj Films and about working in Yash Chopra's next untitled directorial.
How does it feel to be back here in London?
London is one of my most favourite places outside India. I like the feel of the city, especially in the summer when it's not cold. I don't like the concept of it getting dark at 4 pm, for me the day is when there is daylight. It's a nice feeling. The city is vibrant, multicultural, good food, a lot of restaurants, theaters, lots of things happen here like shootings. So, it is a nice feeling.
How is it to shoot here again after Desi Boyz which you shot here last year? There are many fans in the UK. Do you get mobbed a lot?
Well, these days, Indian movies are so popular not only in Britain but also in countries like Morocco, Malaysia and even Germany. It's a nice feeling.
You have worked with Yash ji for many years now. Do you think he has changed at all?
He has not changed at all, from the time I did Chandni with him till now. His passion is infectious. He is amazing.
Do you like playing the role of the father? Even in recent films like Desi Boyz, there was a lot of appreciation of your acting.
You see, there are two kinds of things I like. I like meaty, proper roles like A Wednesday or Khosla Ka Ghosla and then there are films that I do for emotional reasons. Desi Boyz was David Dahwan's son's first film and I did it. But I don't treat them as a father's or uncle's role, I treat it as a role. If it happens to be a role of a protagonist, then I bring in my own warmth and speciality to it. That's it.
You have been affiliated with Yash Raj Films since 1988.
Yes.
A lot of people were surprised when Adi ( Aditya Chopra) did not cast you in Rab Ne Bana Di Jodi and you said that 'you miss working with them' but added that you are waiting for the right role.
Yes, but I think, they also need to miss working with me, because then it will make more sense. I worked in Adi's first film Mohabbatein. But I think, Adi is an independent thinker and he also says that if there is something substantial for me to give you, then I will give it to you. But it does not matter as I do a lot of other work.
Were you excited when they came to you with this film?
I am excited to be part of a Yash Raj Film. It's nice to work on a film with Yashji. Yashji has always repeated me in his films and I don't think he makes films without me. But apart from that, it has to be mutual.
You are very active on Twitter. How do you handle abuse on a social platform? Many younger celebrities and actors left the site after too many abusive messages.
I am not a quitter. I don't quit in life. You can't only expect bouquets but yes, sometimes people are nasty because they want attention. If you understand that, then you are not bothered about it. If somebody says something nasty and he is right, then you need to change whatever it is. If he is not right, then it does not matter. I am also very active in responding to my followers. I give them something back. I think that Twitter is a great medium and not only for interacting with your fans and followers and I don't necessarily call them followers, which is the technical term, as for me they are friends and fans. They keep you alive and for me it is very important for me to keep in touch with the present scenario of how the younger generation thinks. When I know their point of view, I can market myself very well. My book became a big hit also because of Twitter. Today's generation is very straightforward, they may come across as irreverent but they are more real than my generation because we had post-independence blues. They are born in free India. They have a mind of their own and are straight forward. I don't hide my feelings on Twitter and am straighter than usual. I have about 6 lakh followers and it's not because I am Hrithik Roshan or Shahid Kapoor. People follow them for who they are. If I have accumulated this amount, then I would like to say that they relate to me. I am also an agony uncle sometimes. I am a people's person. I relate to people and remember if someone has said something to me. Besides that, when there is an opinion to be made about what is happening in the country or day to day life, I do tweet that. The point is that you can't be on a social network and just want to be popular. You have to stick your neck out. You have to be original. You can't play safe because in today's time, people gauge you in seconds. They gauge the fakeness of yours. I have got a lot of love from my followers on Twitter and I get a lot of respect from them. I am one of the very few celebrities who gets maybe just once a month a message from someone who likes me so much, that he writes something nasty.
Recently a critic rated a film you worked on with zero stars. You reacted on Twitter. Does that mean it matters to you?
It does not matter to me. But I did not want him to get away with it. Just because he has a column and a position in the industry, he did it and it showed his arrogance more than anything else. I am not saying that the film does not deserve zero. But there are a lot of things that go into a film and just the fact that someone has put things together and a lot of jobs have been given to people, it shows their passion for cinema. Bad, good or ugly is something that is part of the job. That is fine. A critic has a job and I don't mind it. But to give zero to a film, I just felt that he was just proving a point to himself of how important he is that he can do that. Tomorrow if he does not have his job, he does not have the power. Today he is representing a TV channel, he has a power but it is not because of him as an individual. I don't care anyway what critics say. I have done enough work and I can relax about it. It's also important to sometimes react to criticism because I did not feel like ignoring it.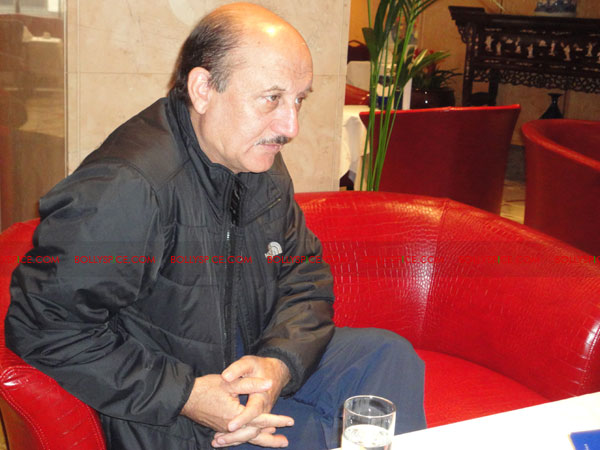 What do you enjoy doing more, serious roles or comedy?
You see, when you have done about 450 films, then you are too seasoned and of course, good work is good work. I am doing a film with A Wednesday director called Special Chabbis with Akshay Kumar. It's a brilliant film and if you loved A Wednesday, you will be very happy with this film. There is no single actor in the world, today, in the past or in the future who has only done great work. To me life is 90% monotony and 10% to excel and the journey is also much more important than the destination. I love going out, putting on make-up and doing things. It includes doing ridiculous things, atrocious and brilliant things. But at the end of it, if you take the average out, I will be fairly considered a fairly good actor. I don't take myself so seriously and people might tell me that you did bad work, but I loved it. I enjoyed it and cinema is about, if you enjoy what you are doing then the people will enjoy it. I don't see it from my point of view. I see it from my heart. I am not a person of mind. Otherwise, you would have taken a lot of time to take an appointment with me. It's as simple as that.
Your acting school is quite popular all over the world, even in London. Do you think it's important to have an education about acting because you studied Drama yourself?
Absolutely, you see, you can't become a doctor without an education about it. It's a myth only in India that just because your father is a producer or because he has a lot of money he will produce a film with his son. Things have changed now. You can't not be a trained actor and still be successful. That's important and my acting school is giving some kind of professionalism to the coming generation.
Will you be opening more branches worldwide now?
I have actually closed down my school in London. I have to be in charge of the school. That's why the Mumbai School is, touchwood, doing very well. It has to be on person's passion and I know my job. I am not a retired actor who has now opened an acting school because he has nothing else to do. I am an actor who is working all over the world. I don't want the younger generation to make me feel a "has been" in my school. That will never happen. I will always be one step ahead of them. Just because they are young and happening does not make me old and not happening. That's how I get to learn a lot from them. You have to beat them at their own game. When I teach them, I learn a lot from them. However, there is a possibility that we will have branches in Singapore and Sri Lanka. Also in London, I am looking for an independent possibility of opening a school but not with an association.