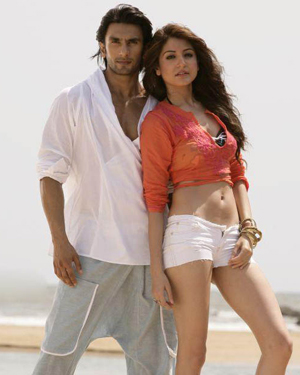 Ladies vs. Ricky Bahl is all set for release in just a few days. The promotions and music, which we're sure you will have spotted and heard, are making audiences heavily anticipate the movie. Bringing together those who were a part of Band Baaja Baaraat, the movie doesn't come across as your typical Bollywood cinematic experience.
Ranveer Singh, for whom the movie will be a second offering, is all set to wow the audiences – particularly the ladies – with a range of avatars in the protagonist role as a con artist. BollySpice catches up with the star on the eve of the movie's release. Read on to find out about his experiences whilst working on Ladies vs. Ricky Bahl.
Q. How would you describe your journey from Band Baaja Baaraat until now?
When Band Baaja Baaraat released, it was like it all happened overnight. It was as if within a week there was such a tremendous change from what I was on Thursday and then the following Thursday my life was completely different. The papers and news channels were reporting constantly about Band Baaja Baaraat being a hit film. They were saying that I was making my debut and suddenly I was in the limelight; suddenly my life went from zero to a hundred. Everything was happening so fast! At the same time, Aditya Chopra came to me with the script for Ladies vs. Ricky Bahl and I was so excited. I couldn't have asked for a more ideal second film. In Band Baaja Baaraat, I played a guy from Delhi, Bittoo Sharma and in the script Adi offered me, I had the scope to play such a different range of characters in one film. The character in Ladies vs Ricky Bahl is the most interesting and I had started salivating at the thought of developing this character. What a cool character to play! A guy who cons women for a living and takes on these various avatars and has fun doing it and gets a kick and a thrill out of it! Along with my kick and thrill, was an opportunity as an actor, to be developing these various characters and playing them so it was as if I could not ask for more meat in a second script!
Q. How did you prepare to enact so many different characters?
I started off on a page that was very different from what Maneesh Sir had envisioned. I thought of doing extreme characterization so that the Delhi guy would be so starkly different from the Mumbai guy and, in turn, he would be so starkly different from the Lucknow guy and so on. I wanted to play all the characters so that they all looked like separate entities when on screen, but Maneesh sir explained to me that that's not the way to do it. Ultimately, I was playing Ricky Bahl and he wouldn't be interested in that kind of characterization. He helped me understand that it's still one character so there has to be a difference but that there should be a common thread so that one knows that it
is the same guy. You see, it can't be so stark because it's also caricaturist and unrealistic. So very quickly I had to get on Maneesh Sir's line of thinking and build the characters a layer at a time. I had a starting point; a base that is Ricky Bahl. I would think that Ricky is in Delhi and who would he be conning and how would he be conning them. I had to put myself in each scenario and think along those lines with the way he should talk, what he should be wearing, how he should be walking and so on. Then I would go along the same process again for Ricky in Mumbai. I had to keep in mind that this is just one guy.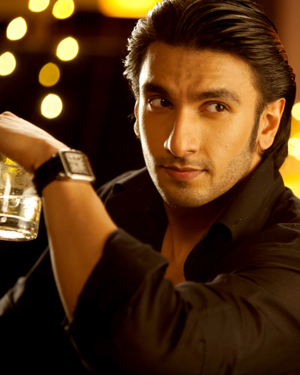 Q. Did you go through a process of readings and workshops?
Working with Atul Mongia (Acting Workshop Director) was an absolute pleasure. He has such an insight into human beings and he is so fantastic with actors, in particular. The exercises that he taught me, I've had some training in acting
but he taught me certain exercises which helped me so much. He helped me a tremendous amount in developing each character. It's not been easy. We would spend a certain number of days on one character and then move on to the next and then the next and, at all times, bearing in mind that they are all the same guy and he's donning these various avatars. It was a very fine thing we were trying to achieve and working with him and the co-actors helped me a lot.
When I was doing the workshop with Parineeti, there were different things to feed off of Parineeti's energy to become Sunny. There were different things I fed off from Dipannita's energy to become Dev. There were also different things when I was working with Aditi. One also knows somehow that one take cues from one's co-actor and it was the same working with Anushka as well. It was the first time I had done an acting workshop so intensely for a film. In Band Baaja Baaraat I was very much developing Bittoo on my own but in Ladies vs Ricky Bahl, a lot of the preparation was with the co-actors. Sometimes I go come to the table with certain things which Atul Mongia wouldn't be at all happy with. He would say no and then we would try something completely new. We had such a great time developing these characters. My tendency was to always go over and Atul Sir had to kind of calm me down and say you don't have to go into such extremes of characterisation.
Q. What was it like working with the three ladies: Parineeti, Aditi, Dipannita?
Well, this movie is where Parineeti makes her debut. I had done my first film not so long ago and I know by default the amount of energy and passion that you approach your first character with. She, as a person, is so bubbly, so vivacious
and so high on energy that it is infectious. So, when she came to the workshops, it was just explosive. She was so good just as her character too. I think all the 3 ladies plus Anushka were all so great and distinct in their characters that it helped me. I latch onto Parineeti's energy and make something out of that, that's distinct from the dynamics that I share with Dipannita and that is distinctly different from the rapport that I share with Aditi. Dipannita's character is very stern and very stoic. So after doing the workshop with Parineeti it was a very drastic change to be doing it with Dipannita. Here you have this loud, animated, bubbly, vivacious Parineeti and then suddenly you're thrust into a workshop and you are with somebody so cool, so calm and so collected. It was great and it was a very fun exercise as an actor to be doing such different things at the same time. Then of course to change that completely and to have a very sweet exchange and interaction with Aditi who brought with her a lot of sharafat, a lot of adab because she plays a small town girl. I had to be that small town guy with her and for her. The workshops were one of the most fun parts of this whole process.
Q. What was it like working with director Maneesh Sharma in Band Baaja Baaraat and then in Ladies vs Ricky Bahl?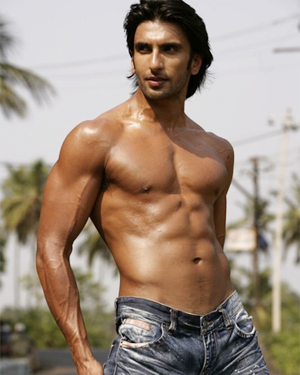 Band Baaja Baaraat was Maneesh's baby. He knew it like at the back of his hand. With Ladies vs Ricky Bahl he was exploring a territory, a story that he had not developed. The screenplay was Devikaji's and Habib Sir has written the dialogues. So, in affect, Maneesh sir was directing that which hadn't originated from his own self. To see him exploring the possibilities of characters, of storytelling styles was like pulling Maneesh Sharma out of his comfort zone and making him tell a story that is so different to what he had done before. It was exciting to see him function and to see what his take on the story was.
One thing I learned about Maneesh Sir is that he's so good with India. His films are such a great and accurate reflection of the country. You get such a true flavor of India whenever he makes a film. It was the same case in the Delhi-ness of Band Baaja Baaraat. In Ladies vs Ricky Bahl, when he directed the Delhi portion, although on his home territory, he was absolutely immaculate and then when he came to Mumbai to tell the story, he's managed to portray the corporate glass shielded world of Mumbai so bang on. He is such a rooted director and he knows the country and the culture so well. It comes through so beautifully in his films and it's something that was very, very exciting to see. What sets him apart is how particular he is about the authenticity of Delhi. His mentality is that Delhi should have that authentic Delhiness and Mumbai should have that authentic Mumbainess and it should be distinct from Lucknow. The flavours and the indigenous cultural nuances should be perfect. He is very particular and he'll bring it out in characterization and he'll also bring it out in dialogues. Additionally, he will make sure it's incorporated in the shooting style. He'll make sure that it is considered when formulating the dialogues, when formulating the characters and the look of the characters, the spaces in which the story will be shot. This makes his style very true to the story's rawness.
Q. This is, of course, your second film with Anushka Sharma. What has it been like working with her again?
It's funny you should ask that. Maneesh Sir says "If you and Anushka have to simply stand in a frame right next to each other, there will be chemistry." I don't know what it is with Anushka but I hope I never find out because, whatever it is, it's doing wonders. She is just a fabulous, fabulous actor. What I love and admire most about Anushka is that she is an actor who is not trained and what that does is she is not tarnished by somebody else's idea of what acting should be. Her approach is entirely natural and original. She is very spontaneous and I think when she is in the scene, another actor's performance is enhanced. There are so many things she taught me during the filming of Band Baaja Baaraat and during the filming of Ladies vs Ricky Bahl. She would say things like "Ranveer, in this scene, you must look deep into my eyes and then see what kind of magic comes out." She is just so professional that it's admirable. I learnt a lot from her and whenever I act with her it just makes my performance amazing. I don't know what is it between her and me that generates such movie magic type of chemistry but I'm happy and I'm very lucky I've found someone like her to work with in my first two films. She is just absolutely fabulous!
Q. Tell me something about the video Aadat Se Majboor?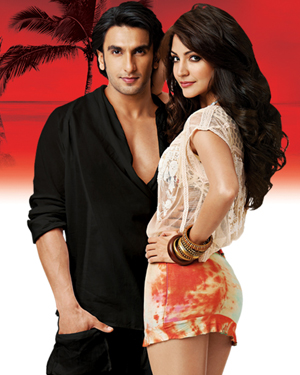 Aadat Se Majboor is a song where Ricky is singing about Ricky. It is Ricky's introduction song where you get to see what this guy is all about and what he does. It's a song in which we are establishing and setting up this guy – this con artist – who cons girls for a living, who's suave, who changes colors like a chameleon and who is so adept at doing it. He's the best con artist around and he's smooth as silk. I went on a talk show where I was asked about my most hidden talent and so I thought I'd write some rhymes and then I'll rap it out on some music. Maneesh Sir saw, liked it and asked me to pen a few words for the movie. At about 2am I got a message to write a rap about the film and to show it to Maneesh Sir. At about 3 in the afternoon the next day I went to the office and I did the rap in front of Sir and he was clapping because he was so happy about it. I also performed the rap in front of Adi Sir who also agreed that it should be a part of the song.
What I love about it is the phrase "aadat se majboor". It is a thought that came to Mr. Amitabh Bhattacharya and it is just a brilliant thought for a con artist who is telling the ladies "kya karoon oh ladies main hoon aadat se majboor" meaning this is what I do and I don't know anything better. It's branding it as a habit. Salim-Suleiman gave this theme to Ricky Bahl which is the driving force behind the melody in this song and the words and the lyrics are absolutely kickass. Whatever Amitabh has written is just amazing "har ek haseena ke bank account ke debit mein dikhna hai mujhe"; lines like this are so cool and then of course, I also wrote a rap.
The shooting of Aadat se Majboor was just absolutely fantastically choreographed by Vaibhavi ma'am. To shoot a montage like that in different spaces and different characters and thread it all together to make this kick-ass music video; it's just amazing. My most memorable experience was being in the studio with Salim Sir and Benny Dayal. When I first went into the studio, I saw Benny at work. I was just sitting there and just watching him. He is so amazing at what he does. The to and fro between him and Salim Sir; they were just going back and forth "aisa kar, aisa kar" and there were times when Salim Sir would leave Benny loose and Benny would just go for it and he was like "I like that…I like that… I'm gonna keep that". It was such an exciting creative process to see two such beautifully talented and creative people working in collaboration and totally in sync with each other. It is just something to observe. I was really privileged to be in the studio at the time that it was happening. It just so happened at that time I was called to do my rap as well and I went in and I started rapping. It was sounding a little monotonous so Benny stayed back after he had finished his bit to give me suggestions and so did Salim Sir. We'd done Tarkeebein from Band Baaja Baaraat together for which Salim Sir had given the music. Benny sang my first song on-screen so we were all just there to get it going. We all went into the studio; put our head phones on and sang Tarkeebein and it was great fun because there are parts of Tarkeebein which Salim Sir actually sang. It was one of the most fun things I've ever done.
I had never thought that I would be doing something like this so soon; rapping in a song from my film. It feels good when I see the soundtrack CD and it says rap by Ranveer Singh – I'm like kamaal hogaya! I felt alive in that studio and it is all thanks to Benny and Salim Sir as they were so supportive and so encouraging. I could see my shortcomings, because I'm not a recording artist but they pushed me and they really got the best work out of me. Of course I had written the lyrics and they were all about Ricky; all the things after having lived with the story and it was all about what I feel about Ricky. It was a lot of fun. And there were other parts that didn't make it (starts rapping) –
Tall dark handsome charming funny
Kabhi Dev, Iqbal toh kabhi Sunny
Sorry Girlfriend tu toh bani dummy
Tu fisli but I was only after your money.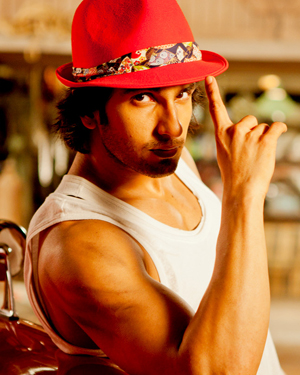 Then there was another part that didn't make it –
Number 29 was my baby girl Dimple
Yaar tere papa ko banana was so simple
Tez aayi meri Mumbaiwaali Raina
Yaad rakh main hoon Ricky jo kabhi haath aaye na
Saira ka toh mushkil kardiya maine jeena
Not a nice guy because I'm a bloody kameena!
Q. Tell me something about the dance-a-thon song, 'Fatal Attraction'?
Firstly the track itself we always knew would be an instrumental piece. 'Fatal attraction' appears at a very, very crucial point in the story and it's nothing like an item that it comes out of nowhere. It's a very integral part of the narrative at the point at which it does appear in the film. You don't have too many instrumental tracks these days so when the track came to me, although I wasn't really meant to, I made two of my very closest friends hear it and they loved it. Honestly I do think musically it is one of the most superior tracks of the album. It's got this amazing energy to it. It's like almost deep house-ish, and it's a party song you know. Ishika and me are going to a rave and this is the song that's playing in that rave. We were very excited about shooting the song and also very curious to see how it will be shot. When we arrived on the set we were completely blown away. T.P. Abid, the set director, had designed a fab set and it was just psychedelic madness. Neon colors, psychedelic structures, there were…trees, stages, canvases and everything had been splattered with you know Psychedelic imagery, the lighting that was added to it, it just created this…an atmosphere and I was telling the art directors that I would love to go to a party like this in real life with this type of decor. The dancers we had on set were from India's Got Talent, Vernon and Group. To watch these boys perform; we were totally awestruck. They work 6-7 hour days, just dancing, and we were amazed at the amount of work they put in and the passion they have.
Q. Let's talk about the song Thug Le.
It was very exciting to work with Shruti because it was her first song as a choreographer. Now I know, when you debut with something you know with how much energy and passion you tackle it. It was actually Maneesh sir who first told me when we met on the floor and he told me very matter-of-factly, "is mein thoda dancing hoga" (Ranveer laughs). What he was putting very lightly was the fact that this was the song that was very heavy on choreography, and Shruti ma'am did not make it easy for us! When I first saw Rachit, who trains me, performing the steps as per Shruti's instructions, I really didn't know how I would do the moves. Shruti ma'am would just tell me straight that I would be able to do them. She was very encouraging when you got the step right and to have her present at all times when I was learning was fantastic. I really enjoyed learning the steps, as tough as they were. Vaibhavi ma'am always told me that Thug Le would be a notch higher than anything I had done previously; be it Ainvayi Ainvayi, Dum Dum or even Jigar Ka Tukda. She told me I would have to push my limits and challenge myself to do this kind of choreography. This time, I had to learn the steps in blocks; I had to break it down into transitions and concentrate on each shift of body weight. I had to really work at it. However, seeing it on screen now makes me feel proud of all the hard work I put in It was a big learning curve for me.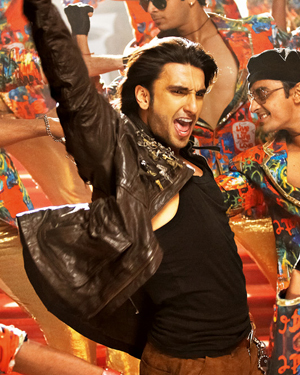 Q. Tell us some fun incidents from the Ladies vs Ricky Bahl shoot.
We didn't have any luck with vehicles in this film! Whether it was a scooter or a jet ski, people kept falling over. We fell off a scooter and Anushka and I also fell off a jet ski. The scene was that Anushka's character was riding on the
scooter and I'm sitting behind her. The road in question wasn't a smooth one and Anushka's character was a little pagal. She was riding faster and I was sitting behind a little scared that we might fall. So, it turns out that we ended up being very true to the scene and the rocks and mitti on the roads meant, in the third take, a rock came in the middle and we went flying. We both fell off the bike. My first instinct was to make sure she was alright and when I looked up at her, and she had a few injuries. It wasn't until much later that I realized I had hurt my calf too. The bike had toppled and the silencer had singed my calf. About 30 seconds later, I began to feel it. We were rushed to a nearby hospital for instant medical aid. It was just one of those unlucky encounters and I feel it's made us stronger
as actors. I still tease her saying it's her fault that we got hurt but it's not really.
It was just something unfortunate that took place. Now when we look back, we can laugh about it but at the time it was serious. It created some chaos on set as well "oh theek hai".
Of course, then there were the jet skis. When we were shooting, it was just so happening that the waves were very high and so it wasn't easy. There was a time when me and this lady were on the jet ski and we did about 14 takes. The waves
were just so massive that they were impossible to tackle. We literally ended up flying off the jet ski. Even when Anushka and I were on the jet ski, we were both terrified. I don't think I would've been that scared if I was doing the scene alone. It's ok though because when audiences see the scene, it still looks like we're having so much fun but, quite frankly, we were petrified.
It was good though. You always look back and have fond memories because you have been through something together. It brings the whole team a little closer together.
Q. Last words about Ladies vs Ricky Bahl…
Firstly I would like to thank our audiences for showing so much appreciation for our first venture Band Baaja Baaraat. In Ladies vs. Ricky Bahl, it's the same team coming to you once again, even the same editor. We are now trying to tell you a story which is vastly different and there are some fantastic additions to the team this time round. There is a brand new energy to this film which is worth witnessing for yourself. It's fast-paced, it's fun, it's entertaining, it's edgy, it's intriguing and engaging. I am thrilled about the story we are going to tell. So on December 9th, do go and watch Ladies vs Ricky Bahl!
Well, we couldn't have put it better ourselves. At this moment, although just one-film-old, Ranveer Singh is creating waves which are sure to have a ripple affect. We hope Ladies vs Ricky Bahl smashes the box office in a similar fashion to his debut movie, because he is one actor worth watching out for. Keep visiting Bollyspice for more Ladies vs Ricky Bahl news and stories.