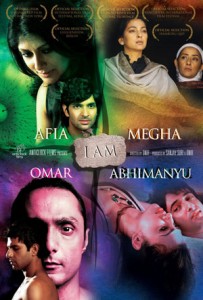 Today the winners of the 59th National Film Awards, the most respected and prestigious film prize in the Indian film industry which everyone looks forward to, were announced. The National Awards honor work from all the film industries in India and this year's winners are from the Hindi, Bengali, Marathi, Kannada, Malayalam, Manipuri, Tamil, Punjabi Film industries.
Bollyspice takes a look at the Hindi cinema winners.
I AM wins Best Hindi Film
The Hindi Film I AM won the award for Best Film and Best Lyrics for the song 'Agar Zindagi', which is written by Amitabh Bhattacharya.
Onir thanked everyone on Twitter for their support. He was really overwhelmed by the fact that I AM bagged two National awards. "Thank you all so much. Still overwhelmed that I AM won the Best Hindi Feature film and Best lyrics National award. It's been a long and difficult journey. Thanks to all those 400 people who believed and supported our dream."
He added: "A collective dream gets validated with this national award. A special thanks to my entire crew and cast for #IAM because of their luv n trust. Congratulations and thank you for being a part of I AM @iam_juhi @RahulBose1 @Purab_Kohli, Manisha koirala, abhimanyu singh, arjun mathur. Thanks to Nandita das, Shenarz Patel, Anurag Basu , Anurag Keshyap , manav kaul … To win the most precious award fora film which probably is the smallest budget film in the biggest film industry in the world feels :)"
Onir gave a special mention to actress Juhi Chawla for her love and support. "A special thank you to the warm n loving @iam_juhi . Without your support from MyBrotherNikhil to #IAM would be impossible."
The director also took a closer look at the lyrics and found out that they make more sense now. "So proud of Amitava Bhattacharya for the National award for "issi baat mein"… Yes now the lyrics makes more sense "manga nahi tha aasman, bus ek jharonkha toh khula rakho" #IAM . Thanks Amit Trivedi for the music."
Actor and producer Sanjay Suri talked exclusively to Bollyspice. He was overwhelmed and delighted with the response. "Feels absolutely wonderful and its so very rewarding. Am totally overwhelmed at this moment. It's the most precious Award and means the world to us…. It's for all those who believed in us and made I AM a possibility. Would like to deeply thank the jury. Independent Cinema – Jai ho !!!"
Ra.One wins Best Special Effects
Shah Rukh Khan's superhero film Ra.One received the award for Best Special Effects. The actor is currently in London and when he found out his 'baby' had bagged a National Award, he rushed on Twitter to share his happiness. "Even when my babies win a prize at a b'day party, my chest swells with pride. Today my baby got a National Award (v f/x). I lov u Ra.One."
Chillar Party wins Best Children's Film, Partho wins for Stanley Ka Dabba!
The film Chillar Party was voted the best children's film. The nine child actors from the film received the award for Best Child Actor and shared this with Partho Gupte, who played the lead in the film Stanley Ka Dabba.
When the announcement was made, Partho was still in school. His dad, writer and director of the film Amol Gupte, was really happy with the award. "It is one of his most natural performances. It is a deserving award for him. We as a family are proud to have Partho as our son. He has gone to school right now and doesn't even know about it."
Chillar Party also won the prestigious award for Best Original Screenplay.
Vidya Balan wins Best Actress
And the award for best actress goes to none other than Vidya Balan for her portrayal of Silk Smitha in the film The Dirty Picture, the unofficial biopic of the southern sex siren. Vidya said she cannot believe she has won. While many websites report that it's Vidya's third National Award, the actress herself said to CNN-IBN that it's her first. "I want to believe it..long cherished dream has come true…. my first…I don't know what to say….I want to thank director Milan Luthira for giving me this film. This is really unbelievable…It is the biggest honour of the country…it is very special…every award is special," Vidya told CNN-IBN after winning the award.
All the awards will be officially presented to the winners on the 3rd of May.
Here is the complete list of winners.
Best Hindi Film: I AM directed by Onir
Best Lyrics: Amitabh Bhattacharya for I AM
Best Actress: Vidya Balan for The Dirty Picture
Best Child Artist: Partho Gupte for Stanley ka Dabba and Chillar Party Group
Best Children's Film: Chillar Party
Best Special Effects: Ra.One
Best Screenplay: Nitish Tiwari and Vikas Behl for Chillar Party
Best Costume: Neeta Lulla for Bal Gandharva (Marathi) and Niharika Khan for The Dirty Picture (Hindi)
Best Choreography: Bosco and Ceaser for 'Senorita' Zindagi Naa Milegi Dobara
Best Audiography: Location Sound Recordist – Baylon Fonseca Zindagi Milegi Dobara
Best Supporting Actress: Leishangthem Tonthoingambi Devi for Phijigee Mani(Manipuri)
Best Supporting Actor: Appu Kutty for Azhagarsamiyin Kuthirai (Tamil)
Best Feature Film: Shared by Deool (Marathi) and Byari (Kannada)
Best Film Critic: Manoj Barpujari (Assamese and English)
Best Book Award: Anirudha Bhattacharjee and Balaji Vittal for the title RD Burman The Man, The Music
Best Actor: Girish Kulkarni for Deool
Special Jury Award: Anjan Dutt for Ranjana Ami Ar Ashbo Na (Bengali)
Best Editing: Praveen KL for Aaranya Kaandam
Best Bengali Film: Ranjana Ami Aar Ashbo Na directed by Anjan Dutta
Best Marathi Film: Shaala
Best Dogri Film: Dille Ch Vasya Koi
Best Kannada film: Kurmavatara
Best Malayalam Film: Indian Rupee
Best Manipuri Film: Phijigee Mani
Best Punjabi Film: Anhe Ghorey Da Daan
Best Adapted Screenplay Writer: Avinash Deshpande (Marathi)
Best Dialogue: Girish Kulkarni (Marathi)
Best Make-Up Artist: VikramGayakwad for Balgandharva (Marathi) and The Dirty Picture (Hindi)
Best Music Direction
Songs: Neel Dutt for Ranjana Ami Ar Ashbo Na (Bengali)
Background Score: Mayookh Bhaumik for Laptop (Bengali)
Best Female Playback Singer: Rupa Ganguly for Abosheyshey (Bengali)
Best Male Playback Singer: Anand Bhate for Bal Gandharva (Marathi)
Indira Gandhi Award for his debut film director: Thiagarajan Kumararaja for Aaranya Kaandam(Tamil)
Award for Best Popular Film Providing Wholesome Entertainment: AzhagarsamiyinKuthirai (Tamil)
Special Mention: Director Shari for Adi Madhyantam (Malayalam Film) and Mallika for Byari (Kannada Film)