After a long break, Aishwarya Rai Bachchan is back to the big screen in the drama Jazbaa, which hits theaters this Friday, and fans are ecstatic.
Directed by Sanjay Gupta, the gritty crime thriller sees the actress playing a lawyer who is caught up in a cat-and-mouse game with a convict, with her daughter's life on the line. The film also stars Irrfan Khan, Shabana Azmi, Anupam Kher, Jackie Shroff, Atul Kulkarni, Abhimanyu Singh and Chandan Roy Sanyal.
Check out the trailer!
In this exclusive interview, the esteemed actress talks about playing a lawyer in the drama and returning to her art.
It has been five years since the actress stepped back into the movies and into a character, so was she nervous? "Once an artist always an artist. Whether there is a gap or not, doesn't matter," she says. "An actor gets satisfaction from the work he or she does. As far as nervousness is concerned, I don't follow the conventional path. I enjoy the process of making a film. With every movie that we make, we hope that it appeals to the audience because it is made for them."
She added, "I have not felt the gap. There is no plan to it … I kept doing films before marriage, during marriage and after marriage, during my pregnancy and now. I respect the integrity of commitment."
She goes on to mention that she is not fond of the term 'comeback film' saying, "Being a working mother, I really did not delve into this absence factor. And probably that's why I haven't necessarily focused on the term 'comeback'. There's no going away from it and running away from it. It will forever be the comeback film. So I'm not denying it, but when I turn around and say that I haven't felt it, that's just the way it is."
Mrs. Bachchan also revealed she is still trying to figure out the balance of being a working mother, saying, "I am a very committed mother. When I felt the time was right to venture out to figure out the balance, I did so. I am still figuring it out. I think in a mother's life everyday is a first, whether the baby is one year old or five years old, as you have not been a mother before. Every day you keep discovering. Fortunately, I think, it has all fallen into place."
About her character in Jazbaa, the actress said, "It is for the first time that I am playing a lawyer so the film educated me about the life of a lawyer."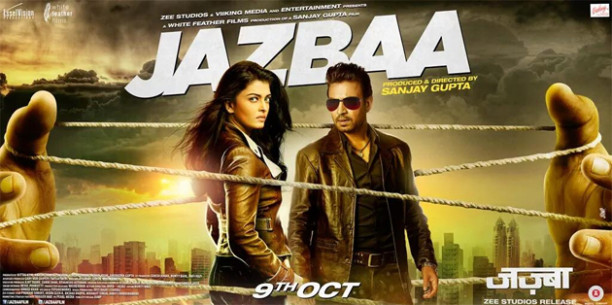 One of the things that was really important to Aishwarya was that all the courtroom scenes in Jazbaa ring true. "Cinema is part of our culture, so we have certain impressions about what a courtroom scenario is likely to be. But we wanted to keep it as real as we could and that's the way we have played it – with the conviction of a lawyer, not necessarily the dramatics."
The cast of Jazbaa is full of some of the best in the business, including Irrfan Khan. "This was a dream cast for me. When I read the script, he was mentioned, and I was glad he did the film. When you are working with him, you don't feel like you are working. He makes the atmosphere relaxed." She added that the director, Sanjay Gupta, made "things easy and effortless for all of us."
Both she and Irrfan Khan have been seen not only in Indian films, but also in many International and Hollywood films. "When I am introduced," she says, "either there is reference to Miss World or to an 'International beauty title' or to an 'International presence,'" but for her it is all about being an actress. "I am very thankful for the opportunities. When we did this film, we were happy to come on board as actors."
The life of an actor is challenging – "It is not a conventional 9 to 5 job. Our job is rarely defined by time. We do it because we love making movies. Every day at work is challenging."
Times have changed and different stories like Jazbaa are being told in the Hindi film industry, and for her as an actress and an audience member, that is what is exciting. "It is an exciting time for us in the movies. A variety of subjects are appreciated and enjoyed by the audience. We creative people are very grateful for it. We too get to enjoy a variety."
Of course many stars are on social media but she uses it in a unique way by using her husband Abhishek Bachchan's account to send messages to her fans. "I have not been on the social media. Whenever I say something, it is through his account and it is just to thank everyone for their good wishes, love and blessings. I am grateful for everything."
Jazbaa, produced by Essel Vision Studios, White Feather Films and Viikings Media and Entertainment is scheduled to release on 9th October worldwide.