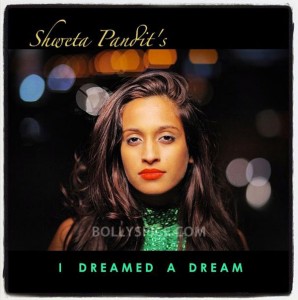 Recently in our interview with the fabulous singer Shweta Pandit, she teased us with the release of her new track, her first English language song, but what it was or when it would release we did not know. Now we have the details just for you! The song released this week and is a beautiful rendition of 'I Dreamed A Dream' from the fabulous musical and now hit film Les Misérables. Check out this exclusive look at the video of the song and even cooler she gives us the inside scoop on the making and recording of 'I Dreamed A Dream'.
Talking about how the idea of recording this particular song came to be Shweta says, "The thought of re-working 'I Dreamed A Dream' was actually conceived in LA in September 2012. I remember when I met Hugh Jackman in Mumbai when he came here with Fox Studios, he asked if I also sing English apart from Bollywood songs. I had never recorded something then, but I had promised to send him something he'd like! He actually triggered an inspiration with his question largely and since he's also a fabulous singer himself and also acted in Les Misérables, I decided I should work on this and send it to him:)."
She adds that then, "My partner and music arranger on this song Kevin Doucetter played this song to me on the piano. I was so inspired that we decided to record this."
The singer had only heard Susan Boyle's rendition of the famous song, "She made me cry. I was so touched with her singing that I wanted to do a good job on this."
However, it was another star from the Les Misérables movie that really got Shweta excited to perform and release the song, "Later when I figured Anne Hathaway's version had just been recorded and it would be out in December 2012.  That's what got me most excited!!!!  Anne and I had decided when we met in 2010, to work on a song when we performed together at the Nobel Peace Prize Concert in Norway with my guru, AR Rahman sir. Hathaway is such a real person and extremely humble.. and then the song got rolling and our versions have released almost together in the same week!"
Shweta does say that she was nervous to take on the challenging song, "When Kevin was working on the music, I didn't even know if I'd sound too Desi or will be able to go so high in notes and do the vibrato and still get all the emotions right. It was a huge challenge for me as a singer but that was the best part!
Adding, "I thank Kevin immensely, (my music producer) for such a beautiful job he's done with the arrangements. He just made it so soulful."
"'I Dreamed A Dream' is a singer's dream song! This is one of the most exciting projects of my life, because its a challenge, its a huge leap for me as a vocalist and also a tough song to sing! I was so "On my feet" and so excited to sing something new and work on something so different and real. I am thrilled I've attempted it and people have blessed me so much hearing it the first day of 2013," she says with a huge smile.
This is her first English language song, does she see more in her future? "I wish to do more such work, where my actual potential as a vocalist is tapped."
We also got the scoop about shooting the video in the freezing cold, "I shot this song in Hollywood, LA when it was freezing cold and imagine, I look so unaffected wearing this thin green dress in the video but in reality I was shivering and cuddling up in blankets each time my Director and friend, Anup Sugunan, said "CUT". He's a genius and multi-talented personality, love working with him!"
The singer closes with these beautiful lines, "I want my friends and fans to hear and share this song and bless this endeavor. Its a very honest and soulful attempt and I hope they all enjoy it this 2013."
Sit back, turn this up to 11 and enjoy Shweta Pandit's 'I Dreamed A Dream'!