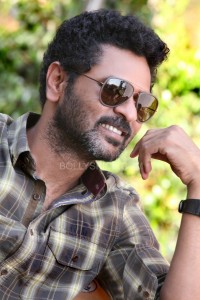 Opening on Friday worldwide is Ramaiya Vastavaiya, a Hindi remake of Prabhu Deva's directorial debut in the South, Nuvvostanante Nenoddantana, which, interestingly, was inspired by the 1980s cult Hindi film Maine Pyaar Kiya. Prabhu Deva once again sits and dances in the director's chair for the musical love story. The rom-com sees producer Kumar Taurani's son Girish Kumar make his debut as a hero and he is joined by Shruti Haasan as the heroine, Sonu Sood, Randhir Kapoor, Vinod Khanna and Poonam Dhillion. The story is based on a young man Ram (Girish Kumar) who falls in love with Sona (Shruti Hassan) who lives on the fields of Punjab. He follows her to her farm, where her elder brother challenges him to produce more seed on their fields. If he wins, he will be allowed to marry her, so does their prem kahaani come true? Well you have to see the film!
Recently Prabhu Deva answered a Q and A about the film, check out some highlights plus some bonus information from Girish and Shruti!
Prabhu Deva says he is very happy with the film and it being a remake of Nuvvostanante Nenoddantana, his first film, makes it very special. "The film is very close to my heart."
So how did they come up with the title Ramaiya Vastavaiya? "We had many options but someone had suggested Ramaiya Vastavaiya and since this was a very famous song we liked and we chose it as the title of the film. Ramaiya Vastavaiya in Telugu means Ram will you come. The title also works since the male lead's name is Ram Huiro."
He revealed in an interview with TOI, "I'll be honest, I did not change a thing in the film. In fact, for three days and night, my writers and I sat and tried to work on the adaptation.
But somehow it did not work. I wanted the essence of the original movie, Nuvvostanante Nenoddantana, to remain intact. There was something magical about it and I finally decided to let everything be the same instead of trying to change stuff to showcase my adaptation skills. It's all about being desi cool!"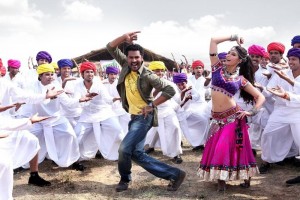 This is Girish's debut film and Prabu Deva says he is very happy with his choice. "To launch a new actor is a lot of responsibility for any filmmaker. When I started working on the film, I did not know much about Girish. But once I started filming, I just knew I had made the right choice with Girish. He has worked really hard."
Of course, Prabhu Deva, along with being a director and actor, is considered one of the best dancers in India. He made the young man practice dance for over a year and apparently it paid off because, according to the director, Girish did fabulous in the dance sequences too and one of those was with the master himself. "I asked Girish to dance to a few of the Bollywood songs and he was superb."
About working with the director Girish said, "It was a pleasure and I couldn't have asked for a better launch. He has been a great mentor and I have had a memorable experience on this film. Prabhu Sir is a good human being and of course a great dancer. He made me work so patiently. I had lots of fun while working with him. He was so co-operative that I did not feel like a newcomer."
Starring opposite Girish is the lovely Shruti Hassan who the director says is perfect for the character of Sona in the film, "Since Girish is a new boy, we needed an actress who would suit him and we casted Shruti. Shruti is known in Bollywood and she fits the bill for her character."
Shruti says, "In Ramaiya Vastavaiya the whole love story is about us." She says she is very happy she got to play this character, "It is a very simple, innocent pure kind of character to play. I hope the audience likes it."
This is a musical love story so what does Prabhu Deva have to say about romance? "What in the world is not romantic? We are all romantic. I hope the film clicks with the audience and they fall in love (again) too!"