From being SRK's cute Anjali to the hot chick in SOTY, Sana Saeed has come a long way. But the journey is far from over. She adds another feather to her cap with her recently concluded appearance on dance reality show Jhalak Dikhla Ja where she shined in a whole new avatar (pun intended!). With a dedicated fan base growing by the minute Sana Saeed is no doubt a rising star to watch out for. However, what shines more than her undeniable talent is her exuberant personality that seems to attract everyone! I caught up with the actress, and now dancer, to chat about her experience on Jhalak and life after the show. Read on for some exclusive insider info about India's leading dance reality show and Sana's experience on it.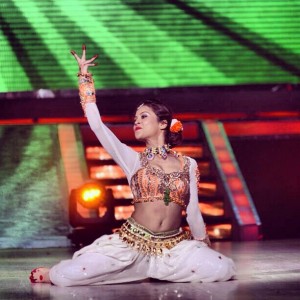 So, a Jhalak Dikhla Jaa wild card contestant, no one really saw that coming!
A lot of people didn't expect that I'd enter the show as a wild card entry and more importantly no one expected I'd last that long! Most of the wild cards had to leave early but luckily I stuck around. Its great entering as a wild card because you have that zest and enthusiasm that the others are now a bit low on. My start was a bit shaky because I started rehearsing later than the rest of the wildcards as my choreographer had to be changed. Luckily I entered the day after Tushaar got eliminated and he was reassigned to me.
Speaking of Tushaar, what a brilliant choreographer, I must confess I was mighty annoyed when he initially got eliminated.
Not only is he so amazing, so is his team. Normally a male choreographer with a female contestant would be assigned an additional female assistant however Tushaar didn't get that. I worked with his assistant Prateik who was just as amazing. When I entered the house they'd show me the moves and I straightaway say, "no I can't do that!" but they'd convince me I can.
Since the show is obviously challenging was there anything about it that made you apprehensive when the offer came?
Jhalak is the best dance reality show we have. After acting if there's anything that I'm passionate about it is dancing. Here I was getting opportunity to dedicate time to dance solely! Because otherwise you only dance at a party or when you're grooving at home. In Jhalak I danced 8 to 10 hours a day! It was a once in a life time chance to do serious dancing as a student so never was I even the slightest bit apprehensive.
Had you seen the show in the past?
Honestly I'm not a big TV person but my mother is an enthusiast and makes sure I'm updated. She'd told me that Jhalak has started with a new season and Salman and Tushaar are the choreogaphers to watch out for. I tuned in to watch Siddharth Shukla, who is a good friend of mine, and on Mum's insistence watched Tushaar also. Of course at the time I didn't know I'd be on the show or that I'd work with Tushaar.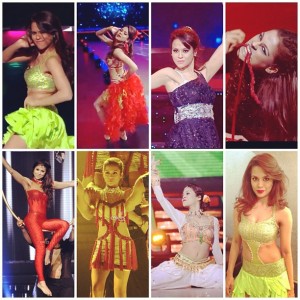 So tell us a bit about shoot scheduling and preparation for the show?
Both episodes that you see on Saturday and Sunday are shot on Tuesday. You prepare one performance plus a 'face off' performance in the event you're in the bottom two. Later on  the difficulty level was increased by the judges and you had to prepare two performances plus your usual face off performance. Tuesday is of course shooting, Wednesday and Thursday are days set for preparing your new performance. So you spend that time selecting your song, figuring out your theme for the challenge and doing song edits. Formal dancing happens Friday, Saturday and Sunday. Monday again you cannot rehearse as you're required to do technical rehearsals and by then you're expected to know your performance. So basically only 3 days to master your performances! It definitely is not an easy feat. As a viewer I never realised the strenuous work that goes into this kind of a show.
Okay I have to mention that apart from brilliant dancing skills you had the most amazing impromptu comic timing I've seen when you're up for a random gig with the hosts!
I'm such a happy and enthusiastic person that the creatives knew I'd be sporting enough to take on these weird gigs 10 mins before I have to do my performance of the week. Mostly everyone is stressed and fully engrossed into the performance they're about to do at the time. Initially I was like you can't do this to me but they were convinced that my spontaneity was the reason I'd do well. Soon enough I became their bakra and with any guest be it Shahrukh, John or Ritiesh they'd pull me up. For me it was important I made that portion of my time in Jhalak work because at the end of the day I'm a non-dancer so if I screw up a dance step that is okay but if I screw up this kind of gig then it goes against me the actress! At the end of it when I got eliminated the creatives were in a real dilemma as to who'll they'll pick on next.
You keep mentioning you're a non-dancer so naturally it's the first time your family and friends have seen you in such a serious dancing light, what was their feedback like?
They were all very proud of me. TV is something that actually connects you to people far and wide. Not only were my family/friends in India watching me but I also got calls from family/friends in US and Australia. The amount of people who have called me up has been insane especially when I got eliminated because I was one of the stronger contestants so it did come a bit unexpectedly. But I think I have to give it to the people I don't know who've come up to me an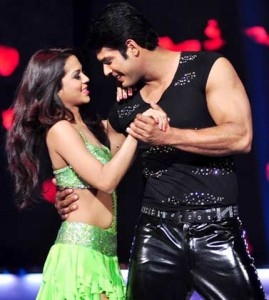 d shared so much love. Family and friends will always be supportive to an extent but the love I get from perfect strangers on social networks and other places has blown me away. Its what stops me from being sad about the fact that I didn't make it to the finals because look at this support and appreciation that I've gotten and that too as someone who was completely new to dancing.
Coming to this renowned Jhalak House, tell us how much you get to interact with the other contestants?
Well you don't meet them a whole lot but I of course being me, did (laughs). You all rehearse under one roof at the Jhalak House but at varied timings and in your own halls. I'm over friendly and went into everyone's hall saying hi all the time. But normally speaking you're pretty much on your own. You only really meet when you bump into each other getting coffee etc.
Do you think you've made any friends you'd like to keep in touch with even after leaving the show?
Definitely! The one thing about Jhalak is that the team is so warm! From creatives to channel heads to the technical people to the people giving you the call times. I think its one of the reasons the show is doing so well. Never did I have a bad day because of something someone else had said or done. Everywhere there was so much love and appreciation. I really loved going to work every day. When I left the show the main thing I was sad about was not going to work and interacting with that brilliant team.
Any dance form you wish you'd tried?
Well I think I did more than I thought I could possibly do. Every week I'd learn a new form and in fact Tushaar always ensured that every performance was a blend of more than one dance form. Every time he'd tell me a form I'd look at him puzzled because I'd never heard of it. When he first told me about pasodoble I was like "pasa WHAT!" And then I asked him to spell it out so I can do my bit of Googling on it. But no matter how tough and crazy it was they'd always believed I can do it which pushed me. In my short time there I did 18 dance forms so I think I'm covered! The one thing we did have on the cards was a blind folded act for the next week which I couldn't do. I am disappointed I didn't get to do that because had I pulled it off it would have been a personal achievement. Also on the Sunday episode after my elimination I was set to do a dramatic performance. The story of the performance was based around a romance where my partner had left to serve the country and unfortunately doesn't make it back home. However, what made that performance something I really wanted to do was that I had a 2 mins solo portion that no celeb has done on the show this season yet. Tushaar was just there in the small intro and then I had to do it all on my own. I was excited because had that performance succeeded I could say it was because of me because I had to carry a big chunk of it off on my own. So yes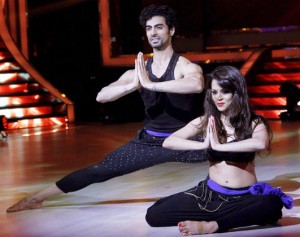 I did momentarily lament that I didn't get to do these two acts we'd planned.
What will you miss and what will you not miss?
I will definitely miss my team. It was great to wake up and go to work. It was hectic both physically and mentally but it was still worth waking up and working with the team. I'd come back home bruised, sore and starving but I loved every bit of it. Also I'll miss the ability to brush my dancing skills. What I won't miss are the bruises! I still look at the mirror and wonder when the marks will go. Initially I'd freak out when I got a bruise but towards the end I'd notice a bruise going blue and black and would just brush it off.
Who are you rooting for now to win the trophy?
I honestly have great chemistry with all five in the show right now and truly don't know who is going to win. Also after being a part of the show I can say that everyone is working so damn hard that anyone could win and I'd feel they are deserving. You contract says you have to put in 15 hrs a week but I can assure you no one does that because you're doing 8 – 10 hrs a day!
Coming to another reality show, your stint in Splitsville also garnered a lots= of attention.
Yes I was doing a little review show of the show. It just concluded last weekend. It was a funny show where I just picked up on things that had happened in the episode and talked about in a fun cheeky way. A friend of mine working in MTV said I should do it even though I didn't want to be a part of it. He said all I had to do was call bad, bad and good, good. It was he who believed I'd be very good at it and apparently its done very well because it went from web episodes to TV episodes.
So since you're so embedded in reality shows now do you think you'd take a big step and do a Big Boss?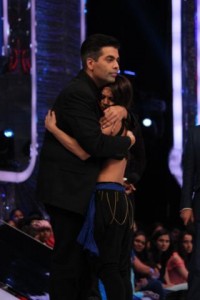 I guess I would because I've had such a good experience with reality shows thus far. Plus I think a show like Big Boss will make you value simple things in life like your bed! So I guess if given a chance I'd go for it.
Last but not the least, what's next from here on because I hear you're reading scripts now?
There are a couple of things I'm reading but haven't signed anything. I really want to do good work and don't mind waiting for it. There are offers coming my way but there's also a lot of TV offers coming and unfortunately I've done TV in the past when I was younger and at the moment I don't want to go that way. Reality shows I'd consider but not serials. As far as films are concerned definitely a great script and great cast are important because lets face it you and me do consider what we want to see based on the cast. If it's a Salman or John film I'll run to it, so cast is important. But at the same time right now cinema with fresh directors and new faces is doing so well so that is really comforting and great to see. But I have to admit it has to be a great role to convince me because I believe that if I have a great role that'll let me show off my talent then even if the film doesn't get a huge BO status I'll be able to entertain the audience.