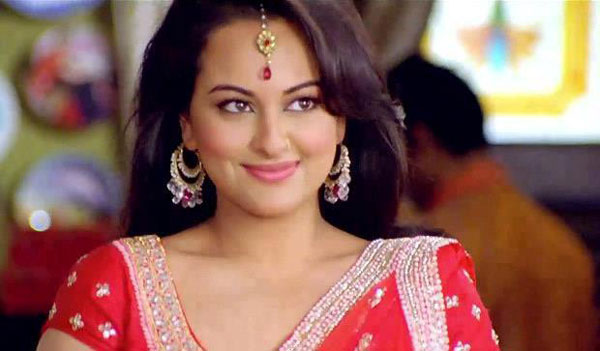 Audiences loved and critics raved about her performance and her wonderful screen presence in 2010's Dabangg opposite Salman Khan. We are, of course, talking about Sonakshi Sinha, and fans have been clamoring for a second film ever since. The actress has been hard at work fulfilling our wish for a new movie because the first of six (yes six!!) films releases this Friday. It is the action packed Rowdy Rathore, directed by Prabhu Deva and starring Akshay Kumar. The film is a reworking of the Telegu super hit, Vikramarkudu, and sees Akshay returning to his full on action avatar for the first time in years. In Rowdy Rathore, Sonakshi takes on the character of Paro, a slightly mischievous girl that falls in love with Akshay's character Rathore. Or is it just his rowdiness that has caught her eye? We will find out on June 1st! Check out what the completely nice and totally fun Sonakshi told us about the film, about working with Akshay, and how it made her feel when Prabhu Deva got her to dance her head off!
How do you decide which films you want to do?
I think when the films have come to me, I first see the character that I am required to play and I look at if I believe that I'll be able to fit that character, if the role suits me or not, whether the audiences would like to see me playing that certain kind of character, if I feel that I will be able to execute it as well as the way it is written. I keep all these factors in mind. Of course, other things are equally important which is the director of the film, the producer, the script, the entire packaging has to be completely right for me to feel strongly about it and that's when I actually go and sign a film.
And so what made you want to be a part of Rowdy Rathore?
Rowdy Rathore is actually a remake of a film that's been made in a lot of other South languages and has been a complete blockbuster in each one of them. A lot of the Hindi speaking audiences haven't seen the film. So when I watched the Telugu version of the film, I first said it would be so cool to be a part of a film like this, you know? Because it was fun, it was entertaining, it's got all the masala that a Bollywood flick requires to make it big and I thought it'd be great to be a part of this film. Especially, of course, because my character was very nicely written and I liked the idea of being slightly more mischievous as well as an outspoken girl who is slightly more glamorous than the last. It was all a very good prospect to me so that is why I said yes.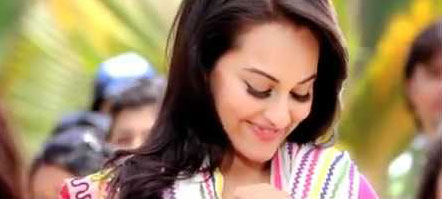 We have had glimpses and you can tell from the trailers and promos she is a bit mischievous, so who is she?
My name is Paro in the film and she's a small town girl who comes from Patna to Mumbai. She is slightly, like I said, mischievous. She is outspoken. She is very sweet and simple and she falls in love with this guy who is completely the opposite of her. A complete rowdy man, he's into a lot of wrong things but his heart is very clean, very pure and he's a very nice guy so she falls in love with him. The romantic angle is so well woven into the whole story between all the drama and the action and the comedy and all of that. It has a very nice romantic angle to it as well.
It seems like you and Akshay have really sparked off each other, really the only word I can think of to describe it. How is it to work with him?
Very, very nice. I think he's one of the best co-stars to work with in fact, because firstly he's so professional, he's so punctual, he's always on time, he's making things easy for everybody on the set and, secondly because he's so jovial. He's making everyone around him laugh, just laugh, be it anybody right from the director to the camera assistant or a simple light man – he's making everybody laugh all the time. It's always a pleasure to work with someone like that because the energy on the set is so positive. I think that just translates on to the screen, you know?
What about Prabhu Deva – the director?
As a director he's fantastic. I was so pleasantly surprised because people said that 'Oh he's a task master and he's very strict' and all of that but I think he's so good at what he does. He knows exactly what he wants from his actor and he knows exactly how to get that out of them. And he's such a calm and composed person. I've never seen him lose his temper even once on the set. He opens up when he gets to know you slightly more. He's always smiling and he's a very nice person to work with. He knows the pulse of the masses. He knows how to make his films, put in all the ingredients in his film that people like to see. I think he's a very, very good director.
What do you think he brought out in you as an actress?
I think I'm a complete director's actor. I don't believe in doing any homework for a film. I don't know. I cannot do it because I've had no formal training and I think it's very spontaneous whatever comes out from me on the screen. I think the way he's made me dance on screen, the energy that he's brought out has been completely different from what I've been basically doing. I think energy is the right word for it. I don't know, he sort of breathes life into his characters. I seriously give all credit to him. He's fantastic to work with and the energy would be the right word to put it.
Speaking of dance – How is it to work with Prabhu Deva, the Choreographer?
Oh my god! He has taught me how to dance like nobody is watching me. I've gone crazy dancing in this film. The song promo is out 'Dhandang Dhandang'. Have you seen it?
Yes!
Have you see how mad I've become in the song? (Laughs)
Yes. I was looking at it and thought, "Gosh that is crazy!" (Laughs)
Yes, that is crazy and that's what he's managed to get out of us. In fact, even Akshay was telling us that he finds action so much more easier than dancing. With Prabhu sir around it's such a pleasure because he shows you each and everything the way he wants it and he really brings out a different energy. I never knew I could dance like that. He told me just go all out. If he thought there was little energy lacking in a take, he would say give me one more but put in all your energy and just do it, think like nobody is around you and you are alone on the set just dancing your head off. (Giggles)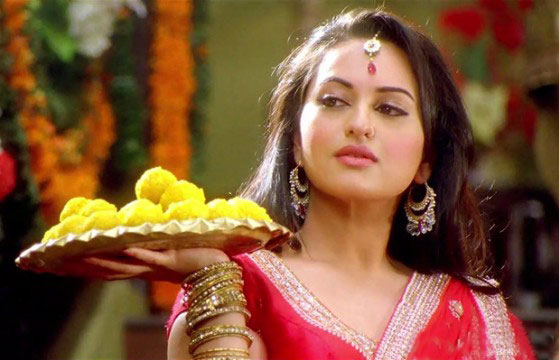 That dance is so energetic and mad…I bet you were tired after shooting that one!
It actually energizes you because you are in such a different mood while you are doing that. In fact, the songs are so upbeat and so peppy that you automatically enjoy it. I'm the kind of person who when I'm dancing I really don't see who's in front of me, who's behind me because that's what I feel about dancing. I love to do it whether I do it well or not I just love to do it.
What is your favorite thing about Rowdy Rathore?
I have a few favorite things actually about this film. I like the fact that it is so colorful. I love the comedy in the film. I like the romantic angle in the film. The rewind and play thing that Akshay does in the promos. I think that's a very innovative aspect about it. The songs are great – that's another one of my favorite things. And yeah it's my second film so… (Laughs)
What have you learnt from your 1st film to the 2nd film?
A lot, actually, because from my first film to my second film I've been shooting for a lot of films in the middle, I've shot for about five films in the middle. It's been 1 ½ years since I've been off the screen. I've learnt a lot from everybody I've worked with. Every day you meet new people, you learn different things and I think this is really like a school to me because every day you learn something new. From Dabangg to Rowdy I've learnt a lot about being professional, conducting yourself in this industry. Relationships keep changing every day. People's outlooks keep changing but it's all how you sort of carry yourself through. I think I've learnt about that. I'm very focused on my own work. I don't really look at what other people are doing. I am focused on what I'm doing and I think that really is helping me move forward in the right way, in a positive way.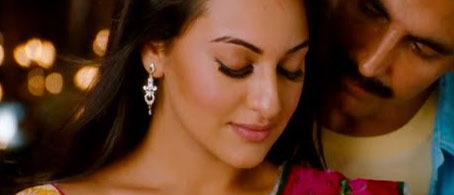 Your career from the beginning has just been growing and going better and better, how do you feel looking at what you have done so far?
I feel truly blessed because I never intended on becoming an actor growing up. I was studying fashion designing and I was doing very well in that and Dabangg just sort of happened by chance. Even when I was doing Dabangg I didn't know what was in store for me after it happened. It's been a very sudden process and it's all happened for the best. I think I've been truly blessed. I work hard, I give it my 110% and I'm glad, glad, so glad that it's been appreciated and I've got these other films to do as well.
A message for all your fans out there?
Of course! I would like to say a big thank you for all the support I've been getting. It's really encouraging for someone who is one film old and definitely there are some things to look forward to. I'd just like to say thanks!
It was a real pleasure to speak with Sonakshi Sinha. She is now firmly on our favorite people to interview list and we would like to thank her! You can see her and Akshay Kumar get rowdy when Rowdy Rathore hits theaters on June 1st!