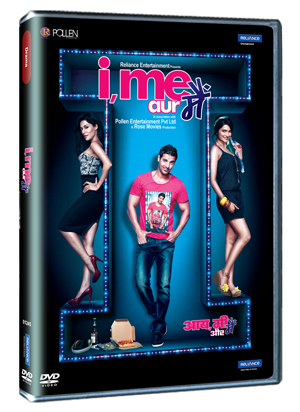 Reliance Home Video & Games has released "I Me aur Main" on Home Video, and viewers can now enjoy the film on DVD and VCD at their convenience.
Produced by Rose Movies in association with Pollen Entertainment Pvt Ltd, and presented by Reliance Entertainment, "I Me aur Main" has been directed by Kapil Sharma and stars John Abraham, Prachi Desai and Ishaan is a charismatic, good-looking music producer from Mumbai. He lives a sheltered existence, is the centre of his life, the apple of his mother's (Zarina Wahib) eye, always protected by his elder sister Shivani (Mini Mathur) and stays at his girlfriend Anushka's (Chitrangda Singh's) house. He takes them all for granted!
But there comes a day when his life falls apart like a house of cards. Fed up of his flirtatious nature and being taken for granted, his girlfriend throws him out of her house. He moves into a dilapidated house, his mother leaves his father and moves in with him, his sister and his best friend are upset with him and his new boss Beena (Raima Sen) asks him to resign. His ego is severely damaged and his confidence shaken.
At this point, his new neighbour Gauri (Prachi Desai) comes into his life and from her he learns the importance of relationships. He starts taking initiatives towards mending and maintaining his past Ishaan begins to truly fall in love with Gauri. There comes a point when he has to make a choice between his love that made him a better person or being a better person by taking responsibility of the actions he has "I Me Aur Main" is an entertaining youthful film with a fresh and light touch and is now available on DVD (Rs.299) and VCD (Rs.115) across all leading home entertainment stores.