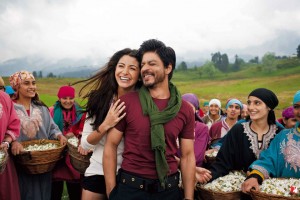 Shah Rukh Khan has made a highly praiseworthy return as a romantic hero in Yash Chopra's final directorial venture Jab Tak Hai Jaan. After a brief dry spell in 2011, he has wowed the audiences and critics as the memorable Samar Anand. This can now be added to the list of the most iconic performances he has given in his career so far. Just like many consider Chandni to be Sridevi's film, Jab Tak Hai Jaan is definitely Shah Rukh's film, though his co-stars Katrina Kaif and Anushka Sharma gave respectable performances as Meera and Akira also. It is one of the few films made by Yashji where his hero is the centrepiece rather than his heroine!
In an interview with NDTV, Shah Rukh talked about the reason why he has not recently starred in a film alongside two leading heroines, the last being in Yashji's romantic epic Veer Zaara (2004). "I only do love stories with beautiful women. I was waiting for them to come around again. My eight year search ends with Katrina (Kaif) and Anushka (Sharma). I called Yashji and told him, 'mil gayi.' The object of desire has to be beautiful. Lately, many people tell me that I am better-looking than the heroines."
When asked about his character and what it was like enacting the role of an army officer, Shah Rukh had this to say: "I am glad I am playing an army officer. I hope that by portraying characters from the armed forces in our films, we can popularise the profession. Our army, navy and air force are beyond being a profession; it's a dedication to your nation. I will be glad if even one young boy is inspired to join the armed forces after watching the film because it is the most honourable and noble profession."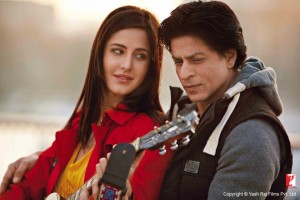 Shah Rukh also talked about his relationship with Yashji and the fond memories he has of him. "Yashji was very young. He wasn't 80, he was 18. We had some awesome times. I have had really young conversations with him, younger than the conversations that I would have with people my age or even younger. We talked about everything. In his own fun way, he would relate incidents that happened in films before my time. We had a great rapport. He radiated energy and happiness."
In addition, Shah Rukh was asked about his twenty-year career and the extent to which he was content with his profession within the Indian film industry. "I like my job. I just get up every day and work. I am happy when people say that working with me is like a dream come true for them. I never had big dreams, I just wanted to work hard and be accepted. I got more than what I had wanted. I will not do anything to tarnish this happiness. I will continue to achieve greater heights and work hard in the film industry."
Jab Tak Hai Jaan is now in cinemas worldwide. We recommend that you check out Yashji's last film, as it is definitely worth the watch!