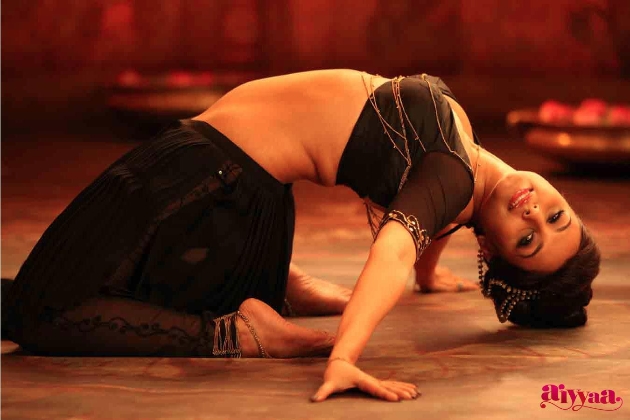 Rani Mukherjee has left no stone unturned in her film Aiyyaa and wants everything to be totally perfect. She has put her best foot forward to do three different dance forms, out of which she has done belly dancing for her song 'Aga Bai' which is choreographed by Vaibhavi Merchant, who has also choreographed her Lavani number in the film.
Vaibhavi said that the concept of the songs revolve around the dreams of a middle class Maharashtrian girl, and that is why she wanted these songs to be really entertaining and the kinds that would set anyone's foot tapping.  She also credits Rani for bringing in the tamasha feel for the Lavani song.
Rani trained herself for her dance 4 months in advance and modified her body as needed by her songs. But Vaibhavi says that for belly dancing, Rani needed more of a rounded belly than a flat one. Rani completely devoted herself to her training as the songs in the movie needed very rigorous dance routines and it was so for all the dance numbers she did.
Vaibhavi also stated that the sculptures of Khajuraho inspired her for 'Aga Bai', as for the first time there was a concept where a woman is expressing her lust for a man, which is totally different from the usual stereotype. "It is such a unique concept," she exclaimed.
There was a buzz doing the rounds earlier about Rani Mukherjee being hell bent to have Vaibhavi choreograph her numbers in the movie, as these numbers are very energetic and bring a lot of colour to the film in their own way, and she trusted only Vaibhavi to be able to do justice to these. She is said to have waited for 2 months to start shooting for Aiyyaa because of Vaibhavi's time constraints.
Aiyyaa, directed by Sachin Kundalkar and co-produced by Anurag Kashyap and Viacom 18 pictures, will release on the 12th of October 2012.