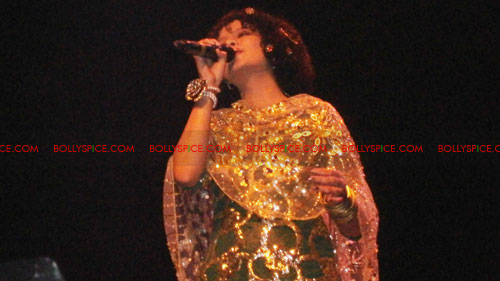 On Saturday 21st of April Star Plus UK arranged for a musical evening in The Hague in Holland, starring Abhijeet Sawant, Palak Muchhal and Karan Pangali. And of course Bollyspice was there to cover the event and talk to all the performers.
We start our series of interviews with Palak Muchhal. She is a singer from Indore who has been trained in Indian classical music by Pandit S. N. Mishra and sings in 17 different languages. The interesting thing is that she belongs to the Maheshwavi Marwari family which are all in business. Palak and her younger brother are the only ones in the family who sing. They have taken their talent and blessings and used them for good because both perform stage shows all over the world to raise money for poor children who need financial assistance for the medical treatment of heart disease.
We talked to 20-year old Palak and she tells us more about herself, her singing and the special kids she sings for.
This is the first time you are visiting Holland and you seem so excited.
I just finished my exams and came here. I'm very excited. I heard a lot about the audiences here in Holland, especially that they like to listen to old songs. And so do I (smiles).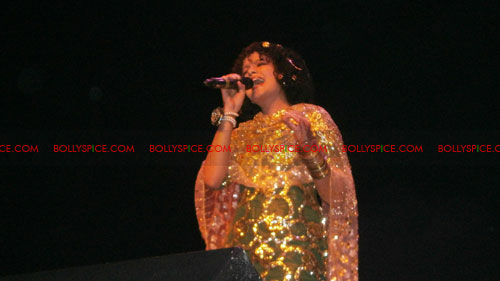 It's not very common for youngsters to listen to old songs as these days they are often more into pop, rock and hiphop. What is your relation with the golden oldies?
Well I started singing when I was two. Nobody in my family sings. We are Marwari, so all are businessman. But when I was little the first song I actually started to sing was a song from Lataji, so that is where my love for singing started.
I read you travel all over the world to perform and all the money you make goes to charity.
Actually I only do shows for heart patients. Already 530 patients have been operated upon through the money raised by my shows. There are still 621 patients on my waiting list, waiting to be helped.
Wow! That's amazing! Could you tell us a bit more on that?
This actually just happened. I always wanted to do something for others. You know, when you are in India and you are travelling by train, you see these little kids take off their shirts to clean the floor, just to make some money. When we go out, we have clothes, but those kids on the street don't. I wanted to help.
How and when did you start?
Actually I was 5 years when I started. By that time the Kargil war had started and I wanted to do something for the soldiers. So I went from shop to shop and told the owners that I'll sing a song and please give me money for the soldiers. I collected 25,000 rupees from my colony only.
Then the cyclone happened in Orissa and I started to collect money the same way for that as well.
Then there was a boy from Indore, named Lokesh. He had a hole in his heart. His parents were very poor and knew I helped people and so they asked for my help. I told my parents I wanted to help them. So I made a small podium on a street vendor's cart and started singing. I thought it would take at least a few days to collect all the money that was needed for his operation, but with the first show itself I had collected 55,000, which was enough. But by the time we had raised the money, a doctor from Bangalore had seen us on the news and offered to do the operation for free. So we had 55,000 rupees. At first we wanted to give it back to all the people who had donated, but that was just impossible, so we decided that we should use the money to help other poor people. And people came forward with the request if I could help them. I realised I could help a lot of people with my voice.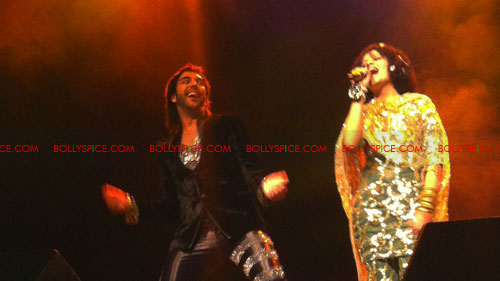 We moved to Mumbai 6 years ago with the whole family because I wanted to be a playback singer. And I wanted to help people via my shows.
So are you ready to conquer Bollywood?
Because of the blessings of parents. I got a chance within the film industry. Did you know, I have 31 songs that will release this year?
That's fantastic news! So we will get to hear more of you very soon. Do you have any message to people who would like to see their dreams come true as well?
If you are talented, please use it to help someone. We could achieve a lot, receive awards and stuff, but the best achievement and what gives the most happiness is when you can bring a smile on someone's face.
We concluded the interview with a beautiful poem she recites:
Zindagi sirf aamiri to nahin hoti (Life isn't always about being rich)
Zindagi sirf aamiri to nahin hoti (Life isn't always about being rich)
Chaar din garibi mein guzaar kar toh dekho (Try spending a few days being poor)
Yeh zameen chand si jannat si nazar aayengi (This world will look like heaven from the moon)
Yeh zameen chand si jannat si nazar aayengi (This world will look like heaven from the moon)
Meri tarah har insaan se pyaar kar ke toh dekho (Like me, try loving every person.)