He knows his business and what he likes to make and has been behind some of the most respected and loved films in the Hindi film industry in the 10 years. We are talking about Farhan Akhtar's producing partner in Excel Entertainment, Ritesh Sidhwani. It all began with the fabulous Dil Chahta Hai and from there this great producer has continued on his exceptional streak with fabulous films like Lakshya, Don, Rock On!!, Luck By Chance and Zindagi Na Milegi Dobara and more! Quite an impressive list for a man who has only been wearing the producer's cap for a comparatively short time. Next up for Excel and Ritesh is the sequel to the superhit, Don, which opens in the UK today and everywhere else on the 23rd. Ritesh is very excited about this cool sequel and he really thinks audiences are going to enjoy the ride Don takes us on this time. See what he had to say about all things Don, Shah Rukh and the most important job of a producer.
What convinced you that Don 2 should be made?
The thing is I think Don was such an iconic character and then he became an iconic character again with Shah Rukh's Don 1. The exciting part is you are getting to make a sequel for the first time on a negative character. That does not happen here in India or even in Hollywood. You have this really bad guy who's been selling drugs, kills people, but somewhere you've identified with him. You know what Shah Rukh did with the Don character was he bought in a certain coolness with his charm, he made bad look really good, made it look sexy. I think that's what appealed, because somewhere I think there is an evil streak in all of us, you know. I think most people identified very easily with Don's character. We got in a lot, a lot, a lot of requests after we released the first Don, with people asking things like, 'What's gonna happen to the character?' They wanted more of him and I think that put us on the path of getting into the sequel.
You almost like him and you shouldn't, but you do…
You can't help it. He's somebody you can't hate and you can't love. You don't know what to do with him, but you like him. At the end of the day you don't want to see Don being caught and you don't want Don to die. That says a lot that you really, really find him charming and you like him.
So what's different this time around?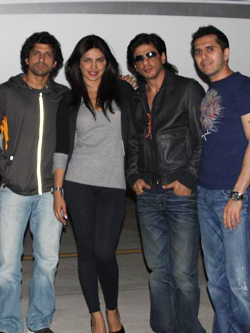 It's an interesting sequel which starts off five years from where you left it in Don 1. He has revealed himself to Roma: at the end he tells her 'Junglee Billi' and she realizes that, 'Oh my God, actually he's not only fooled me into falling in love with him… he's also killed my brother and he's the bad guy!' He gets Boman arrested and puts him into jail. He's free and he fools Om Puri, who plays the character of Malik. It's going to be interesting to see what happens with his journey because we've kept the characters the same. We've started exactly from there so you pick up the characters knowing that now he is Don and what he has done to their lives and then see even with that how he's going to manipulate them. You're going to see a lot of action in this one. A lot of action has been done by Shah Rukh himself. A lot of nice car chases. Beautiful locations. And again a lot more twists and turns and suspense. It's like an edge of the seats thriller. I can't tell you more about the plot because that would give it away. I think it's going to satisfy the hunger for the sequel that people have been waiting for.
SRK jumps off a building in Berlin?
Yes, yes, yes. He did that stunt himself. It's an interesting sequence, I can tell you that. He's trying to escape from the bad guys. That was actually the only scene we wanted to shoot in some location in Berlin, but it being some cultural event there they were not allowing us permission on that location, so Farhan had to rewrite the sequence of how Don escapes from these people. When Farhan and me were on a recce there, we went to this hotel and we were at this restaurant, at the rooftop, and suddenly we saw people doing base-jumping and he got this idea of what if Don does this? It's kind of a creepy feeling where you have this building, which has hotel rooms in it, and it's got a working office, so people are sitting working at their work desk and suddenly they see people, students jumping off this building. We saw this stunt and after we came down we realized that this is what Don needs to do. It's done in an interesting way in the film: these guys are chasing him and he takes them to the rooftop of the building and suddenly jumps off. It works out really nice.
So, working with Farhan Akhtar?
I think it's great, you know, he's multi-talented, he sings, he writes, he acts, and he's proved himself in every field he's done. I think it's always an asset to have a person like him around (Laughs). If somewhere in some field there is something lacking, we can always go to him. Farhan helped us out in writing these dialogues. It's been a great relationship in terms of a working relationship. We've known each other since school. We've been friends from when we were kids. The dream we had of where we wanted to take Excel Entertainment in 10 years, I think we've achieved that. We have similar sensibilities in terms of the kind of movies we want to make, the kind of stories we want to tell, and I think that's what has kept us going. I think we've stayed grounded to telling stories we believe in. We've not gotten bogged down to 'this is what works so… or this doesn't work.' Just go out there make your films, support new talent. We've given a platform with Excel to a lot more new talent to make films. I think it has been an interesting collaboration. Hopefully, we'll continue working the same way.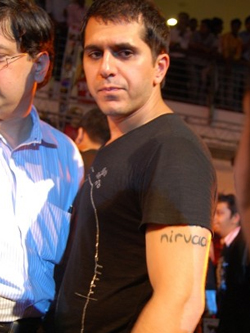 Talk to us about working with Shah Rukh Khan.
Shah Rukh is one of those people, who we actually started working with in 2006 for Don, but he was a very, very dear friend already. We got friendly after Dil Chahta Hai released. We used to hang out a lot, had again common interests. He loves playing sports; he used to play a lot of video games. We hung out a lot for a long time before we got into a professional tie up, which was with Don, so it's been great. You know, again we are so close; really it's great fun to work throughout the day. We respect each other's spaces. I don't think I take advantage of him because he's my friend so I make my actor do what I want and neither does he think the thing that, 'Okay the producers are my friends I should throw my weight around' or anything like that. I think we have a professional relationship in one and then once we are wrapped for the day we hang out, we party. I think it's great and it reflects on screen.  I think he's great, great, great fun to work with.  Extremely accommodating, no issues, you can make him work in any condition, whatever you do for the film he'll just stand there rock solid like a pillar. He'll never budge because for him the most primary thing is cinema and everything else comes after that, which is a great quality to have in a lead actor.
What is the most important thing/job for you as a producer?
I think the most important job for me or any producer should be and is purely in the script to choose, because at the end of the day whatever you may do – your cast, the talent you get attached, your crew, nothing will be possible without having a script.  Right?   I tell all new filmmakers, new writers that you need to believe 110% in what you are doing, because it's your duty as a producer/filmmaker to go out there and convince talent. You also obviously need to bring in and coordinate with the right people that can bring in extra for this visually rich, original medium. Then go out there and make sure that the millions of people coming to watch your film are satisfied with their experience. I think it's very crucial that as a creative producer, you make sure you cast the right actors to their characters, you get in the right crew to support the director. This is to minimize his work so he is only concentrating on the flow and getting the right performances from the talent and achieving his scene, rather than being worried about what if you got the wrong DOP or production designer or wrong costume designer. I think that's where an experienced producer brings in all this other talent to give the director the platform to make his film the way he wants to.
The 'Don Says' promos are really popular.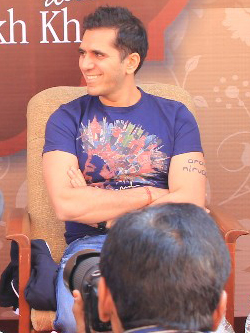 What most people associate with the film are certain lines of Don. These lines have become so iconic. Don't know if you remember, but Don is very witty. He always leaves something, which is I am not saying is poetry, but his lingo becomes something that people catch on to. Like there were a lot of things, which happened with Don 1 and we wanted to set it up in the right way and we thought that the common lines, most important phrases that, you know like Simon Says, why don't we replace it with Don Says. We decided this concept as a countdown, 11 weeks – 12 weeks before the movie releases, every Friday when a movie comes out Don will come out and give you a quote about something that he believes in. It's become so popular. Like today in India you have these SMSes where people have made their own Don-isms. I went one day to a restaurant and was shocked to see that there was 'Don kabhi koi saboot nahi chortha' (means he never leaves a trace or a trail behind), in the bathroom and then it says 'Please flush' – Don. It's become so popular that people have launched on and started putting it out.  I think it's quite interesting you know.
What do you think audiences are going to love about this sequel?
I think anyone who's coming in expecting a sequel they are going to be satisfied at one level, because one thing we've stood up to is that we have not made Don good suddenly. People were under this fear that if we are making a sequel to the first one that they don't want him to become good. No, he's going to be as mean, he's going to be even more menacing, even more action and he's going to be badder than he was in Don 1.  I think it's interesting to see how we're going to justify the whole fact that now he's revealed himself, how he's making these people still work alongside him. Obviously he has some ace up his sleeve.  I think they are coming in and expecting a sequel with big action, large canvas, I think they are going to be satisfied with what they see. But it's an intelligent story.  It's not raw. It's very real time, authentic action.  You're going to see a very, very stylized sequel to Don 1.
It was really cool to talk to Ritesh and I thank him for taking the time.  Don 2 is in theaters now in the UK and opens everywhere on the 23rd! Be sure to go see the action, the intrigues and the suspense they have in store for us!