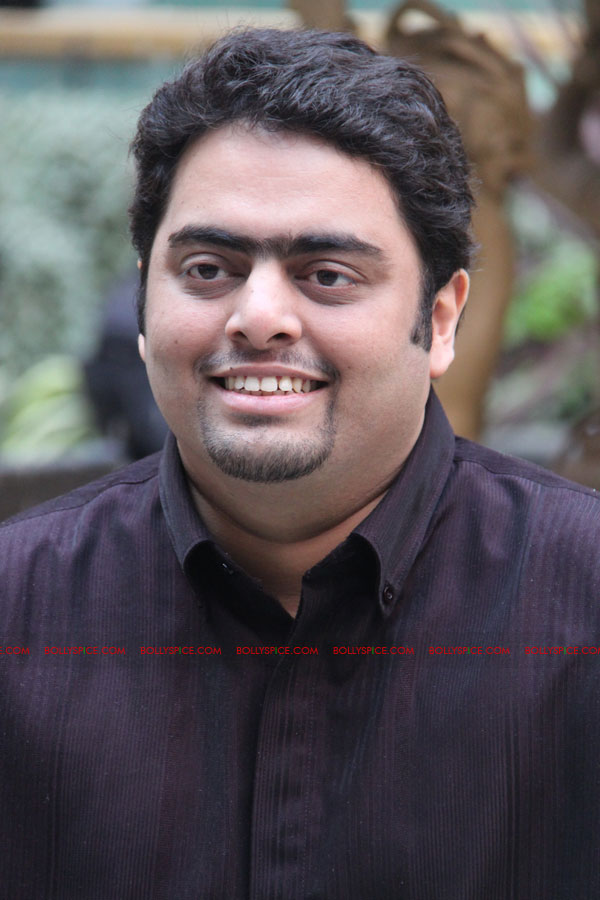 7 Welcome to London (7WTL) is a British made bollywood-esque action entertainer on the topic of immigration, featuring and directed by VJ Asad Shan from Zee TV's music channel Zing.
In days to come you will hear much more about the upcoming Brit-Asian thriller and you will also come to hear of writer, director and actor Aliakbar Campwala. Born and raised in South Mumbai, Aliakbar is a name to watch out for…Not only does he play one of the main roles in '7WTL', he is also the film's assistant director.
Aliakbar plays the role of IT wizz Goldie who has migrated from Chennai and is the lead Jai's best friend. I managed to catch up with Aliakbar at a special press conference and video launch in central London on 1st March to find out a little bit more about him and 7WTL.
Can you tell us a bit about your background?
The majority of my background is in production. I'm a film maker, I've won short film awards and I've worked as an assistant to different kind of film makers, where we've screened films in festivals. I've mostly worked in media production, but I also do a bit of acting and love doing comedy. In this production (7WTL) I could bring my knowledge and the experience I had.
Could you tell us about your role in 7WTL and how you found playing your character?
I play Goldie in the film (Asad Shan's best friend). He's a different character, a light hearted person – he plays a very interesting role in the film, someone who has been in London for a while, so he regards London as a second home.
Did you draw on your own personal experiences of being from abroad to play the role?
Yes I did…Goldie is a South Indian person living in the UK, he's an IT engineer and I was born in Bombay and have a lot of friends from South India who would only talk IT to you, so I had the knowledge and could put that into the character.
So how was it playing a South Indian – the accent and the mannerisms are very unique?
Well I'm actually a Gujarati, but it was not hard at all because my Mum's side of the family is from South India, so it was easy for me to adapt to the character, as we used to travel to south India a lot.
So can you do a good south Indian accent?
Easily! (Laughing)
What was it like working with Asad as a first time director?
I think whenever anybody creates anything, whether it's a short film or a big film, the script is very vital. We all had our own experiences and knowledge and I think we all put together a really good piece of work, to showcase to the audience and I think we've done a really good job on it.
Asad as a colleague: it was different. We were working behind the scenes (as director and assistant director) and then also on screen (as best friends). I think we had a good relationship together.
If you were to have directed this film what would you have done differently?


I think every art is priceless. It's not about me directing, I think we would still have done a good collaborative job. I'm pretty sure I've scolded Asad on set about a lot of things! (Laughing)
Did you bounce ideas of each other?
It was never about control, we were very frank on the set, like if something was going wrong or I'm doing something wrong we would just stop each other and take things in control. I'm pretty sure we had a lot of creative arguments (laughs). But eventually you always look at the big picture, you want to create something that you're proud of and I'm pretty proud of what we've done.
Any plans to direct a feature yourself?
Fingers crossed! My websites updated constantly so you'll see a lot of news there…
I have to ask: what's your favorite Bollywood film of all time?
Agneepath – the old one! The reason being was when Agneepath came out in Bollywood it was not a mainstream bollywood film – it is still regarded as a cult classic. It has a very personal place in the heart. The new one will never take that place.
So were there hints of Mithun Chakraborty's Krishnan Iyer MA in your 7WTL role?
Actually yes! You could say that…but it was not just about the acting to me, Agneepath was one of the most creatively directed films you will see in Indian cinema and it was different when I used to watch it as a kid. It has one of the best transition scenes you will ever see in Indian cinema, when the small kid says his name: Vijay Dinanath Chauhan and the transition shows the elder Vijay (Amitabh Bachchan).
What do you think of the new Agneepath then?
The new one has a class of it's own, it's different, which I'm happy to know. The way they've made it is that it's a pretty good tribute to a cult classic film and I'm happy they didn't try to replicate it, it's something even fans of the old Agneepath wouldn't mind watching.
Can I just assume then that your favorite actor is Amitabh Bachchan?
Yes, he's an icon for people that were growing up…you look at him and you think you want to do what he was doing…who wouldn't?
So if you were to direct a film would it be a Bollywood film, or a British Asian film like 7WTL?
I've worked with a lot of international directors, I've worked with British directors, Middle Eastern, and Iranian film makers. I don't like to label Bollywood as Bollywood, I state it as Indian cinema and any type of cinema you work on, in any country is quite an achievement. If I get a chance to do anything in Mumbai I would leap on it, it's my hometown!
So what's next for AliAkbar?
Watch this space…
I am certainly excited for Aliakbar and believe there's great things in store for him, as a writer, a director and as an actor. If you want to learn more about him, see any of his previous work, or even want to know what he's up to next, be sure to visit his website: www.aliakbarc.com
7WTL releases nationwide all over the UK on 9th March (with a worldwide release to follow). For more info visit: http://www.7wtlfilm.com/