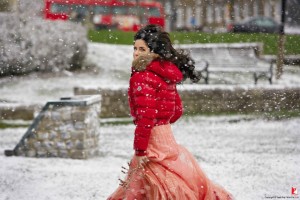 Katrina Kaif is no doubt enjoying her huge success within the Indian film industry today. Her latest film Jab Tak Hai Jaan sees her play the role of Meera Thapar, the final Yash Chopra heroine to ever grace the big screen. She is also one of two actresses to be smoking a cigarette in a Yash Chopra film, the other being Parveen Babi in Deewaar (1975). Katrina looks dazzling in Yashji's final epic and performs her character with conviction. Although she is not the greatest Yash Chopra heroine we have ever seen, she definitely went to great lengths to prove that she is a serious actress and manages to project maturity and solid emotion in Jab Tak Hai Jaan.
In a recent interview with the Hindustan Times, Katrina talked about Jab Tak Hai Jaan and how it feels to be a Yash Chopra heroine. "Personally, it means a lot to star in this film. There was a time when I desperately wanted to be part of a Yash Chopra film, not because he was a great director, but because I was an outsider and I wanted that validation of being accepted in the film industry. I thought I would never get a chance to work with him because he likes his heroines in Indian clothes and I did not fit that image."
Giving her opinions of Yashji, Katrina had the following to say: "Yash Chopra never designed his shots, or choreographed them. If he strongly felt it was right, it turned out right. He never looked at the technicalities of a shot, whether the crane was placed right or the lights were fine, etc. He said, if the scene induces emotion, that's it. He loved women, adored and respected them. He lent them a certain sense of empowerment. He put them on a higher pedestal, unlike a lot of other men. That is why his heroines always got to share an equal amount of space with the heroes in his movies. He understood and empathised with natural beauty, not technical beauty. He never liked anything jazzy and he wasn't fond of western clothes. Yashji loved Indian wear. He was very happy when I wore a sari in the film."
When asked about the first time she had ever learnt about Yashji, Katrina said that it was during the release of his cross-border romantic epic Veer-Zaara (2004), which starred Shah Rukh Khan and Preity Zinta. "I had heard of him, but he wasn't there in the conscious part of my mind. I came here when I was 17. Before that I had learnt about the major people in the industry. I had gone for the premiere of Veer-Zaara. So yeah, from that time onwards, I was aware of his magnitude and stature in the industry."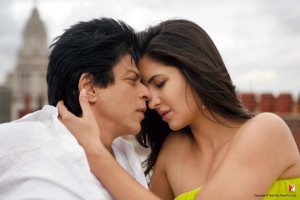 Also asked about the first time she had heard about her Jab Tak Hai Jaan co-star Shah Rukh Khan, Katrina said it was whilst watching Asoka (2001), which starred him and Kareena Kapoor in the leading roles. "It was in London. I was watching a film called Asoka. It was one of the first Hindi films to be publicised in England on the same level as an English film. I heard Shah Rukh's name then. But I didn't know the magnitude of his stardom. My mother and I were watching the film. We didn't watch it till the end. I wasn't used to the length. It was a long film and we had to go somewhere. I actually remember watching it, but I don't have a good experience of it to relate, which is funny."
Reflecting back on the days she worked with Shah Rukh in Jab Tak Hai Jaan, especially since this is the first film which has her paired alongside him, she stated the following. "He had been a very formal and distant acquaintance. I have to admit that I was slightly intimidated when we first shot our scenes together. Like, he would hold my gaze for not more than two seconds and vice versa. Initially, there was a little awkwardness and it was overwhelming. Even though I have met him at stage shows and award functions, our meetings had always been very polite and abrupt. Working with him was like getting to know someone from scratch. Then when you get to know him, it's like, wow!"
"He is very particular about his co-stars. He wants to see them do well. If you notice, Shah Rukh's heroines never have inconsequential roles. They are always in equal roles. This is the similarity I find between Yashji and Shah Rukh, in terms of their approach towards the women they work with in films. They place them on an elevated platform. Then I realised, he's not a person, who minds his own business. He takes active interest in your career too. And that's a nice feeling."
Jab Tak Hai Jaan is now in cinemas worldwide!