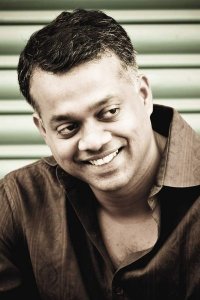 Gautham Menon, the director of this week's new release Ekk Deewana Tha spoke to our London reporter Sunny Malik about the film which is a remake of his blockbuster Tamil movie Vinnaithaandi Varuvaayaa. The film was also remade into Telugu as Ye Maaya Chesave in 2010.
Gautham has directed numerous Tamil and Telegu films but the last Hindi film he directed was the 2001 release Rehna Hai Terre Dil Mein.
Ekk Deewana Tha starring British sensation Amy Jackson and Prateik Babbar is Menon's second Hindi directorial venture and is termed a 'musical' with an original soundtrack composed by A.R. Rahman.
Can you tell me a little bit about the film 'EKK DEEWANA THA'?
I would not call it a different love story, but it's a real love story. It's a love story people normally identify with and have seen in their own lives. It's also musical, the way it has been treated. I built the screenplay around A.R. Rahman's music. I really wanted two fresh actors for the film, that's why I chose Prateik and Amy. Having said that, they have both done really well. Prateik is quite endearing and vulnerable in the film. Amy has brought her own into the character and she looks very Indian and has worn those clothes really well. I never had a problem with her lip sync throughout the making. It has been a journey.
'Ekk Deewana Tha' is a remake of one of your own Tamil films. Why did you decide to remake 'Vinnaithaandi Varuvaayaa' ?
I thought it's a story that needs to be told to a wider audience. I made the film in Tamil and Telegu and it did really well. It's a story people will really identify with. I heard from a lot of people, that they saw moments they lived in their own lives in the film.
Any film will work if the story is good and if the people will identify with it.
Amy is a British girl. Was that more work for you as she could not even speak Hindi? Why did you specifically chose her for the film?
Amy was chosen more because she is new and fresh. She has not done anything on the Hindi film screen before and we definitely wanted someone like her. She is gorgeous looking. She looks beautiful in everything she wears. We gave her the dialogues very much in advance. When she used to walk on to the set, she would be so good with her lines and was spot on. I don't remember that I had to do retakes because her lines were incorrect. I had to do so for other actors though, if you know what I am saying.
Why did you chose Prateik ?
For the same reason, as I wanted fresh faces. I could have taken this film to any of the younger bigger heroes but I don't want to and I like working with people like that. I thought Prateik will sort of fall in place and listen to what I want and give me what I want.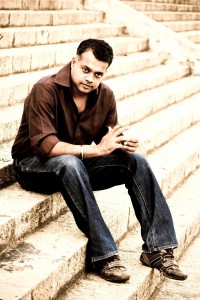 You mentioned earlier that you built the screenplay around the music.
So, I had a story and started to write a screenplay and at some point I spoke to A.R. Rahman and he loved the idea. He started giving me songs and he gave me more songs than I actually required so I had to tweak the screenplay to include the songs. I love the songs and the music so I built the screenplay, especially the second half around the music. One particular song 'Arumale' which means My Beloved was actually not there in the script at all. When A.R. Rahman called me to listen to it, I went back home and wrote a completely new scene around that song and pictured the entire climax around that song as well. That's why I am saying that I built the screenplay around the music.
You also recently said that the film has a new climax which will surprise the audience. Did that come about because of this particular song?
No, No. That did not happen because of this song. The climax will surprise the audience because of something different.
Did you change the climax because you don't want it a scene-by-scene remake of your Tamil film?
Yeah, definitely. There are people who have seen the film and that's why new actors have come on board. I have shot the film with a different DOP and the structure and locations are all different. Even with A.R. Rahman, when he re-recorded the songs, he did not record them with the same singers, so that when people listen to the same songs they will find them new and interesting.
Which is your favourite song from the album?
Of course, I love all of the songs. If you want me to pick one song, the one I keep listening to is, actually there are two tracks. One is 'Sharminda Hoon' and the other one is 'Kiya Hai Mohabbat'.
You have 20th Century Fox on board for 'Ekk Deewana Tha'. They are co-producing the film. How did that come about? Do you think it is important for a film like yours to have a distributor like Fox to push the film out in international markets like with 'My Name is Khan'?
Absolutely. I think with Hindi films, it's important to have a studio on board. The marketing structure, the research, the kind of planning that goes into the film is very professional, ethical and it tells you a lot about your own work.
They saw the film and they loved it. Their bosses from LA saw the film in Chennai and I was thinking how they would react to a film like this but they loved it. One of them who came from LA had very nice things to say about the film and then we went ahead and made the film with them.
So what is next for you post 'Ekk Deewana Tha'?
I am already 50% into a trilingual project. It is a Tamil, Telegu and Hindi film simultaenously shot in three different languages with three different heroes playing the lead. The Hindi version is with his boy called Aditya Roy Kapoor. The film is tentatively titled Assi Nabe Poore Soo.
Ekk Deewana Tha releases in the UK on 17th February 2012 through 20th Century Fox.