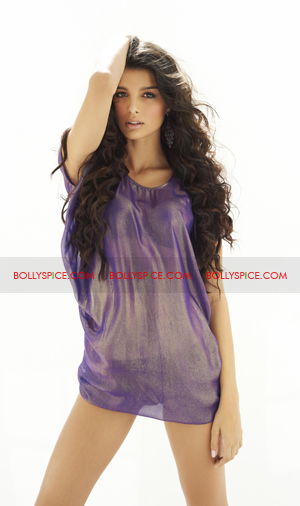 After 'Chikni Chameli' of Katrina Kaif and 'Munni Badnaam' of Malaika Arora Khan, Brazilian actress Giselli Monteiro is very excited about her nautanki item dance nautanki queen hoon india se aayee hoon her forthcoming Sandeep Kapur produced film Pranam Walekum. She plans to out do all the previous dance numbers done so far and carry more zing, energy and sexier moves into her dance. Coming back to shoot after a two months long holiday in Brazil, she has straight away plunged into rehearsals for the dance. According to the producer Sandeep she is playing the role of a nautankiwali in the film and to be the best she is rehearsing almost for 18 hours a day since last 10 days. "She is one dedicated girl. Although she dances well but to do a nautanki item number as a nautankiwali her moves have to be more earthy and indianised. Then this dance is for the film and has to fit into the independent charms of the storyline. So she is putting her heart and soul into it. She wants to outshine all the item numbers done till date in the industry and the way she understands and imbibing the steps, emotions and expressions into her moves is amazing. It will be one helluva of a dance."
Pranam Walekum, satirical comedy directed by Sanjay Mishra is moving at a fast pace. It has been shot extensively at outdoor location of Bhor. As the title suggests, PRANAM-WALEKUM, with its tongue in cheek humor, is a funny and satirical poke at life.
Produced by Sandeep Kapur, star cast of the film is Giselli Monteiro, Vijay Raaz, Manu Rishi, Shilpa Shukla, Manoj Pahwa, Sanjay Mishra, Vindu Dara Singh and others. Irrfan Khan is in guest appearance.
Pranam Walekum, produced under the banner of Promodome Films, is co-produced by Bhushan Sharma while music is given by Amit Mishra.