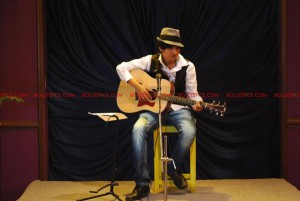 The last few years we have been witnessing this trend of young talented singers who hope to get noticed by putting up videos on YouTube singing their own version of several current hit songs. Think of Sam Tsui, Nataly Dawn and Esmee Denters, and of course one of the most famous examples, who now has a succesfull singing career, is that of teen idol Justin Bieber, who got noticed by Usher.
It seems that now in India we have found one young talented boy named Armaan Malik. Malik gained a lot of curiosity and a lot of views in the last few months when he released his version of Bruno Mars' song 'Just the Way You Are'.
The video went viral on Twitter and Facebook, after actress Priyanka Chopra praised the 16-year old and has since then been viewed more than 60000 times. Armaan is really happy with the response he gets on YouTube and replies personally to all who leave a comment. He assures us we can expect more exciting stuff. "Yes, I am really really happy to know that Priyanka Chopra , Gul Panag and many other people have dearly appreciated my cover. I am planning on some other exciting stuff. They too will come out soon :)."
When I heard and saw him singing his version of Bruno Mars' 'Just The Way You Are', I was taken right back to SRGMP Lil Champs. I clearly remember watching this little boy on television singing songs such as 'Tere Naam' and 'Thoda Sa Pyaar Hua Hai' with such depth. And to think, he was only 10 years old. It has been six years already and here was an all grown-up Armaan Malik, ready to mesmerize India with his voice. Let's get to know him a little better.
Armaan Malik comes from a musical family. He is the son of composer Dabboo Malik and nephew of composer and Indian Idol judge Anu Malik. Therefore it comes as no surprise that he has always wanted and has been singing. "I have always been interested in singing. Singing is one thing that defines me. Since I hail from a family of musicians, music came naturally to me."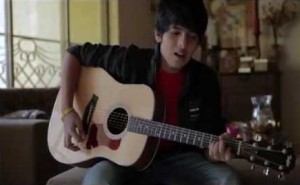 He started singing at a very young age. "I started singing from the age of 4. As I recall, as a kid I was always inclined to music and singing. My parents still remember the day when I cried in tune! I have learnt singing from Mrs. Rita Kaul and Qadir Mustafa Khan (son of Padmashri and Padmabhushan recipient Ustad Ghulam Mustafa Khan Sahab). Yes, and I am still taking singing lessons."
And with this talent in his pocket, he participated in the singing competition SRGMP Lil Champs and also appeared in the Zee TV show Chota Packet Bada Dhamaka. So many reality shows at such a young age. According to Armaan the experience was "amazing". "Participating gave me immense confidence and taught me what the real world out there is like. At the age of 10, I was competing against contestants of 15 or even 16 years of age. So I felt really great having reached the 7th position in the competition."
But his singing career had taken off even before he was participating in these shows. Though participating did give him a big break. "I had already started singing for ads and jingles, before I participated in Lil' Champs. But the competition surely did give me a strong push in my career. My biggest break was when I sang for the musical duo Vishal-Shekhar alongside Mr. Amitabh Bachchan for the song 'Mere Buddy'. Thereafter I sang for about 15 Bollywood films, the prominent ones being Rakht Charitra, Chillar Party, Taare Zameen Par and Hanuman Returns. I also acted and sang in Kachcha Limboo. Besides that, I have also acted in ads like Kurkure and Country Club."
The young singer also compose his own songs, but admits that he loves singing the most. "I haven't composed for movies, but I do compose my own songs as a Singer-Songwriter. As a musician I feel that composing is an integral part of your growth as an individual artist. I believe composing a song is as important as singing it. I love both, but singing is and always will be the closest to my heart. And as the trend goes…where composers have started to sing as well, Armaan says that is what he wants to do eventually. I want to sing for films and compose, write and sing my own songs. "
Armaan enjoys Western songs as much as he loves Indian songs. We asked him about his favourites.
Who are your favourite singers?
Sonu Nigam and Shreya Goshal
And Western artists?
Michael Bublé and Rihanna. I also like Coldplay.
In the future Armaan hopes to release an album and sing for films. "I have already done a short course in Berkley College of Music, for which I had received a full-tuition scholarship and honours at the end of the program. In future, I want to sing for movies, come out with my album and study music production and sound designing."
Armaan Malik is definitely one talented singer to look out for. I am sure, he will take this industry by storm.
Here is the video!
httpvh://youtu.be/YJgdn_GvDyI