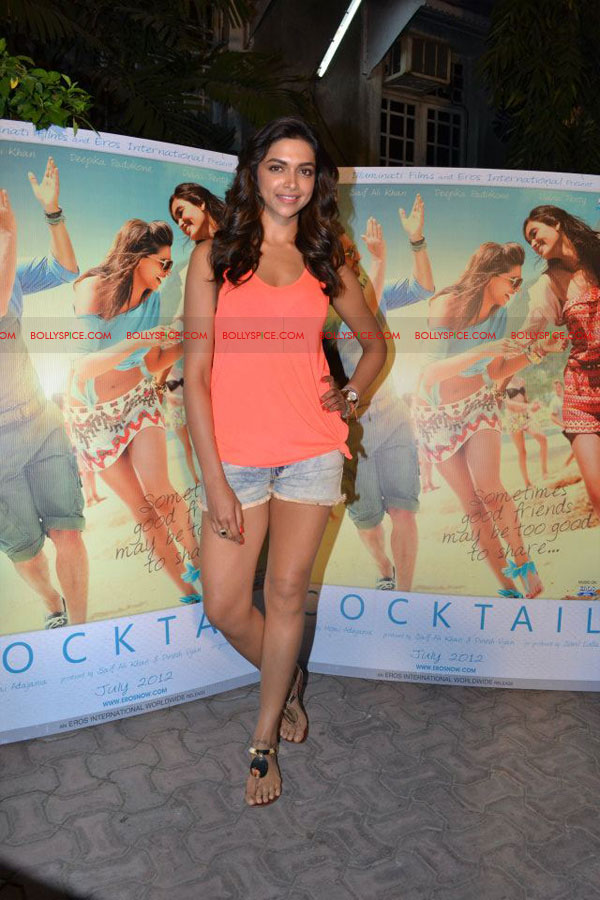 Deepika Padukone is set to return to the silver screen with Homi Adajania's Cocktail which releases across UK cinemas in July.
The 26-year-old actress recently clarified that both her character in the forthcoming film and the theme of the movie are different from what people saw in her 2009 hit Love Aaj Kal.
"The minute people see Saif and me together, they will think about Love Aaj Kal. Yes, of course, Imtiaz has written the script, but it is directed by Homi Adajania who had earlier made Being Cyrus," Deepika told reporters at the event.
"Yes, it is a love story, but it is also about friendship, betrayal, fun and trust. So I think in terms of the film, it is very, very different," said Deepika.
The trailer which crossed over 1 million views online yesterday shows Deepika, who plays Veronica in the film, in some bold scenes and mouthing some bold dialogues as well.
When asked about the dialogues she said: "I am not the film's writer. The dialogues were written based on the character that I am playing. Veronica is a very confident girl. She is very self-assured."
Padukone was offered both characters; Meera and Veronica. But she chose the role of Veronica while Diana Penty will be seen portraying the role of Meera in the film.
"Love Aaj Kal was a very different role for me. In this film, I was offered both the roles. My producer Dinesh Vijan was kind enough to offer me both roles. He said that you choose which one you want. I took it as a challenge and Imtiaz (Ali) also suggested to me that since Meera from Love Aaj Kal is so similar to the other character in the film, it would be interesting for me to play Veronica," said the Om Shanti Om actress.
And Deepika does not regret her choice at all. "I am so glad I went with that because when the trailer released two days ago, the response has been fantastic. What people are also reacting to is the fact that they have not seen me play something like this or look like this on-screen."
Cocktail is scheduled to hit cinemas in the UK on 13th July 2012.
Check out pictures of Deepika Padukone at the Extra Innings T20 where she promoted the film