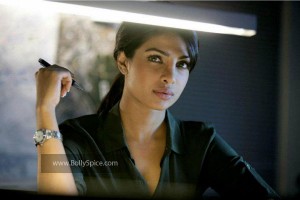 Priyanka Chopra certainly has had the range of roles this year, first it was the seven avatars of Saat Khoon Maaf, then she got to revisit her role from the hit film of 2006 Don: The Chase Begins Again. For the sequel of Don, Priyanka Chopra steps back into the gorgeous shoes of Roma, but this time she is tougher, smarter and ready to take on Don, only the problem is she is still in love. The actress says it was the fun doing the first film, that was one of the reasons she wanted to be a part of the sequel. Plus we think the chance to play the tough chick and get to do action scenes including a car chase had to be a major draw! We asked about this and more when Stacey had a quick chat with Ms. Chopra. She revealed what she felt like before and after doing that car chase, what it's like to work with Shah Rukh Khan and Farhan Akhtar and more!
What convinced you to be a part of the sequel?
When Farhan narrated the story to me, I just knew I had to be a part of it, because according to me it's a brilliant story. The story takes forward all our characters really well. It is a franchise that is really interesting. I think all of that combined made me really want to do. Plus we had a great time making Don 1 so much I just knew we would have an amazing time making Don 2 as well.
Where you happy to step back into Roma's shoes and play this tough character that she is?
Absolutely! I was really, really happy playing Roma's character. You know, more than anything she's a tough girl and she's very clear with how she feels in her head. That for me was really, really fun.
You got to do a lot more action even hand-to-hand combat in this one…
Yeah! I had to do some fighting and a car chase, which was really, really interesting in the film. I mean as a girl it was very challenging for me to be able to do all that action, but I had amazing trainers and the people we worked with on the film were really fabulous. It took me about two days of training for each thing and then I got it. After that we shot both the sequences and it turned out really well.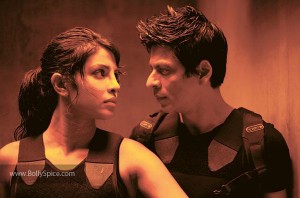 Really a fight scene is like choreography…
It is! It is like choreography because you have to learn the steps. But it has to look like its not choreography. That is the difficult part.
Were you scared doing the car chase?
Yes! My heart was really pounding because you know driving the car so fast and in between like the buildings and on top of going downstairs, driving at like 100 miles per hour. It was crazy. But it was just so much fun doing that.
I bet you felt tough and cool, like yeah I did this!
(Laughs!) Yes! My heart was pounding while I was doing it but I acted really tough and cool!
Can you tell us a little bit about working with Shah Rukh Khan?
It was amazing working with him. It was great. I mean he's an actor I tremendously respect. It's a revelation working with him on set when you see him perform because he's such an incredible actor and he's such a team player that you know it's so much to learn when you work with him.
Roma both loves and hates Don. Was it difficult to portray?
Yes, it was because there is an incredible amount of love and hate between the two of them. I don't think even we know yet when we are feeling what for each other. But if you remember the first Don, Roma's character was betrayed by Don because she fell in love with Vijay and realized that it was not Vijay the whole time, it was Don. And Don killed Roma's brother and sister-in-law. So, coming into this film she has spent the last few years training to be a cop and her only life's ambition is to put Don behind bars. And when she meets him, he comes face to face with her; she gets so angry because he still affects her. And he keeps riling her saying 'you still love me'. You know, so they have an amazing relationship between the two of them, which is very palpable in the film.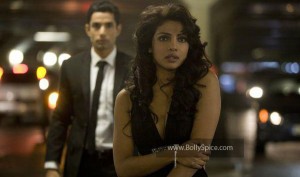 Tell us about working with director Farhan Akhtar.
Well I think Farhan is the most incredible directors we have in our country. He's pioneering. He's somebody who thinks out of the box, pushes the envelope. He makes films, which are not conventional, yet, commercial and makes them really good looking and cool and I think that's very cool about the way Farhan's films are. Conceptually he's someone who comes up with interesting ideas. I think he's really good at taking Indian cinema forward.
The music for the film seems much more a soundtrack, rather than just a set of songs for the film. What do you think about the soundtrack?
I really like the soundtrack of the film. Yes, you're right. It is more of a soundtrack than it is music of the film because the music has been written according to the script of the movie. So, the song 'Hai Yeh Maya' happened when there is a plotting and planning happening for an event in the movie. The only song as such that we have during the film is 'Zara Dil Ko Tham Lo', which is SRK and Lara's song. You know, that's when Don returns and that's probably the only song we have where the movie stops a little bit. But otherwise, the film just goes forward and everything else is background score.
Then there is the song with you and Shah Rukh Khan, 'Dushman Mera'.
That is the song between us and basically talks about their relationship and how much Roma hates him. How he's evasive and elusive. I mean, he's her enemy, but yet there is an attraction between them. That song has a music video, which comes at the end of the film.
What do you think audiences are going to love about this sequel to Don?
I think the sequel to Don is leaner, meaner, sexier and much bigger and that's what they are going to love about it. Everything you loved about Don you see three times more in this movie.
We would like to thank Ms. Chopra for talking with us again. It was a real pleasure and hopefully look forward to more interviews in the future. Don 2 hits theaters this week, go check out the tough Roma and see if she falls for Don's charms again!