The most nostalgic anthem of our childhood, 'Lakdi ki kaathi' was launched in an incredibly Damdaar way today in the presence of cast and crew of Hanuman Da Damdaar. Vinay Pathak, Chunky Pandey, director Ruchi Narain and producers Taher Shabbir and Ashutosh Shah made certain the event was nostalgic and yet, fun as they shared anecdotes from their film.
The song was launched by original kaathi girl, Urmila Matondkar, who could not help but be overwhelmed by the moment and the new song. Speaking about the new upbeat number, Urmila said, "This version of Lakdi ki Kaathi will be the new age anthem, hats off to the Hanuman Da Damdaar team to bring this song back."
While the event was packed with a walk down memory lane and many new celebrations, the biggest surprise were the small kids who did a flashmob on the contemporary version of 'Lakdi Ki Kaathi'.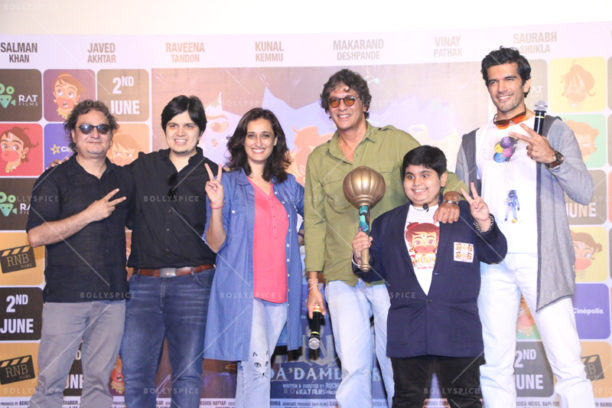 When asked what made them opt for this particular number, director Ruchi Narain said, "We wanted to retain the melody that we have grown up to, yet make it happening enough for kids today to be able to dance and freak out to! Judging from the reaction of the kids today, I think we've managed that!"
The frenzy of the event, the way applause the song garnered, we would say we agree with Ruchi's assessment! However, producer Ashutosh Shah had one more thing to be glad about, "While I am thrilled with the kind of appreciation we are getting, I am most touched that Urmila came and made this event such a beautiful one. It just goes to show when you do something right, you will have the best supporting you. What a phenomenal birthday gift for Ruchi today!"
Written and directed by Ruchi Narain, Hanuman Da Damdaar with an ensemble cast featuring voice overs by Salman Khan, Raveena Tandon, Kunal Kemmu, Chunky Pandey, Vinay Pathak, Saurabh Shukla, Makrand Deshpande and Javed Akhtar is been produced by R.A.T. FILMS, presented by RNB film in association with R.A.T films and is slated to release on the 2nd June, 2017.