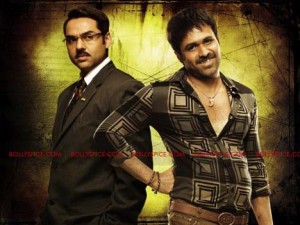 Emraan says he hates to play it safe with characters he portrays in movies.
Known for his serial kisser image in Bollywood, Emraan has had a total makeover in Dibakar Banerjee's upcoming political thriller Shanghai. To this he adds "… I would hate to play it safe. It's just not the word for me. Be it a comedy, a thriller or a romcom, I'm game for all. And I believe in giving myself up to the director completely. As an actor, he can make me do whatever he wants," insists Emraan.
In Shanghai, he will be sporting the flab and buck tooth.
The script was enough to convince Emraan to do the part. "He read the script, liked it and told me, 'I am on. Let's do it. You tell me how and when'," shares Dibakar and adds, "Emraan has a colourful character. He is a small town videographer called Joginder Parmar who, according to the situation, will project himself as a filmmaker, fashion photographer or a press photographer."
Shanghai will be releasing on June 8, 2012, under the PVR Pictures banner.