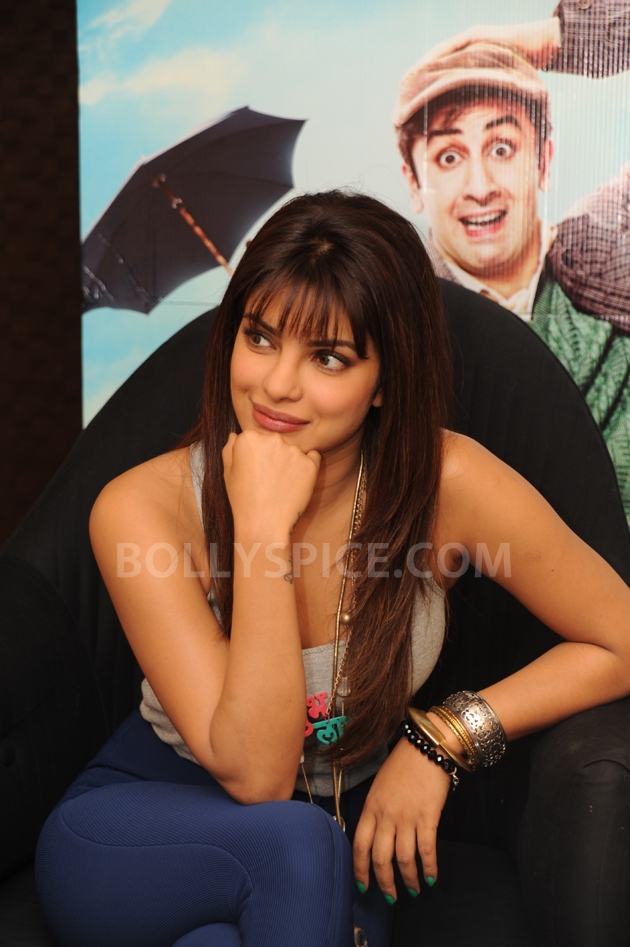 Bollywood superstar Priyanka Chopra is nervous and excited at the same time these days. The 30-year-old beautiful actress is about to launch her first international single In My City featuring will.i.am produced by Red.One under Universal Music and her next film Barfi! is set to open worldwide and in the UK this Friday, 14th September 2012 through UTV Motion Pictures.
BollySpice reporter Sunny Malik spoke to the actress-turned-singer recently during a promotional visit of Barfi! in London. Chopra, who was last seen in Teri Meri Kahaani, plays the role of an autistic character, Jhilmil, in this heart-warming tale of selfless love.
The Agneepath actress talked about her international music debut, playing an autistic character, director Anurag Basu and much more.
You have flown into London from L.A. where you were working on your international music album. How has it been?
I was in L.A. like you said but I was not recording. I have completed recording the album. It is over. I was shooting a part of the video for my single In My City featuring will.I.am which will be coming on the 13th when Barfi! releases worldwide on the 14th September. It's a really exciting time for me. Barfi! is a film I am tremendously proud of being associated with. It's a beautiful film.
Did you ever imagine yourself playing a role similar to Jhilmil, your character in Barfi! ?
I would have never seen myself like that. I would have never imagined myself playing Jhilmil. It was very scary in the beginning. But, it's a cool time. I am amazed that Anurag Sir (Director Anurag Basu) even thought that I could play the role.
Jhilmil is autistic. We saw Asperger's syndrome in Karan Johar's My Name Is Khan, what kind of autism are you portraying in Barfi! ?
You know, Autism has a huge range. Asperger's is just one form of autism. It can go from extremely non-existent, where you won't even know that you are autistic, to really severe. When we were researching what we wanted Jhilmil to be and how she would be, she turned into that person by meeting and speaking to a lot of people. That is how she emerged. There is no real reference point to how Jhilmil was. We have not derived her from any reference of any character. Because autism's range and the range of symptoms are so huge, it can be anything. That is what exactly she is. She has an incredible childlike innocent quality to her.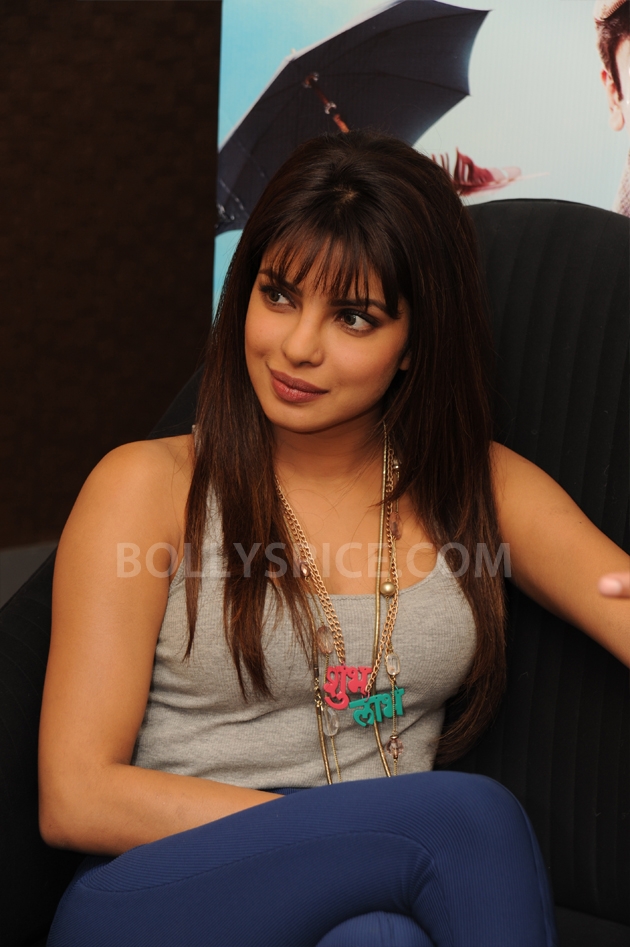 Ranbir told me that Jhilmil is not innocent and actually quite naughty.
Jhilmil is not naughty. She is very innocent.
He also said that you eat butterflies in the film.
I don't eat butterflies. I get scared by them. (Laughs)
It's always challenging to show emotions of differently abled people on-screen, especially of autistic people. How was that experience for you?
At every given point a human being has multiple emotions within them. There is never an isolated emotion. You don't only feel angry. You will be angry, stressed and you know, six things are happening together. But with Jhilmil, she is pretty isolated with every emotion. If she is feeling love, she will only feel love. If she is feeling anger, she will only be angry. It was beautiful for me because it was really free. I was not conscious of anything or anyone but it took me a little while to get there.
How was your experience working with Anurag Basu?
He is like a six-year-old on the set. He is just like a child. I don't know when he directed us. Anurag is the sum of all three characters in Barfi!. He is the sum of Ileana, Ranbir and me in this film.
What is the unique selling point of Barfi! ?
It is hugely entertaining and so funny. The kind response that we have got for the trailer was very encouraging. People have a certain inquisitiveness about the film which is great.
Apparently, you were not even narrated the script completely and Ranbir was. That is quite strange.
(Laughs) I was narrated the film completely. But the film morphed a lot. It changed a lot from the time I was narrated it and said 'I have to this film' to what it has turned to being. I forgot in the middle what the film is about. I did not need to know. As Jhilmil, the character, I did not need to know what the film is about. I just needed to know what Anurag said and that was a blind faith and trust that I think, we all three of us had in him. I really think that he is one of the finest filmmakers in the country.
Barfi! releases in cinemas on 14th September 2012.