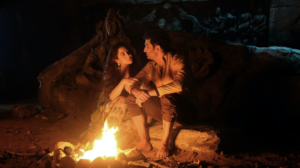 Sara Ali Khan, daughter of Amrita Singh and Saif Ali Khan, is all set to make her acting debut in Bollywood. Her first film titled Kedarnath, co-starring Sushant Singh Rajput in a key role, is slated to release in cinemas next week, 7thDecember 2018.
In a recent interview with, Sara was asked about how people around her had reacted to the trailer. To which she shared that her little brother Ibrahim Ali Khan had quite an interesting reaction to the trailer.
Sara said that it's only after the trailer that Ibrahim has started to take her seriously adding that he had seen her "fat, on my bed, crying that I want to become an actor". "When I was 96kgs, I was crying at home one day saying I want to become an actor and he videoed me doing this… When I was in London last time, he told me I am so proud of you." 
She went on to share that Ibrahim is not a very vocal person and hearing such praiseworthy stuff took her by surprise. She said, "He's a guy of extremely few words but strong few words. Hearing from him that I am proud of you and for a sibling like Ibrahim to say that, I mean it was really…."
Pack Your Bag Films releases Kedarnath on December 7th 2018.