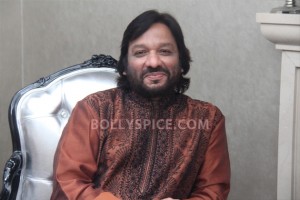 Bollyspice caught up with Roop Kumar Rathod, who is currently in London to promote his upcoming Saregama Events show 'Celebrating the Legends'. One of the top singers in Bollywood today, Roop Kumar Rathod has a voice like no other, which is steeped in classical, ghazal and sufi tones. Yet he is still responsible for some of today's soulful chartbusters, such as 'O saiyaan' from Agneepath, earlier this year. Having been in the industry for over twenty years, he is a great source of wisdom for music lovers old and young. Read on to hear what he had to say about music, life and his upcoming show…
I recall your first song from back in 1993, quite a journey for you since?
Wow! You remember that? 'Mein tera aashiq' hoon from Gumrah…
Yes, you were new on the scene. Kumar Sanu was reigning then and you also sang a song later with him?
Yes, yes…it was 'Barsaat ke mausam mein' (Naajayaz)
Many of us thought you had a refreshing new voice, will we hear more from him?
You're right, it was the early days…
So as we're in London, can you tell us what you think of British Asian music and singers?
I really love it. Especially Nitin Sawhney, I do like him. I also love Talvin Singh, he is a very close friend of mine. When I used to play the tabla, he would come round and we would stay up all night and have performed many concerts together.
I feel very proud when I see these young talented musicians from the UK. If you take India and Pakistan, everything is available there. You will get good teachers, good gurus and ustads, but here in the UK it is more difficult. Where can young musicians go and seek that knowledge and training? Yet despite that, the passion and dedication they have towards music extremely impresses me. I always say if any young musician wants to learn anything from me, then my life is at their disposal.
Turning to Indian singers, many recent successful singers like Kumar Sanu, Abhijeet and Sonu Niigaam came up as clones of the legends like Mohammad Rafi and Kishore Kumar. How do you ensure that you're not cloning Rafi when you sing his songs, as difficult as it is not to?
That's an amazing question! I have been interviewing all day, but no one has yet asked that! I often think why am I doing this? I don't sound like Rafi-saab, nor do I sound like Talat Mehmood, so then why have I been chosen to sing their songs? So my answer is that I have grown up listening to their songs and with singers like Rafi-saab, gaining a voice like his is impossible. If Allah gives someone a voice like that then they are extremely lucky. Otherwise you will not get a voice like that in a hundred years, or maybe never again.
Same with Lata-ji, a voice like hers will not come again easily, but what can happen is that your voice could come from that family of voices. So when you have been singing Rafi-saab's songs since childhood a texture of his voice will come into yours and therefore you will become a clone of him. Just like Sonu Niigaam did by singing Rafi-saab's songs, or Kumar Sanu became from singing Kishore Kumar's songs. Even my own brother Vinod Rathod, Abhijeet and Babul Supriyo, all grew up singing Kishore Kumar. So it is natural and will continue to happen.
I have never tried to sing like Rafi-saab or like Talat Mehmood. When I came to the industry I came with my own voice. Today when I have been given the responsibility of this show, then I will not try to sound like Rafi-saab. I couldn't even if I tried, but what I do try to do is to capture the soul that Rafi-saab put into each song. So songs like 'Suhani raat', 'Chaudhvin ka chaand', 'Khoya khoya chaand' – there is a glow within these songs which I am trying to encapsulate. That is easier for me as I have been doing this for fifty years. I have been dedicating myself to doing that which is why today I am able to get close to that glow, to the soul of that song.
So far until today no one has said to me stop, you don't sound like Rafi-saab, or that I should not sing his songs and hopefully no one ever would, as I am not blindly following his voice. I try and present it in my own style, with my understanding of the words. This is what I have been doing for the past six months in preparation for this show and God-willing it will pay off.
Talking of the songs selection for the show, there are hundreds of classics and there were few of you to select those songs. Have you been getting into fights about which songs to sing at the show?
Absolutely! Lots of non-stop fighting! The musicians are pestered with our lists, which keep growing and changing! Whenever we hear a new song, we think we must add that too! What about that song? Or we forgot about that one! There are thousands of songs and each one is amazing, so how do you choose? So the hardest job is selecting the songs and then short listing them.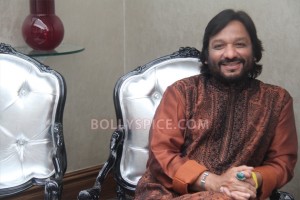 So how have you made sure the songs you like will be in the show?
What I have done is a survey of the songs which are popular in London. Which songs of Rafi-saab are popular in the clubs and in the restaurants? Which songs of his do the local singers in London tend to sing? So those songs get priority. Then there are songs which are great, but I think I will not be able to do justice to them, so I drop them and then there are songs which I think I can do well, so I add them. So that way I think we have ended up with a fine list of songs.
The show is titled 'Celebrating the Legends' and so it is something the audience must celebrate. If the audience gets bored with our selection, then it is not going to be a celebration! It will become depression! A celebration is the audience singing with us, to the songs they love and have grown up with. I want everyone to sing along. This is what you call a celebration.
Around seventy percent of the song selection are songs which the audience will know and love, twenty percent are more from the classical genre where they should think wow and around ten percent are my own songs, which are due to public requests.
It's my duty as a Bengali to ask you, where is our Kishore-da (Kishore Kumar) in these celebrations?
I know! Well, Kishore-da is not there, Manna-da is not here, Hemant-dada is not there and neither is Asha-ji. But this is just the start of a season, it is part one. When we do part two, Kishore-da and the others will be in it. These singers have done such amazing work that they will continue to be listened to and celebrated for another hundred years. For the two and a half hours we have for this show, this is what we will cover and the others will follow soon.
I have to ask you, as he is dearly missed, where is brother Vinod (Rathod)?
It is unfortunate. Where is he? He has wandered away from the path. I don't know why, but he is not really in many of the new songs. I am not sure why this is happening, as otherwise he is a fabulous singer and a fabulous performer. Since childhood he has been such a big fan of Kishore Kumar. Vinod has been quite an actor and performer since childhood.
A lot of it is about destiny and time, you have to just keep with it. Ups and downs are part of life, but one should continue striving. Success and failure go hand in hand. You mentioned my Gumrah song at the start, see that was about twenty years ago. That is a long time and I am still striving. So my principle is do not look at success and do not look at failure, just continue doing your job the best you can. Don't worry about the trophies, or being number one, just focus on doing the best you can with honesty and the public will love you.
Previously there used to be only a couple of singers who ruled the roost, but today there are more than a handful of successful playback singers. Who do you rate most out of the current batch of young singers?
They are all doing excellent work. Shaan is doing some great work. KK is doing the best work out of the lot of them, I prefer him the most because in each of his songs he creates something special. Kunal is a fine singer, technically he is better than all of us. He has learnt both western and Indian and so is very sharp. His voice quality is very good. When I heard 'Bheege honth' I thought what he had sung was amazing. Whenever I hear that song, I think what a great song that young boy has sung, it is one of my favourites. After that somewhere along the lines he became stagnant, his journey sort of stopped midway. He should have gone further up, but for some reason his graph isn't rising. So there is something missing there and what that is he needs to find out.
Perhaps he could learn a thing or two from the diversity of your songs?
Yes, 'Khamosh Raat' (Thakshak) was different from Veer-Zaara (Tere liye). 'Maula mere' (Anwar) was different from 'Rab ne bana di jodi'. You have to update yourself and do something different each time.
Thank you so much for an enlightening interview…
No, thank you. You're so good, you know all my songs from the very first to the last!
'Celebrating the Legends' will be taking place on 5th September at Symphony Hall in Birmingham, 7th September at De Montford Hall in Leicester and 8th September HMV Hammersmith Apollo in London.
For more info visit saregamaevents.com