Hitting theaters tomorrow is Rustom, starring Akshay Kumar, Ileana D'Cruz, Esha Gupta and Arjan Bajwa. Directed by Tinu Suresh Desai, Rustom is a love story but with a murder filled thriller twist.
The film tells the tale of a dashing naval officer, a beautiful wife and a perfect world and then three fatal shots change their lives. Based on true events inspired by the Nanavati murder case, Rustom is a gripping tale about Pride, Passion and Power, and a man who must his uphold his own integrity and that of the nation.
Check out the trailer:
Playing the beautiful wife, Cynthia Pavri, is Ileana D'Cruz (Barfi, Main Tera Hero) who told us that it was an amazing role that was especially challenging because of the emotional journey this character traverses during the film. See what else she told us about Rustom and working with Akshay Kumar in this exclusive interview.
Tell us about how you became a part of Rustom.
I wish I had this amazing or this fascinating story to tell you but it was pretty straightforward. I got a call from my manager saying there's this film called Rustom and it's starring Akshay. They were giving a narration and I remember going and saying can we please wrap this up in a couple of hours and she assured me that we will get done with this as soon as possible. And I remember listening to the first half, completely engrossed and the director was so polite, he told me you know would you mind if I give you a detailed narration for the second half or would you like me to rush through it. And I was like Oh my God, please take your time. So I was hooked right from the beginning. And like I said it was pretty straightforward, I completely fell in love with it. I actually couldn't believe I was being offered such an amazing film; such an amazing role and I just couldn't wait to say yes.
 
How would you describe Rustom?
Rustom the character or the film? Rustom the film. It's very hard, very hard. It's got different layers and so many undertones, it's not just a love story, and it's a thriller as well but an unpredictable of a situation. So I would just say it'll be a rollercoaster, no doubt, of emotions really. It'll take you through; probably keep you at the edge of your seat. And for me, it was a very emotional love story. And I think one of the best ones till date.
 
What drew you to this character?
I think there are a lot of things that drew me to the character. For one of course, it's the entire film but just to speak of the character particularly, I like the fact that she was so flawed, that she was human. And she wasn't the set of perfectly etched character where she is pure of heart and doesn't truly make a mistake at all. I like the fact that she is just a simple woman who ends up making a really big mistake and all she wants is to sort it out and end the fight. I like the human aspect to it, the imperfect person that Cynthia is.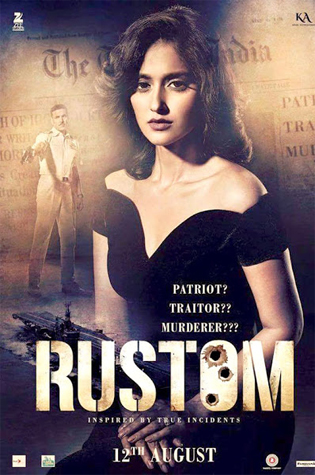 How do you prepare and become the characters you play?
I wish, again I had a big profound answer to that but as far as preparing goes, I don't really prepare. I think about it, but I don't do any sort of research. I do ask my directors if they want me to, but everyone I've worked with so far hasn't said anything to me about doing any kind of research. So, I've been lucky in that aspect but yeah, I pretty much didn't do any research for this at all. The only research I did do was to look up hairstyles of the 50s and that was it but as far as this role, I pretty much just went with it. I just believed that I was Cynthia Pavri and I was this woman who was married to a naval officer and she makes a really big mistake and now all she wants to do is sort it out. Yeah, so I just went to floor and was as spontaneous as I could be.
 
Tell us about acting opposite Akshay Kumar.
I've said this in one of my previous interviews that I believed I've had the best on-screen chemistry with Akshay than I have with any of my other co-stars. No offense to my previous co-stars but I say that for the simple reason, that this particular film is such an intense romantic – it's a romantic thriller, but for me I'm looking at the romantic perspective here. And it's such an intense love story, there's such an intense love between the two of them that you needed to have a really strong bond with the person you're acting with. And we did really have that. There was a sort of silent understanding; we wouldn't really rehearse our scenes but just the way that we would end up doing them. It was pretty much magical. I had goose bumps by the end of it like almost all the time. The tears would be real; everything was real so it was absolutely amazing. And a lot of that does come from Akshay as well because he was unbelievably supportive as my co-star. And he's a really easy guy to work with, really easy guy. He doesn't rush you at all; he gives you as much time as you need. And I needed that for a film like this. So I was incredibly lucky to do a film like this with him.
 
What was the most difficult scene you had to do in Rustom?
Oh boy, very, very hard to chose that because almost all the scenes with Akshay were very difficult except for maybe you know the romantic ones, they were a little more easy. But all the emotional bits you know, all the bits like say for example, you see me in the trailer saying, 'please Russie I can explain', so in that smaller look to it, I don't know if she can tell. I've gone through the entire journey of the film but you can understand of the turmoil she's going through. Everything after that scene in the film you see with him is about helplessness and it's really difficult to explain her state.
 
I read that Akshay Kumar saved you while shooting a scene in London? What was that story?
That was a little blown out of proportion. It was really nothing of that sort. If that actually were to happen, then it would pretty much be saying that they don't take the necessary precautions on set or safety measures so no I was absolutely fine. I did have a very jittery horse, and while filming in England and there was a point where my horse just refused to stay still so we did get the trainers and how Akshay helped out was that he helped to walk the horse out otherwise they would just budge.
 
What are your thoughts on the case in the film?
This particular film is based on a lot of different cases, it's inspired actually not just based, it's pretty much inspired from a lot of true incidents. And we are just taking bits and pieces so we can't really say that we have taken one particular incident and made a film out of it. They've had a lot of clearance control in this film and the story is something that has been written by writers who have been inspired. I can't really say what my take is on this and if we talk about the Nanavati case, I can't really say because I haven't really thought of it as it was way before my time.
 
Do you have a favorite song from the OST?
I do, I have two actually, I love 'Tay Hai' and I love it for one of the simple reasons, for one that it is beautiful but also it is also a song we listen to a lot on the sets especially during the emotional scenes because this is one song that would just get me back in the zone super quick. So anytime I had an emotional scene with Akshay, that song we would play. He's the one who suggested it when we started doing the scenes, they would play the song for me and I would get there immediately. 'Tay Hai' is a lovely song. And I love 'Dhar Jaaun Main'.
 
Have you seen the movie and what do you think about it?
I haven't seen the movie, I've heard about the movie from Akshay because he's seen it quite few times. And Neeraj has also seen it, and they both have been very pleased with it. Akshay has told me a number of times how happy he is with it. He called me up specifically and told me how much he loved how I portrayed my role. So I'm taking his word on it. And I can't wait to watch it.
 
What do you think when you see yourself onscreen?
My only thoughts are Oh my God, Oh my God, Oh my God, Oh my God, Oh my God. I'm cringing half the time. All I see are the flaws, the weird faces I make and half the times I'm like Oh my God what am I doing with my eyes, what am I doing with my face there. So yeah, I'm pretty critical. I'm yet to enjoy watching myself on screen, I don't think I ever will do.
 
What do you love about acting?
Everything about it. I love the high that it gives me. It's like a thrill; it's almost like a drug. The more I have the more I want. So I love the joy I get in playing a role, that I'm not sure I can pull it off. I love the uncertainty of going on a set and not knowing whether I'll be able to do justice to the role. As weird as it sounds, but I love that. I love that sense of accomplishment I get eventually when I see the look of happiness on my directors face, when they say it was amazing – I love that. I strive to do a good job and at the end of the day make sure my director's super happy with the work I do. So, it is a high every single day, a test. And that's kind of like the joy. Like when you're in school and you study for like a spelling test or something, you look for that little gold star at the end of your test so it's kind of like that for me. It's a little thrill every single day. I just look for a little bit of joy in my directors face everyday.
 
What are your thoughts on Hindi films? What will we see you in next?
I think I can only talk about my experiences as far as Hindi films are concerned and I've had amazing, amazing roles that I've played in the past five films I've done and I can't wait to start my next which is Baadshaho. Milan Luthria is directing it, so yes I cannot wait. I'm only just beginning my journey here so pretty excited about it.