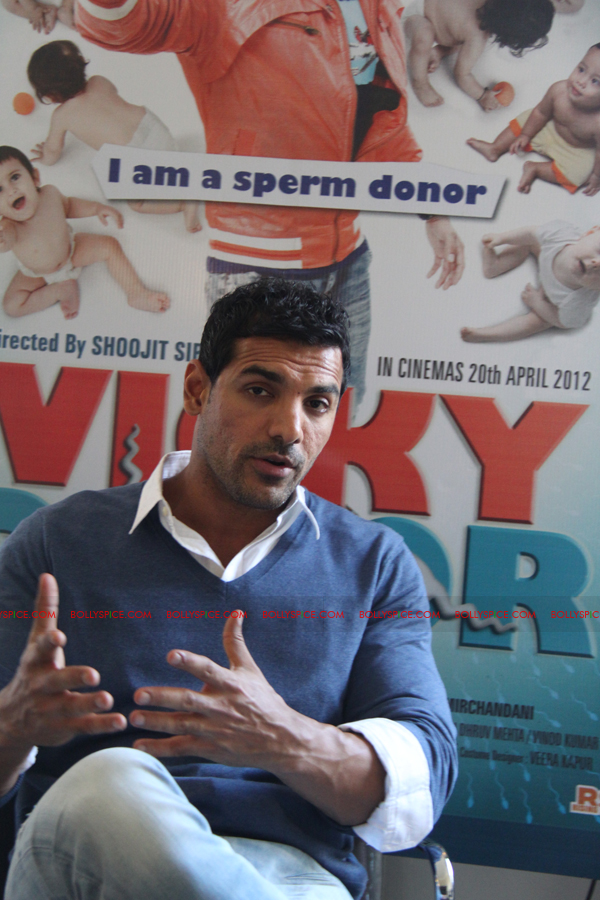 Is sperm donation legal in India? Is adoption not a better alternative? What should childless couples do? These were just some of the questions audience members asked John Abraham when he was in London yesterday for an exclusive press conference for his maiden production Vicky Donor. Bollyspice went along to meet John in his new avatar and from the presentation he gave and the audiences response to him, we have to say John Abraham the producer has arrived in a big way!
Many of you will know by now that Vicky Donor is the first feature production from JA Entertainment and stars popular Indian-VJ Ayushmann Khurrana in a romantic comedy between a Punjabi boy and a Bengali girl, which touches on the issue of sperm donation. The film, set to release on April 20th, is directed by Shoojit Sircar, who last directed Yahaan starring Jimmy Shergill back in 2005.
Here's what John Abraham, the producer, had say about his new role, his production company and his upcoming film Vicky Donor.
Getting into production:
This is my first feature as a producer. I did want to get into production at some point of my life and after being an actor it was a natural progression. The important thing was how, because it is such an important step, I did not really want it to go wrong. It had to be a reflection of what I really believe in and what I want from cinema personally. What a lot of actors do is start their first production, which is centred around themselves and which is driven by them – what is typically called star power. I wanted to test the waters completely as a producer and so decided I would launch newcomers and select a subject which I believe is different and edgy.
Becoming a producer:
I noticed that even when I was acting in Housefull 2 I used to stand in the corner, so somewhere along the line I like taking the back seat. I like going out and secluding myself from the crowd. Everyone has their forte, there are actors who love standing in the centre because they take responsibility and are the face of the film and there are people like me who like standing in the corner, which makes me more suited to being a producer.
How Vicky Donor came about:
I met Shoojit, the director of Vicky Donor and we were planning to do a film, which we are finally shooting from this October called Jaffna. In the midst of those discussions Vicky Donor happened and so we decided to present Vicky Donor together first. That is how it happened. I believe Shoojit is one of the best directors India has and Jaffna will only prove that point.
Very importantly Kishore Lulla at Eros Entertainment once did mention to me that whenever I become a producer, he will be the studio. When I decided that I wanted to become a producer I called him up and said, 'Hi, Kishore', he said, 'Haan (yes), I'm going to do it!' It was a matter of just five seconds and Eros was on. They have been a wonderful studio and have really been pushing this film. It is literally a very, very small film in terms of budget, but when you see the largeness of the film on screen it does not look like a small film. Eros has been pushing it like any of its big films and I must tell you that they have pushed it as much as they have pushed Housefull 2 or Agent Vinod. I think this is the best of the lot and when you see it you will understand why!
His involvement in Vicky Donor:
I have been involved with Vicky Donor from the first draft of the script, to the casting, to visiting the actors and the director on the shoot, to the post production. After that with the marketing of the film, I sat on the media plans because I was previously a media planner. We made this film with an optimum budget, with a certain publicity and advertising attached to it. I was very clear about my cost model, the idea was to make revenue but at the same time to create good cinema. To also create a product that I believe in, reflective of the kinds of film that I would make as a producer and as an actor in my own production.
The final product and Ayushman:
I am so proud of Ayushman in this film, I think he has done an absolutely fantabulous job and after you see the film you will see that the film is one hundred times better than the trailer. I am so proud of it and am sure if any of you like me, you will be proud of me as it is my first film production!
The kind of films he wants to make:
The films that I do outside are really commercial, I've also tried to do films which are different like Water, Kabul Express and No Smoking. I still believe that No Smoking is one of my best performances. Water was a film that needed to be seen by the Indian audience, but unfortunately was not seen. It got nominated for the Academy Awards, but in India it had just one show and that is sad.
I believe as a producer that I needed to get a platform that could represent the kind cinema that I believe in and in a commercial format. So it is not just about social issues, but making it commercial, letting people have fun, letting them be entertained, and at the same time making it edgy. Gradually I want to get that cinema out there, so that international people say, 'Great – Indian cinema has graduated to a certain platform'. That can only happen when you believe in creating content that is original, that is different and that is treated very differently by directors, contrary to the way we have been treating films in the past.
Views on Indian cinema:
My cast are all newcomers and I want to change the system of working. Everything is so intensively driven by stars. What I really want to do is drive films with their concepts, rather than just stars. I would rather talk about content and hope that stars fit into that content and that space, rather than we create content around them. Without sounding condescending towards Indian cinema, I am very proud of Indian films, but we really have not grown to that level that we could have grown to. I feel that we have never really created content and that is where we lack. If we start creating good content then I think we will really be world-class. We have got world-class cameramen, world-class directors, world-class actors and if we can amalgamate all three of them and just get one important ingredient – great screenplay writers – we can draw a nice balance and make some good cinema that 'everyone' can enjoy all across the world. That is what I'm looking at.
What's next from JA Entertainment:
Somewhere along the line I think I have drawn the right balance, doing experimental cinema or commercial cinema. Either I've gone crazily commercial or I've gone extremely commercial. So I think Shootout at Wadala (which John is starring in), Jaffna and Kala Ghoda (which John is producing), are films that I really believe in.
I also signed on Ayushmann and Shoojit for my next production venture that starts in January 2013, called Hamara Bajaj. It is a very popular commercial in India by the same name. We have used its tagline, have written a beautiful script and I think Ayushman is the perfect for it. He is a complete natural and is on board.
On 2nd October on Gandhi Jayanti (Indian national holiday to mark birth of Gandhi) my production Jaffna starts, it is a political thriller (which John is also starring in). (Jaffna is probably that turning point for John Abraham, where he represents the kind of cinema he wants to be seen in and yet make it commercial.)
I will also produce a film called Kala Ghoda, that is written by the writer of Delhi Belly (Akshat Verma). Aditya Bhattacharya is directing it, he is the director who made Raakh, Aamir Khan's first film. It also stars Kunal Roy Kapoor, the big guy in Delhi Belly, as the lead and I play a strong supporting role in the film. That film that starts on 15th August (Indian independence day).
So those are my plans – three films, two this year and one starting early next year and I have already got two more slated for release sometime next year, so I'm a full fledged producer now and I enjoy that space…
There we have it, an exclusive with John Abraham the producer. What was interesting to witness was the level of questions that followed, some of which we shared at the start, so clearly John has already achieved in part what he wanted to: a meaningful film that is also commercial and which has got people talking. If we take his word for it – the film will be equally good!
If you haven't already, do check out the trailer:
httpvh://www.youtube.com/watch?v=Jme-VkIzkoU
Catch the film when it opens worldwide on Friday 20th April.
Watch this space next for our exclusive candid one to one with John…