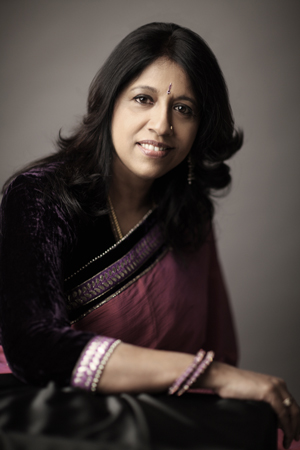 If you are a fan of Hindi film music I am sure you know the name Kavita Krishnamurti Subramaniam. She is acknowledged as one of the finest singers in India and the world over. It would take us pages to write about the amazing career of this fabulous singer so here are some highlights. She given us some of the finest tracks in the Hindi film industry starting with 'Tumse Milkar Na Jaane Kyon' (Pyaar Jhukta Nahin), to 'Nimbooda Nimbooda' (Hum Dil De Chuke Sanam), 'Pyaar Hua Chupke Se' (1942: A Love Story), 'Bole Chudiyan' (Kabhi Khushi Kabhie Gham) 'Dola Re Dola' ('Devdas'), to most recently 'Tum Ko' (Rockstar) and so many, many more in between it is impossible to list them all. Not only that, she has also recorded solo albums, devotional albums, and has made guest appearances on songs from many different genres including pop, classical and jazz. The singer has won numerous accolades and in 2005 was awarded the high honor of a Padmashree from the Indian government. She has performed all over the world as a soloist and also in concert with her husband, esteemed musician and composer Dr. L. Subramaniam and her son Ambi Subramaniam, one of India's rising stars. As we said, we could go on and on and on for pages about this incredible singer and her career. I had the very great honor of speaking with Mrs. Kavita Krishnamurti Subramaniam while she was in the UK for a performance at the Alchemy Festival in London. It was such an educational, inspiring and wonderful conversation about all things music that I did not want it to end. Read on to see what she told me about her beginnings, recording with full orchestras in the 1980s, recording today, and of course, her concert at the Alchemy festival plus so much more!
Can you tell us a bit about your road to being a part of the playback singing industry?
I was born and brought up in Delhi and also brought up in a strange family, in the sense that my parents were from the southern part of India, but we were very close to their friends who were from Bengal. So we got together and stayed as one family so actually I pretty much grew up having two sets of parents, my own parents and the other parents who kind of adopted me. So because of that, from my childhood and being in Delhi, I was kind of open to different languages like Hindi and Bengali and Tamil, which is my mother tongue. I also started learning music. As a family we all learnt because we all loved music. I was in school and I had nobody connected to Bollywood so I really didn't think I was going to be a playback singer. I thought I would actually be in Indian Foreign Service because my father was in government service. I think that was the direction I was suppose to take in life. But singing really was a dream which my aunt, this lady from Bengal I told you about, the other set of parents who adopted me, had for me when she heard me sing. In childhood when I used to sing in competitions where I used to win a prize or my brother and I used to win prizes, and she felt that I was good playback material. She defied the family and brought me to Bombay. There was an actress called Hema Malini, who's mother was a close friend of ours, she said, 'I'm bringing her to Bombay. You must help me out'. She enrolled me in college, which had a lot of great singers coming; musically it was a very active place. I started singing then and you know, one thing led to another and later on by the time I finished college I realized being a singer was my dream too. Then the journey of meeting different people, performing on stage, performing a lot of jingles and advertisements and then finally into the films. I sang a couple of songs when they wanted me to dub for another very famous playback singer called Lata Mangeshkar. I would sing for the shooting and then she would finally sing for the recording and this kind of process started on. Then finally there are a couple of songs that I sang, which stayed in the movie and the movie did very well and that opened the doors for me.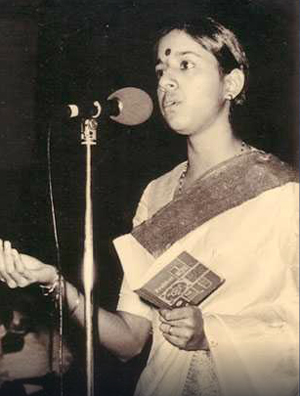 You have been in Hindi film music industry since the 1970s, how has it changed over the years?
Quite a lot, you know, because when I started singing there used to be at least sometimes 60 to 70 up to 100 musicians in the studio and I would have to sing the song live with them. We really spent about 6 to 8 hours sometimes 10 to 12 hours over one song. After rehearsing with them in the hall, and then singing with them from my singer's booth any mistake I made I had to redo the entire song. Sometimes when I was singing well and if the musicians made a mistake then the music director would cut the song and you would start redoing it. So it was five minutes of focusing on the song and singing your best when it comes pitch, emotions, pronouncing the lyrics the right way, because in Hindi they are very, very particular that it has to be pronounced one particular way. You have to pronounce it that particular way to be accepted. So from this point of view, the total focus of 5-6 minutes, you can't afford to make a mistake. Then slowly to the time where we would sing like that and then they would, after the musicians leave, still make us sing again on the tracks to see can it be perfected better. Then finally to these dubbing techniques where the musician do their part, everybody does their part and then you come, you learn the song, you have a music track in your headphones, and you sing the song; just a line maybe, just a phrase sometimes and if it's not okay you just have to do one line at a time. So it became so much easier technically for us and then it comes to this stage now that it's become so easy because even if you don't pitch yourself then people don't worry. They have pitch correctors – they have pitch machines. So they just say oh we want the right feel. That's all they talk about and they say they'll pitch correct you. Also to a certain extent the films have now become, except for a few individual producers, it's become more a corporate world. My feeling is it's become a totally corporate world. Earlier we had producer/directors, so they had vision of producing a movie, directing a movie because of that passion and they would do it. They would loose heavily you know, but it was all their own risks. But now you have corporate houses supporting it, it's the corporate houses who dictate the terms of the kind of music that they want in the movie. Earlier the director would tell the music director, 'okay this is your film do what you want'. But now I think there is a big team working on the kind of songs they want in a movie and sometimes now a film has three music directors not one but three. I've seen all these changes through all these years.
I imagine the sound quality when you are sitting there with a whole orchestra is something totally different to hearing it in your headphones.
Actually I still love singing with concert musicians. I still do, you know, we had a concert with an esteemed music director and he had 16 musicians behind us and one of them had 18 musicians in a concert. When I was in the rehearsal room rehearsing with all these people, some people I've known for 20-25 years, all back again playing the same song again, I really felt emotional because it's so beautiful to sing with a live orchestra. It's never the same. You have a violinist play the entire song with you so the amount of support you get… it's amazing.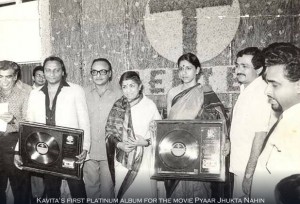 Do you have a favorite song that you love to sing?
There are quite a few songs I like, but there is one particularly that I like a lot because it's a very pretty song. It's a very simple song with very nice words and it brought me my first Filmfare award. After 12 years of singing in the industry I got my first Filmfare award. The name of the movie is 1942: A Love Story. So for me, I still have great amount of soft corner in my heart for that song. ['Pyaar Hua Chupke Se']
Let's talk about 'Dola Re Dola'.
Yes, the song from Devdas. We came and learnt the song and both of us sang together in the Western outdoor studio. It was like any other dubbing, but we did it little by little by little. When you sing for a director like Sanjay Leela Bhansali who makes it very clear to you what he wants in the song, the visualization then it really makes your job easier.
It must have been amazing to see the final product…
Yes it was. I knew the story of Devdas because it is a very famous story. I was singing not for the main heroine, which was Paro, but the 2nd heroine, which was Madhuri Dixit. Her character in the movie is amazing, very artistic and you know singing for Madhuri is always wonderful.
Most recently you sang 'Tum Ko' for Rockstar…
Again it was a very pleasant experience, and singing for A.R. is always very nice because he is very, very pleasant, he's a very pleasant person. He tells you the composition, but there are lots of times when he lets you do what you want. So you keep on singing and he keeps on recording and then later on, actually, he sits with the mixing at the editing table and then he makes the sound and the song how he thinks it should go. So till I actually hear the song on tape I really don't know what it's going to sound like (laughs). So it's always a surprise. And then normally the track is never made so I always sing it on just the 3-4 notes, the harmony that is given. You sing the entire song and he puts in the music later on. And of course the director, they are all very nice people. And as usual you get used to singing for him late night. So it was all okay (laughs).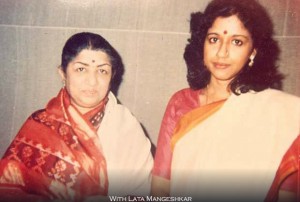 What made you decide you wanted to perform at the Alchemy Festival in London?
It's the first time I'm performing at Alchemy. Actually the concert is more due to my husband L. Subramaniam, who is a violinist and our son is also playing. So for us to do a family concert is always exciting. It is also the first time we are working with a lot of musicians from UK. This time we are performing with a youth orchestra and we have the other Indian musicians from UK also joining me on the tabla, and the keyboard, and guitars. There's a global fusion album that my husband has done where he's worked with people from different origins and he has an African musician who plays the Kora, another half Egyptian lady who plays the piano. It's a good feeling because, you know, you yourself don't know until you go up on stage what's going to truly happen. You do the rehearsals and the rehearsal is going in a particular way, but really on stage tomorrow what will happen we can't predict. That's, I think, a fantastic feeling to be up on stage and to know here's a concert where we know this much that we will perform, but exactly what will happen around us we don't know. So I'm looking forward to those kinds of challenges.
What do you love about singing live?
What I like about singing live is that I have sometimes the freedom to maybe change the same film song, maybe the arrangement of the film song to make it sound a little different. And you know, the first song when you just go up on stage and you start singing and you feel okay my voice is under control – it's the way I want it and then the sound kind of takes over and you find that the audience is moving along with you, those few hours that you spend with them in a beautiful auditorium, you come back feeling so…so shall I say elevated. It's such a happy state. There's so much happiness inside that's what I like about it. When a concert goes well and you know that you've given your best, the audience realize that you've given your best and they are also happy with you, then you come back really, really feeling at peace with yourself. That feeling I treasure a lot.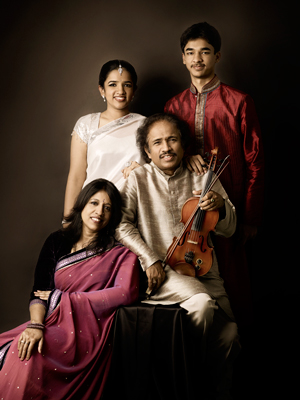 It certainly seems as if Indian music has made its way out into the world, have you seen that to be true?
Yes. I think so. And I can tell you that because not only from the point of view of Bollywood, which is true because amazingly most of the Bollywood songs have reached all over the world now. People recognize our stars, people recognize our songs and they are so happy with Bollywood everywhere. But at the same time I've travelled quite a bit with my husband. I've gone with him to France, to Brazil, and a whole lot of places and I can tell you there are certain places where he sits and he plays his absolute Indian classical music and I see audiences are totally in a meditation kind of feel and they don't even like to make a noise all through the concert. I mean they listen with so much intensity. And then even for the global fusion concerts he does, when he does a lot of difficult polyrhythms, when he makes use of the Indian complicated rhythm cycles and he plays difficult stuff and he plays really fast on the violin, even there people get really enamored. So I think there the improvisational techniques that artists like him have, where they know nothing is written, everything is on the spot and it's happening for that moment, people really love that. I think they've realized that Indian music has great scope because of the improvisation raga techniques that Indian musicians have.
Do you think playback singers get the credit that they deserve?
Not really. Honestly I don't think they do, because I think Indian films have survived to quite an extent because of the great music that's been part of the movies. And sometimes I feel Indian singers have not got the credit that they should because some of our Indian singers are absolutely great singers who've done marvelous jobs. The kind of versatility they've shown, the way they have modulated their voices for different stars. Audiences sometimes feel the stars themselves are singing the song and credit goes to the vocalist. And somehow I feel they've always been the underdogs. I still feel that about them. Yes. You know, there are no royalties coming to them. We don't have an association so a singer can have 10-20 super-hits and when they get forgotten they can't even depend on the royalties that come to them you know because there are no royalties. It's taken by the producers and the distributors and nothing comes their way and I think that's a very sad state. I've known great singers, who have sung great songs and they have died in penury. That makes me very sad.
Looking back at your career as a singer what would you say?
Well, when I look back at my career I have to thank the Lord that he brought me into music. I mean I can't think of life without that. I've come into contact with such great musicians, worked with so many great musicians, married a great musician and now my bonding with my children; it is all because of music with a capital M. So success, fame, everything comes to me later but I'm just so grateful to God that he brought me in music and enriched my life as Kavita, in this life as Kavita. In Hinduism we believe that you have other lives and this life as Kavita I'm extremely grateful that I've have been given music. I couldn't have asked anything more from God. He's given me the best.