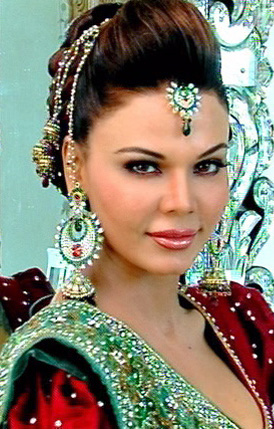 The woman responsible for a whole host of item songs, including 'Bam Bhole Bam Bhole' (Yeh Raaste Hain Pyaar Ke), 'Akhiyan Na Maar' (Ek Khiladi Ek Haseena), 'Dekhta Hai Tu Kya' (Krazzy 4), and 'Bhangra Bistar' (Dil Bole Haddipa) – in which she also stared with husky diva Rani Mukerji, claims that she is the 'original item girl', which follows her questioning about her view on item girls today.
We all know that Ms Sawant is famous for her spicy tongue and is not one for mincing words, so it should come as no surprise that she seems to be making all of these shocking allegations. The 33-year old, claims that she is "better than Vidya (Balan)" when it comes to being an item girl! Apparently, she claims that she is better than everyone else; as far as her work is concerned she is better than everyone else!
She even goes as far as to say that she will be the 'female serial kisser' rivalling even Emraan Hashmi in the serial kisser stakes, as she has been learning the art of serial kissing through repeated watches of the kissing scenes in which Mallika Sherwat and Emraan Hashmi were part of in  the 2004 film, Murder.
For Sawant, leading actresses Kareena Kapoor and Katrina Kaif "are not good item girls. I didn't like them in 'Chammak Challo' or 'Chikni Chameli'. I don't like them as item girls, but as actresses, I love them. Also, they've stolen my job. Humari rozi roti chheen li hai in sab ne (they've taken away our bread and butter). I have never been like that. I don't like snatching anyone's right away. But now that I'm being offered acting roles, I'm accepting them all. I'm doing a lot of films now as an actress. If they can do it, why can't I?"
So is Ms Sawant is a drama and controversy queen as some might say? "No, I just say things as they are. Nobody can put their words in my mouth. I am asked controversial questions because everybody knows I will speak my mind. What I say fearlessly on national television is what a common man can only think of saying. They know I'm not diplomatic, I will be brutally honest – that's why I'm being asked to comment on controversial stuff. For instance, I recently said that aaj-kal sari pehenne ka nahin, utaarne ke zamaana hai (the trend today is not in wearing the sari, but taking it off) – which is true – nobody goes to the theatres to see women clad in saris these days, they only rush to see them undress. That's the truth only I can shout from the rooftop."
The quick fired tongue of Rakhi Sawant seems to be well away from being extinguished, so who knows what controversial things she might say next? Keep checking back here to find out!