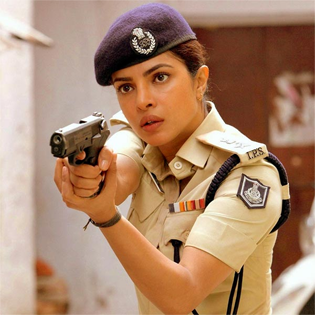 Lead actress Priyanka Chopra is very excited about her much awaited film Jai Gangaajal. In spite of being away from the country, the hard-working actress has been going all out to promote the film.
In a recent interview, she revealed some interesting tidbits about her role and how it's not the female counterpart of Dabangg. She said, "Well, it's not a female Dabangg role because my shirt doesn't fly off at any point [laughs]. No, but in all seriousness, it's a relevant and important film, especially at a time like this. It talks about equal opportunities and about who has the ability to do a certain job, regardless of gender."
Praising the film on all levels, the actress further explained, "It's also about the vicious cycle of corruption within the system, what we need to cleanse out of that..what happens to the common man when they get stuck between powerhouses…. so it's relevant on many levels. Also it has great music, and it's directed by a filmmaker who is known for making movies on such subjects. I'm very excited and proud of it."
Fans are eagerly waiting to catch their favourite actress in action!
Written and directed by Prakash Jha, produced by Prakash Jha Productions and Play Entertainment and co-produced by Milind Dabke, Jai Gangaajal revisits the dusty heartland of Central India and examines the society–police relationship. Starring Priyanka Chopra, the movie is all set to release on 4th March, 2016.