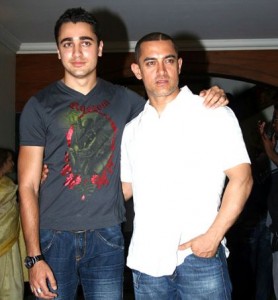 That's right! We'll finally get to see uncle and nephew team up on the big screen in none other than Rajkumar Hirani's Peekay, which also stars Anushka Sharma.
There is tremendous excitement around this project primarily because the last collaboration between director Rajkumar Hirani and Aamir Khan (Three Idiots) went on to become the highest grossing film of all time in Bollywood. But it is a lesser known fact that Peekay is actually a two-hero film and it has taken a bit of time to lock in the second lead.
The role was first offered to Ranbir who declined because he is not inclined towards multi-hero projects and is also busy with Anurag Kashyap's Bombay Velvet. Sources say that the makers were also keen to sign Ranveer Singh who was an apparent shoe-in for the role.
But finally, it was Aamir who suggested that the role for the younger lead go to Imran and he is now on board. The film is said to expose the hypocrisy of spiritual/religious leaders, all in Hirani's inimitable style of course and the whole team is very excited about the script.
Parts of the film are said to be shot in Hungary, a location Hirani has apparently chosen due to factors such as low labor costs and tax incentives for foreign filmmakers.
Peekay is one film we can't wait for!