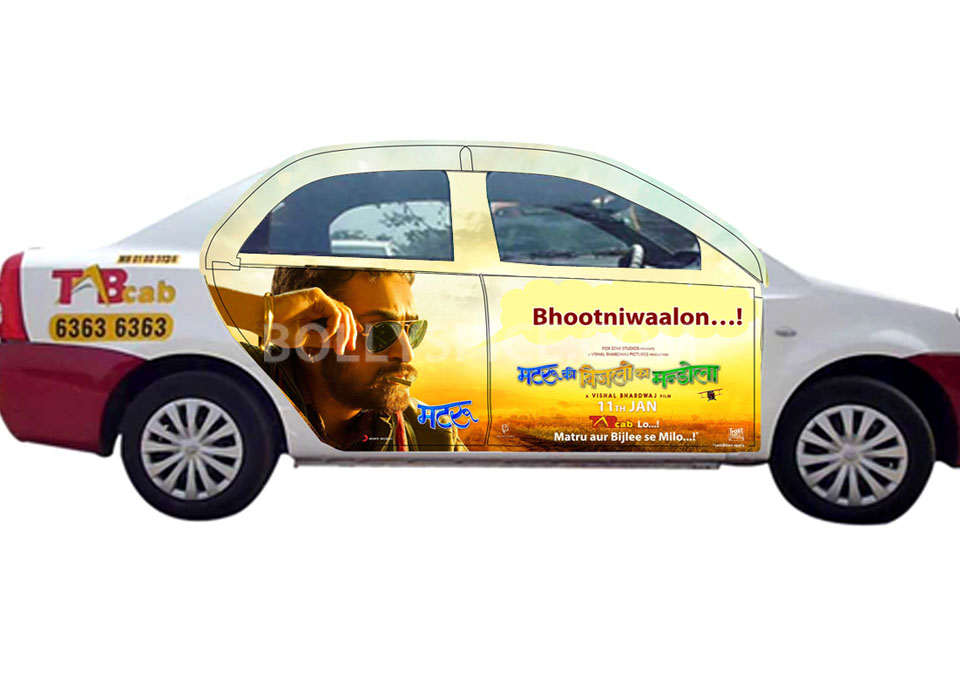 We recently told you about Matru Ki Bijlee Ka Mandola's cool promotional tie in with TABcab. To promote the film, stars Imran Khan and Anushka Sharma will launch 200 TABcabs branded with saucy dialogues and pictures of the stars from the Vishal Bhardwaj directed film.
Vivek Krishnani – Head of Distribution, Marketing and Syndication, Fox Star Studios explained, "Matru ki Bijlee ka Mandola is generating huge buzz with the first look and the songs are also gaining huge popularity. It's a unique film and the promotions of the film have also been thought of in that manner. As FoxStar we have always tried to find unique ways to connect with audiences and engage then with the film. Keeping that in mind we have found a willing and like minded partner in Tab Cabs and are happy that 200 cabs in mumbai will be branded with the popular humorous dialogues of Matru ki Bijlee ka Mandola which presents the fun flavour of the film."
Now we have some cool trivia for you! It seems star Imran Khan has something in common with his Mamu with this promotion. How, you may ask. Well, Aamir Khan posted posters on rickshaws for the promotion of his film Qayamat Se Qayamat Tak!
Imran reveals, "Twenty four years ago Aamir uncle pasted the posters of his film Qayamat Se Qayamat Tak. I remember him telling the story that he and my mother were roaming around the by-lanes of Bandra and seeking the permission of rickshaw drivers to paste the posters of his film and telling them that he is the hero of the film."
Now it is his turn and Imran thinks this is a fabulous way to promote a film and get people excited to see Matru Ki Bijlee Ka Mandola! "Flash forward 24 years and I find myself doing the same thing. Actually in our city public transport is the most important thing whether it is rickshaw, taxis or buses, it has always been the lifeline of the city. I think it is the easiest way to communicate and reach out to the people."
Matru Ki Bijlee Ka Mandola also features Anushka Sharma, Pankaj Kapur and Shabana Azmi. The comedy with a twist is set to open in theatres Jan 11. Stay tuned for our fabulous interviews with Anushka and Imran coming up soon!