Leading international film and entertainment company Reliance Entertainment has joined forces with Karan Johar's Dharma Productions to bring you this year's must-see romantic comedy with a twist – Gori Tere Pyaar Mein (My Fair Lady, In Your Love). The urban-rural 'rom-com' brings love, loss and laughter together in one feel-good tale set in the picturesque village of Jhumli in Gujarat, India.
The film stars some of Bollywood's brightest stars and veteran talent, including heartthrob Imran Khan and favourite leading lady Kareena Kapoor as well as veteran star Anupam Kher. Gori Tere Pyaar Mein is directed by popular filmmaker Punit Malhotra (I Hate Luv Storys) and has a vibrant, foot-tapping musical score by acclaimed composing duo Vishal–Shekhar.
Imran Khan plays Sriram Venkat, an extremely shallow man who doesn't value his relationships, family, friends, life or his country, making him the 'black sheep' of his family. His world is turned upside down when he meets firebrand social activist Dia Sharma (Kareena Kapoor) and he begins to narrate the story of his tumultuous and unconventional relationship with the 'love of his life' the beautiful and kind-hearted Dia. The audience gets to delve into the psyche of Sriram to find out how the purely physical attraction between the two lovers turns into a deeper emotional connection and then disintegrates due to a clash of ideologies and mindsets.
However, once Sriram comes out of his selfish stupor, he realises that Dia is the only woman for him and sets about winning her heart back by any means necessary. He follows her to the remote village of Jhumli, which is inhabited by all manner of eccentric and colourful oddball characters, and life soon takes a surprising turn for Sriram when he learns that in life there is no better feeling than helping others.
Will Sriram win over his true love Dia? You'll have to watch and find out!
We have a special note from the director Punit Malhotra, which gives you more of an inside look into the story of the film!
Director's Note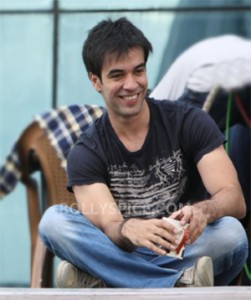 Life is full of choices – good ones and bad ones. But what do you do when you're made to realize that a bad decision you made was the best one of your life? How much are you willing to sacrifice? How far will you go to make things right?
On the outset of love, two people find their choices swayed behind rose-tinted spectacles. They only think about each other and the universe seems to positively reciprocate every action they make. But as time goes by, love sharply turns into responsibility, expecting each individual to mature with it. And at this stage, if the two find themselves on different pages of the book, clashes are inevitable. And one is never too sure what has slipped out of grasp, until all ties are severed.
Gori Tere Pyaar Mein is a celebration of love. Amidst song and dance, the movie brings to life the story of a charismatic, care-free young man, who has never seen any adversity through his life, set out to re-claim his love. But the journey to persuade her takes him to places he would otherwise never had heard of – his sentiments as uneven as the road he takes. For the first time in his life, he is forced to think about others around him as he learns that sacrifice and hardship are all part of the game.
He gets so caught up with his own predicament that he ignores a bird's eye view of the hardships in his surrounding – even though its call is deafening. Like the youth of this country today, it is imperative for him to rise up above his own microscopic wishes and face a macro-social adversary for the greater good. This realization causes a life-changing blow where he's most vulnerable. This translated into the inspiration behind making the film.
It isn't always about what makes you happy. Sometimes you find that the happiness of those around you tends to produce the widest smile on your face. It doesn't matter if you take time to realize what you have been missing out on. It doesn't matter if you need help to understand yourself. Whether it's in a skyscraper of Bangalore or a hut in a remote village of Gujarat, the language of love is universal. If one believes in love, no hurdle seems unconquerable to accomplish what you're set out for.
Gori Tere Pyaar Mein is produced by Dharma Productions. Reliance Entertainment distributes Gori Tere Pyaar Mein internationally on 22nd November 2013.