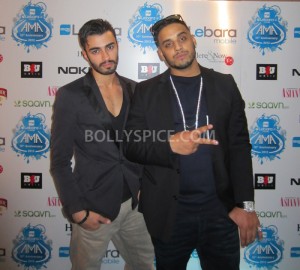 Dutch born singer Imran Khan took to the stage at the Lebara Mobile Asian Music Awards in Wembley Arena on Thursday 25th October to perform his hit song Amplifier.
Bollyspice.com spoke to Imran Khan and his producer Eren E, who produced the hit singles Amplifier and Ni Nachleh. The singer told us coming to the AMA's is a good way to see what the industry is up to. "It is good to see what people are cooking, new artists, old artists it's good. See how far the industry is today."
Imran Khan came onto the stage for his performance on a quad bike and speaking about his performance at Wembley Arena he told Bollyspice, "Yeah I came on the quad bike. It's nice you know the dancers were great, the fire and stuff, it was good."
The Pakistani singer shot to fame after the release of his single 'Ni Nachleh' in 2007 and he gained more popularity following the release of his debut album Unforgettable, featuring the hit 'Amplifier', in 2009.
Imran Khan is all set to release a new single but didn't give much away when asked about it apart from telling us it is "out of space."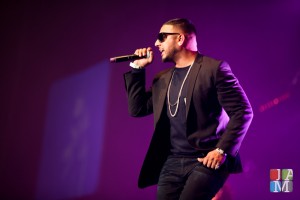 His producer Eren E agreed telling us, "Yeah like what Imran said, when you go to listen to it you got to feel like you are out of space. It is not the track title, I am going to tell you that. It is not called out of space. It's the feeling you are going to get when you listen to it. It is going to be crazy, its 'going to be different."
Revealing to us that he "never wanted to be an artist" and entered the industry out of chance Imran Khan went on to say, "I just tried. I took a pen and paper wrote the first song 'Ni Nachleh'. Actually 'Gora Gora Rang' was the first song I wrote but we released 'Ni Nachleh' and you have seen the results worldwide."
We asked the singer, who recently left Prestige Records to start up his own label, whether he would be interested in signing new talent. The singer told us, "Yeah definitely but first I want to establish myself. I think I haven't done it yet. I want to do it like big! I want to show this industry how it should be, to be honest with you."
Finally Imran Khan had a message for fans, "Keep supporting the whole Imran Khan world and keep checking (laughs) the website at www.imrankhanworld.com and watch out for the single. Peace."