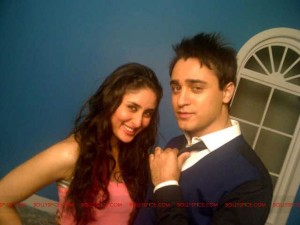 Imran Khan is completely impressed with Karan Johar and Dharma productions. His upcoming movie with the production house, Ek Main Aur Ekk Tu featuring Kareena Kapoor has already created a buzz in the filmy duniya.
They just shot for a still photo shoot for the publicity of the movie. Without a doubt they looked fabulous together. He is all praises for his co-star for her extreme brilliance, on screen as well as off screen. In fact he told us, "Working with Kareena was a very, very special experience. I've always been a huge fan of hers and getting the chance to work with her was initially quite scary. To her credit she's the most chilled out star – as if she couldn't care less about her stardom. That actually put me at ease."
After I Hate Luv Storys, Imran is glad to be back with Dharma Productions. Karan support and belief in him at the lowest point of his career has been the limelight for him. He was offered I Hate Luv Storys when he was facing a rough patch, the actor recollects. I Hate Luv Storys went on to be a huge hit and Imran's performance received fabulous reviews!
With Ek Main Aur Ek Tu (formerly known as Short Term Shaadi) Dharma Productions plans on setting new records with the much anticipated and awaited movie of 2012!