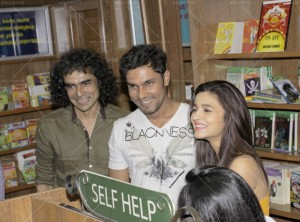 Fans can now relive the genre defining story of Imtiaz Ali's film 'HIGHWAY' on Blu-ray™, DVD & VCD. A favorite with fans and critics alike the movie was released on home video in association with Reliance Home Video and Games. Director Imtiaz Ali, actor Alia Bhatt & Randeep Hooda along with Sweta Agnihotri, COO, Reliance Home Video & Games were present to formally release the DVD of the film at up market Landmark Retail Store at Infiniti Mall, Andheri West Mumbai. The venue was packed with the media fraternity in full attendance.
Imtiaz Ali, the director of 'HIGHWAY' spoke about how his team had conceived of and packaged some really interesting material to be included in the DVD, the audience could look forward to bonus material about the film, deleted scenes and behind the camera moments with the cast and the crew.
Randeep Hooda was reminiscent of his role in the film and his journey as an actor and in a lighter mood mentioned, "he was glad that the DVD was out with the deleted scenes as he could now watch all his scenes which Imtiaz didn't keep in the film."
Alia Bhatt fielded questions from the media with great aplomb and the confidence she exuded confirmed that she was a chip of the old block, she said, "she was really looking forward to see the making of the film, that was included on the DVD."
Sweta Agnihotri, COO of Reliance Home Video & Games mentioned that the DVD launch had seen good commercial success and this was possible due to great business partners like Disney UTV and the immensely talented 'HIGHWAY' team.
The film, produced by Window Seat Films and presented by Sajid Nadiadwala, was released worldwide by UTV Motion Pictures.
A road journey traversing six states of north India starring Alia Bhatt and Randeep Hooda in the lead the film's music has been composed by the maestro A.R. Rahman.
'HIGHWAY' as a film has received great reviews from top critics in India and overseas.
· Subhash K. Jha gave the film 4 stars out of 5 and states that 'HIGHWAY' resembles Gyan Correa's Gujarati masterpiece The Good Road.
· For Mumbai Mirror, Rahul Desai wrote, "'HIGHWAY' makes for the kind of cinema we need, even if you aren't moved by its unhurried simplicity, you can't resist an overwhelming urge to rush out after dark hoping to get kidnapped (or simpler, just take off) to the foothills of the Himalayas. In that itself, is the battle won by a film that strives for little more." He gave the film 4 out of 5.
· Srijana Mitra Das for The Times of India gave the film 3.5 stars out of 5 and stated, "'HIGHWAY' is not an easy ride. But it offers fresh breezes and new sights."
· Saibal Chatterjee for NDTV gave the film 3 out of 5 and wrote, "'HIGHWAY' is a must watch as much for what it is as for what it isn't. It is not a typical romantic drama, nor an average love story. It is a road movie with a difference.
The movie is being made available in a variety of formats to suit your home-viewing pleasure & will be made available pan India across all leading Home Entertainment chains and also on key online portals. Add this master piece to your collection today. Available on Blu-ray™ (MRP: Rs.799), DVD (MRP: Rs.299) & VCD (MRP. Rs.125).
Blu-ray™ & DVD include exclusive bonus content:
· Directors Commentary
· The Making Of Highway
· Deleted Scenes
Synopsis
A girl. A city girl – young, full of life – is on the highway at night. With her fiancé. They are about to get married in four days. Suddenly, her life is swung away from the brocade and jewellery of marriage to the harsh brutality of abduction. Her life will never be the same again.
The same night, the gang is in panic. The girl is a big industrialist's daughter. His links in the corridors of power make ransom out of the question. They are doomed. But the leader of this group is adamant. For him sending her back is not an option. He will do whatever it takes to see this through.
But as the days pass by, the scenery changes, the light changes, the sun sets and rises and the air changes, she feels that she has changed as well.
Gradually, a strange bond begins to develop between the victim and the oppressor. It is in this captivity that she, for the first time, feels free. She does not want to go back but she also doesn't want to reach where he is taking her. She wishes this journey to never end.
Maybe the Highway will not really change her. maybe this feeling is just a passing phase. Maybe not.
Grab your copy at your nearest store today!