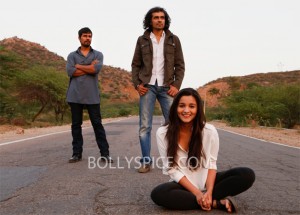 The journey of Highway has been a liberating one, not only for the actors but for director Imtiaz Ali as well, who took off with the cast and crew with a raw script in hand. The ace director filled in the dialogues, as their journey progressed.
"In order to keep it raw, I shot the film in a chronological manner. This also helped in character progression," said Imtiaz Ali. He chose to shoot along the Highways of Delhi, Haryana, Rajasthan, Punjab, Himachal Pradesh and Kashmir. The director followed the same sequence in the film, as well. As Imtiaz followed his instincts, the journey unfolded with the characters evolving naturally.
However, shooting it this way presented difficulties. "We used a lot of natural light, so we had to depend on the sun a lot. There were days when it was cloudy and we couldn't do much."
Armed with a skeletal script, the cast and crew travelled through six north Indian states and 15 towns and cities. The film stars Randeep Hooda and Alia in lead roles. Highway, produced by Window Seat Films and presented by Sajid Nadiadwala, will be released worldwide by UTV Motion Pictures. The music of the film has been composed by A.R. Rahman.
Highway will release worldwide on 21st February, 2014.