From his very first film Socha Na Tha, through the fabulous Jab We Met, to Cocktail, Rockstar and Highway, director Imtiaz Ali always takes you on an incredible cinematic journey. What makes his movies so very good is that while watching, you get lost in the world he has created on film and live with the characters through the story, the drama, the tears, the love and sometimes the happy ending. As a director he always manages to bring out incredible performances by the actors in his film, many times career-changing performances that truly show what an actor is made of. Think Deepika Padukone in Cocktail, Ranbir Kapoor in Rockstar, Alia Bhatt in Highway and so many more.
For Tamasha, which stars the incredible jodi of Ranbir Kapoor and Deepika Padukone, Mr. Ali turned the focus on a story about life, love and being who you are truly are instead of playing who you think you should be. It tells the story of Ved, who has grown up among stories including Ramayan, Helen of Troy, Laila Majnu, Heer Ranjha, Aladdin, and Romeo and Juliet. When Ved meets Tara on an exotic island, he wants his story with her to be different. So they decide to not tell each other who they are, to only lie about themselves and after returning from the island to never meet each other again. But they do meet again. The question is whether they will be able to shape their story in the way they want. Will the muse be able to make an artist of a common man, will Ved be able to break the shackles of ordinary existence, escape the corporate rat-race and become the way Tara sees him – the exuberant story-teller? We will find out if they get their happily ever after on November 27th.
I always love to interview directors about their films and I was very lucky to be able to interview Mr. Ali about Tamasha. His passion for the story, his excitement about the film and his admiration for Ranbir and Deepika shone through every answer. Read on to see what he had to say in this exclusive interview.
What inspired you to tell this story?
It is the thought that we often pretend who we are and we always need someone to remind us who we really are. In this case there was this girl on an exotic island who he met and she came to this thought that this is not who you are and pointed out to him this is not who you are really…so that was the thought.
The basic story that goes out is that you grow up listening to many stories and these stories guide you in the life that you live. And yet at the same time, you are making your own story as you go along in your life. So are you merely a player in this play or do you have the control to change the course of this story.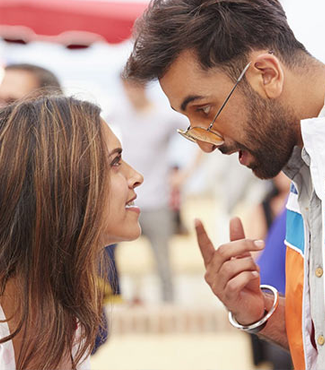 Can you give us a bit of insight of how you go from writing that first line on the page to screen?
Basically there is a kind of a scene in the mind that comes in on its own and it keeps cooking up. Sometimes it becomes a cohesive story but often times not.(Smiles) When you feel that there is enough in that scene that is going on in your mind I try to put on paper just to record that film on paper. Once that is done then I try to explain the film to those that will be working on it with me. And you keep talking about it and you keep writing it again and again and again and giving it more and more shape. Basically it starts with something in the mind and then it goes through various stages. There can be 10-12, maybe even more versions before we are done.
What is it about Ranbir that makes him such a good actor and able to get so lost in his roles?
As you said, he has the ability to lose himself in the character that he plays. I think it comes from a sense of intoxication that he feels when he is playing a character. I think the unique quality of the guy is that he does not carry forward any trick into his performance. He goes into it completely open and vulnerable and he just sinks into it. He has the ability to look different in different characters.
Even within the trailer you see that – he looks totally different not just in his costumes but his body language and everything…
Yes, exactly!
What about Deepika – what is it about her that makes her so good in her roles?
She is very perceptive. I think she is a very sensitive person. She has a high emotional quotient. She first understands emotionally. She can relate to somebody's feelings and the feelings of a character very well. She is like that as a person and she brings that out beautifully as an actor. I think that helps her be who she is. The other very good thing about Deepika that I realized working with her this time is that she is just not worried about how she is looking when she is playing the part. Once she steps out of the makeup van into the set she is just not going to be worried about how she is looking on camera.
What do you think these two bring out in each other and what makes them so good on screen together?
The fact that both of them really enjoy the work that they do. They enjoy acting. And the fact that they truly respect each other. They really bond as actors. They really trust each other as actors; they know that the other is watching my back. They give completely to each other in the scenes as actors. So that makes the process very exciting. It is then possible to actually take the scene much beyond what it was on paper because both are very high quality actors. When a good actor works with another good actor, both actors are aware that their performances can actually be better than if they were performing alone. They have that with each other.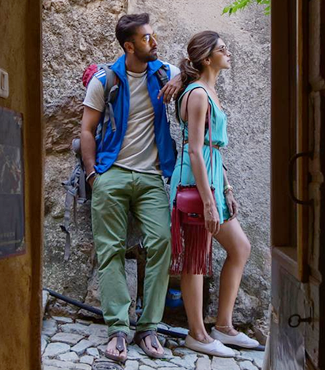 That must just be a thrill for you as a director to have that…
It is a bonus! I am very lucky to be working with them together. Any director would be. Because many of the scenes in the movie, I think, would not have been half as good if they were not there in it or even if one of them was not there in it. It is them together that makes it very, very interesting and very, very entertaining and very charming.
So for the music of the film you have of course the wonderful Mr. A R Rahman, what was your brief and what did you want for the music of this film?
The title of the film is Tamasha, which means drama, a play, a performance. The title of the film was the first brief that was given for the music. The fact that it had to represent this story, it had to be, as Shakespeare would say "full of sound and fury". Therefore there are many songs in the movie that are performance songs and they are also shot while in performance. We also went with the brief that "All the World's A Stage" and there is performance going on all around us. Actually the music is performance oriented music and the performance could be traditional, old-fashioned traditional Indian or it could be something that is contemporary in the city, which is westernized. Largely it is about performance both on stage and in life.
You not only explore their love story but then you also have the epic play scenes.
Yes, there are many scenes that are in a performance really. There are so many scenes that are in the performance of a story and then there are the scenes that are the performances in real life and then more.
Was it difficult to weave that all together?
It wasn't so difficult actually. I don't think it became very difficult ultimately. It became very enjoyable. I really enjoyed that aspect of the story, that the narrative includes storytelling. I really enjoyed that. And you know something that you enjoy does not seem difficult to you.(Laughs)
What do you think of Indian cinema today?
I think Indian cinema is lucky to be getting very popular. I think we are in a very, very interesting space where we are trying to understand what is unique about us. What the world would like to watch. Whether the world would like to treat us like a fad that is going to pass away very soon or something that is going to sustain as cinema that they would like to see forever. Also the range of our movies is quite broad now in India. So with world cinema not being one uniform aesthetic, there are different places or zones of cinema all over the world that is getting attracted to by different pockets all over the world. So I think it is a very interesting time for Indian cinema in the world.
What is your favorite thing about this film?
These two actors, Ranbir and Deepika together.
A message to the fans of your work?
I think the message is always in the film. When they watch the film I hope that they enjoy it.