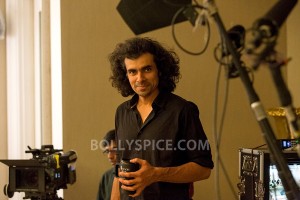 Director Imtiaz Ali talks about his career in an interview for Mumbai Mirror. Ali is currently finishing his forthcoming film Highway, starring Randeep Hooda and Alia Bhatt.
After the success of films such as Jab We Met and Rockstar, the director was asked about the possibility of making a sequel, but Ali is clear. "Jab We Met is over. Now that Geet and Aditya are married with kids, the only way to take their love story ahead is to create a conflict between them, which people wouldn't like." However, he leaves the way open to Rockstar 2. "Rockstar is an open story with Jordan having grown in stature. So far I have turned down every offer, but if I can nail a good story, I wouldn't mind taking Rockstar forward," he said, although he also insisted that the sequel cannot be made without Ranbir Kapoor. "I can't imagine Rockstar without Ranbir."
One of the downsides of Rockstar was Nargis Fakri, whose performance was severely criticized. "Nargis is a good actor, but even if a firang speaks correct Hindi, the body language and diction can put you off. Nargis got more brickbats than she deserved. She can't be back in Rockstar 2 because her character, Heer, is dead."
The director of Love Aaj Kal also talked about his friendship with Ranbir Kapoor. Rumours say that the actor dropped out of 2 States because Ali was not chosen as the director. "I don't know if Ranbir was approached for 2 States, but I wasn't," he said. When inquired why he did not cast Kapoor for his next film the director said, "just because we're friends, Ranbir and I don't have to do every film together."
Ali's next film Highway is the story of two characters from very different backgrounds who take a road trip across six states in a truck. The director had to wait for years until he had the opportunity to take the story to the big screen. Starring Randeep Hooda and Alia Bhatt, the director is full of praise for his actors. "The film is a journey through the Northern belt and Randeep (Hooda) is from that region, speaks the lingo and understands what it means to be under-privileged and lonely." As for Alia Bhatt, "Alia is extremely young but has lived life her own way. Her youth and innocence will make the character more charming."
The story of Highway is inspired by the director's life in Jamshedpur (Jharkhand). "It's inspired by the thought of what happens when you leave civilization and all its plasticity behind and return to a very basic life. I crave for the simplicity of the home I grew up in."
Highway is scheduled to be released on February 21 next year.