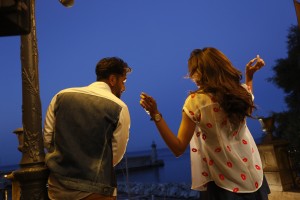 After the very successful Yeh Jawaani Hai Deewani, Deepika Padukone and Ranbir Kapoor will now star together in the upcoming film Tamaasha. All we know is that this is a fun and lively romantic film which will feature Ranbir's character as a nomad who will meet Deepika's character on the island of Corsica.
Here's what Director Imtiaz Ali had to say about the two leads and the film:
"There is something special in you. Don't ignore it. Don't change yourself to fit into this world. Please… give ourself a chance.
She reminds him of who he is. He is the small town boy who has grown up in the world of stories. He belongs to that world. He is not suited to the corporate rat-race.
The journey he goes through to reach himself is the stage for Tamasha. It's a personal journey – passionate and quirky – that dismantles his life so that he can become how she sees him – the exuberant story-teller."