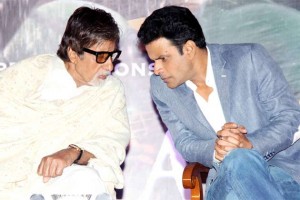 Manoj Bajpai is known for his strong characters portrayed on-screen. The actor who has won many accolades for his roles in movies like Shool, Satya, Zubeidaa and Raajneeti amongst many others has been paired yet again opposite Big B in a negative role for his upcoming movie Satyagraha.
The National Film Award Winning actor prefers to do a villainous role while sharing the screen space with the mega star. He feels that no other character stands strong enough opposite Amitabh Bachchan and thus it is better to do a negative role.
"In an Amitabh Bachchan film, there's no other role which is better than his. In such a situation it's only the negative role which is as good as his, so it's best to go for the negative. I must say in films like Aks, Aarakshan or even Satyagraha now, the roles were written very carefully," said Bajpai.
Bajpai who has done many anti-hero movies in his career span of 2 decades, would be seen for the third time in a negative role opposite Bachchan. They have previously worked together for two movies – Aks and Aarakshan.
The 44-year old who has played negative characters effortlessly, feels that it is difficult to portray such characters. "Negative roles are very difficult. In this film (Satyagraha) my character is a pure villain but I had to make an effort to evoke laughter too", stated Bajpai in an interview.
Satyagraha releases on August 30th and stars Amitabh Bachchan, Arjun Rampal, Ajay Devgn, Kareena Kapoor and Amrita Rao along with Manoj Bajpai.