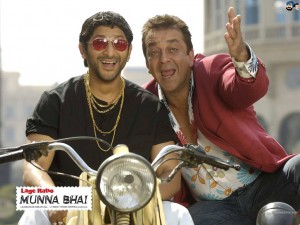 Day 2 of Vinod Chopra Film Festival 'In Conversation with Cast & Crew' turned out to be a great surprise with the star cast of Munna Bhai 1 and 2. Vinod Chopra along with RajKumar Hirani, Sanjay Dutt, Dia Mirza, and other supporting cast of Munna Bhai MBBS and Lage Raho Munna Bhai came together to talk about the film.
The conversation was moderated by Sriram Raghavan who seemed pretty intrigued with Vinod Chopra films. The evening started off with Raj Kumar Hirani and Sriram Raghavan sharing some of their college memories, which made everyone in the audience warm and happy.
Boman Irani and Arshad Warsi surprised everyone with their entry. Rakumar Hirani spoke about conceiving the idea behind both the Munnabhai series. Rajkumar Hirani also spoke about how he came up with the idea of hallucinating Gandhiji in the movie. Gandhiji was constantly remembered throughout the conversation. Dia Mirza added her inputs and kept complimenting the magic of Vinod Chopra Films.
Boman Irani also expressed his love for both the movies and added that the script made him teary from his heart. Vinod Chopra even said that he did not expect the term 'Gandhigiri' to become such a huge rage, as he had just replaced 'Gundagiri' with 'Gandhigiri'.
Talking about the role, Sanjay said, "All I would say is I am happy with the response of the film and my role has been getting even today. It is a memorable role and very few actors get to do it. I am lucky to have got this role. Personally, in daily life or even career wise, Munnabhai has changed my life and image in many ways."
On a whole, the evening was magical as the stars were clearly smitten & struck remembering the magic of Munna Bhai, Circuit & Gandhiji.
Facts you didn't know:
1. Sanjay Dutt was initially offered the role of 'Zaheer' (Jimmy Shergill) before Munnabhai.
2. Many scenes from both Munna Bhai MBBS and Lage Raho Munna Bhai were actually taken from real life incidents.
3. Before doing Lage Raho Munnabhai, Sanjay actually watched Munnabhai MBBS 10 times to get back into the character.
4. Rajkumar Hirani is from theatre, he believes that 'Theatre is the best way to hone skills'.