There are many types of films out there in the world. There are movies that make you sing and dance, films that make you cry, films that are over the top and films that are quiet but still powerful in their resonance. Prashant Bhargava's Patang is an art film in the highest definition that is filled with both exciting scenes, beautiful pictures and quiet moments, where a look or an action literally takes your breathe away. Over six years in the making, the film is a poetic journey into the heart of the old city of Ahmedabad. Patang weaves together the stories of six people transformed by the energy of India's largest kite festival. Every year a million kites fill the skies above the city: dueling, soaring, tumbling and flying high. When a successful Delhi businessman takes his daughter on a surprise trip back to his childhood home for the festival, an entire family has to confront its own fractured past and fragile dreams. Along with the incredible story and cinematography another amazing thing about the film is that only three of the lead characters were actors: Seema Biswas, Nawazuddin Siddiqui and Sugandha Garg, the rest of the cast were non-actors or just people in the town of Ahmedabad.
First, I think you must see the trailer:
httpvh://youtu.be/P_rOqsX-aY8
Now that you have seen a glimpse into the film, read on because we chatted with Prashant Bhargava and since he says it much better, we will let the director tell you more about how he, the cast, and crew created the world of the film. You will find out more about the making of the beautiful, uplifting, moving and flying Patang.
What inspired you to make Patang?
When I was a kid I used to see my uncles fly kites; the strings coated with the glass and they are fighting in the sky and everyone around them was just staring. It didn't matter who you were, rich or poor, Hindu or Muslim. It just felt like a beautiful metaphor to parallel a family's journey. There is a universal thing and that was that kite flying was a meditation in its purest form. The story itself also has a lot of elements of my own family – the joys, the struggles, the property disputes and all of that. A number of the characters have bits and pieces of my own journey. Whether it is Priya with her camera, exploring. Whether it is returning back home and the awkward division of duty and also moving forward – How do you rectify that? The character Sudha is very much like the spirit of my mother in terms of how giving she is. The character of the grandmother is very much like my late grandmother in terms of being someone pious, but at the same time being sly and very forward. They were all people that were very familiar to me. That was the seed of it. My purpose was to allow people to live on screen and that came through a lot of research. I did three years of observation, of getting to know the community and doing research. I shot a lot of documentary footage. During that time I got to know the community very well and the stories emerged from that time as well as my own family stuff.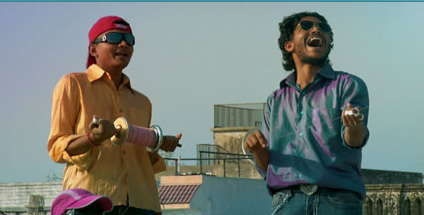 You shot this film very differently. It was very much in the streets and town. Also these long takes of just emotion and feeling. Tell us about the process of filming this film.
When I was filming and you want allow to people to live on screen what you are doing is you are creating an environment. So the choice of the smaller cameras and the size of your crew, it is done so that people are actually experiencing everything as it is going on. You are working with 90% non-actors and three actors so you can't necessarily share the script. Only three out of 40 actually read the script. So I would give them physical objectives and then, other than those 3 actors, the others would really be those people in real life. For example, when Bobby kissed Priya, it was not only his first kiss on camera, it was his first kiss in real life. That was the methodology. That scene with Chakku, it was actually a real wedding procession and Nawaz was at the wedding procession singing on one side. He had rehearsed with the band and he knew the band well but it was he the actor as Chakku within the real scene wedding reception. Or like Bobby in the electronics shop when he flirts with Priya by pushing the car. Real business was being conducted as we shot that scene in a very small store. You really have to be discreet with your camera. The shopkeepers and everyone are on your side let's say by controlling the public. With all that you got a very different texture to it all.
So how did you get the non-actors to be in the moment and get the shots?
It was about getting people to fall into that rhythm and then as I said I gave them small physical objectives. When I had the boy, for example, I had him work two days in the kite shop and that atmosphere and what it felt like to work in the kite shop came clear by being told to go clean this or do that. When he started doing those tasks his boredom started to take place, his impatience started to take place. If you tell the kids to catch 10 kites as fast as they can as the kites get cut and they want to claim the kites as a prize, he is going to run through traffic, as he normally does, trying to catch a kite. If someone else gets one he is going to be sad, then he is going to focus again, look above and then someone might run into him with a rickshaw. These are all very familiar things that happen to them every year for the kite festival. So you have to take a script that has lines, break it down to something more emotional in terms of an objective: demand playfully, seduce this way. Then for children and many non-actors you have to bring it to a very physical task they have to do. Bobby is a beautiful kite flyer so for him to get on that roof top to show off and flaunt his shirt and be the ladies man and bring Priya over is well… that is his thing anyway, so he is going to do that. I think sometimes the amplitude of the drama is that it is a type of film that for those people they wanted to be involved and offer a little bit of themselves as I did when I was observing in this Ahmedabad, you can really fall in love with it. It is that everyday kind of moments that were just created by assuring that whatever was happening was something that was familiar to them. When we brought in a crew, we didn't want to tear down a city block and replace it with extras, we wanted everything to be as it was. So setting up the environments and by creating all these things and by giving these physical objectives you could get a lot of the scenes. Then I also had the benefit of having these actors. Most of the scenes are with the non-actors, there is also one actor there so also through their dialogue and their actions guiding the arc of the scene along with the non-actor.
There are so many shots where you just let the moment speak for itself, for example when she tears the pink napkin. That shot really resonated with me. How did you create those moments?
Seema is an amazing actor. She really brings this additional level of absorbing the character completely within and the way she physicalizes behavior sometimes is absolutely amazing. That moment was a time of reflection on her late husband and being reminded of all that difficulty there in the family with his drinking. It was something uncomfortable and it was a place where for one of the first times in the film thus far she couldn't actually just stand up and say, 'Okay, let's change the subject, What can I get for you? What can I do to make you feel more comfortable?' She actually had to reflect it. That napkin was just a beautiful symbolic way of showing what her life was like at that time… of here's a fabric that is being torn and now what do I do? I was just struck by that. There are so many moments of hers like that, but that was something very special for me too.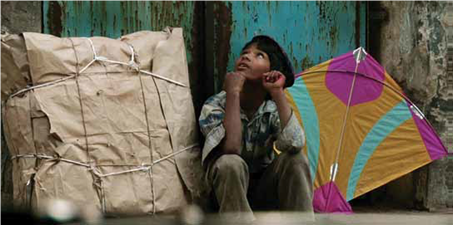 The other shot that really got me was the shot of the boy after the grandmother closed the door on him. The look on his face, how did you get that from him?
Yeah! He surprised me a lot as well. It was late at night; he really wanted to get home. He knew what the significance of home meant. He's coming home late, he had a hard experience, the fight that had occurred earlier and he hadn't got his money. The boy knew the story but just somehow when that door closed and that look…the way he just looked up and the look on his face, I was just blown away by this kid's ability to personalize it so well.
Then there was the one scene on the roof, when Bobby was talking about the "Love of Ahmedabad"…
Bobby's line about the "Love of Ahmedabad" and "Have you ever had your friends mother feed you with her own hands?" are two lines that have deep meaning for me. It's the spirit of Ahmedabad and represents the simple magic and strength of living there. That conversation was really something amazing when we shot it. Aakash Mahayera (Bobby) genuinely had fallen in love with Sughanda Garg (Priya) and that break up was truly experienced! The lines came from his heart.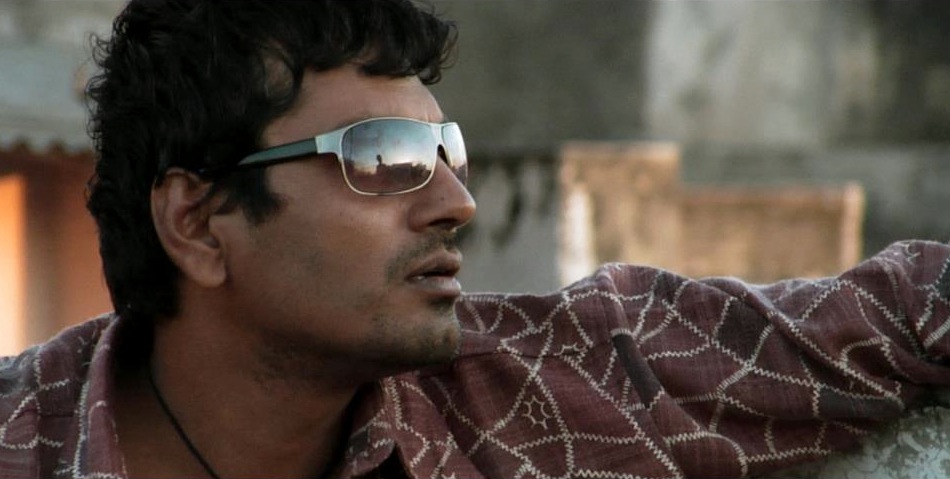 Tell us about working with Nawazuddin Siddiqui
Nawaz is a very instinctive actor. You sometimes have different types of actors who need to prepare a lot and rehearse scenes. Nawaz is someone who can just go with it and go with the flow. For him, this was his first lead role in a feature and since then he has done many, many films. Eight are releasing this year, two recently released at Cannes. This is a really nice story… for his original audition he went up to a fish vendor and he picked up a fish. There was this woman who was selling the fish. He looks at the fish side to side and then he opens the mouth of the fish, looks inside, sniffs it, looks at her and puts it away. When I saw that and when I saw that mystery that you saw of… What is he doing by holding this fish this way? Why is he doing that? And then the reaction that was inspired by the vendor I thought 'Oh this is Chakku!' He has a swagger and he has an angst within him that he just brought to it. During the research process, I gave him very little guidance; we talked a little bit about the character. He spent three weeks hanging out at the chai shops and meeting people. He found a real character like Chakku and went into his home, got to know him real well. Watched how he sat, how he talked, what his speech dialogue patterns were. He just completely took on Ahmedabad and the role of Chakku and got into it. I think he is destined to be something quite amazing. There is a power that he has as Nawaz Siddique that is going to be something really special.
I love Sugandha Garg as an actress; tell us about working with her.
Sughanda has done a little more of the traditional Bollywood stuff where Nawaz is certainly leading the other movement in Indian cinema. Sughanda is a flirtatious, exuberant personality and is someone who just carries the essence of Priya with her. She went above and beyond what the role was. She would explore with her camera and became very fascinated. She loves to draw and take photos on her own. Coming to Ahmedabad from Bombay, it is a huge stark cultural difference with the old city of Ahmedabad. So when she arrived there, her mannerisms and the way that she carries herself, she certainly pops out as a big city girl. But she also went through that process of falling in love with the place as she shot with the camera and played with the kids. I remember in Bombay when I auditioned her we went to Chaupati beach and she played with a bunch of kids with the camera. She has this magnetic quality where people just come up to her. She certainly is someone very beautiful and she creates an amazing energy around her.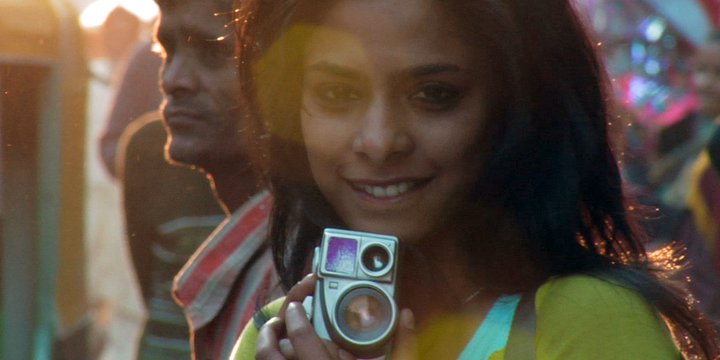 I also love the music in the film. Tell us about creating the soundtrack for Patang.
The score was done with Mario Grigorov – an amazing Bulgarian composer based in LA. I initially did not connect with the first few tracks he proposed. I suggested we sit together on a piano and work together. That was beautiful. We composed three melodies for the central themes of the film – the House, the past memory of the brother and the kite. The process was like both us delving into the emotional depth of the film as actors more than a director and musician. He later worked with a range of musicians, letting go of the piano in the film. He collaborated with India's renowned classical singer Shubha Mugdal for the opening, climatic scene and the closing scene. I love her voice – the depth, wisdom of it.
For the other tracks I worked with music supervisor Shivani Alhowalia. We brought together an international cast of DJ/Producers – Maga Bo from Brazil and Djuma Soundsystem from Denmark. Then we worked with Pankaj Awasthi, Papon, and Shilpa Rao as the singers. Khaak and Amitab Bhattacharya did the lyrics. None of us ever met during that process. I would explain the essence of the scene and the feeling and everyone just gave their hearts to it.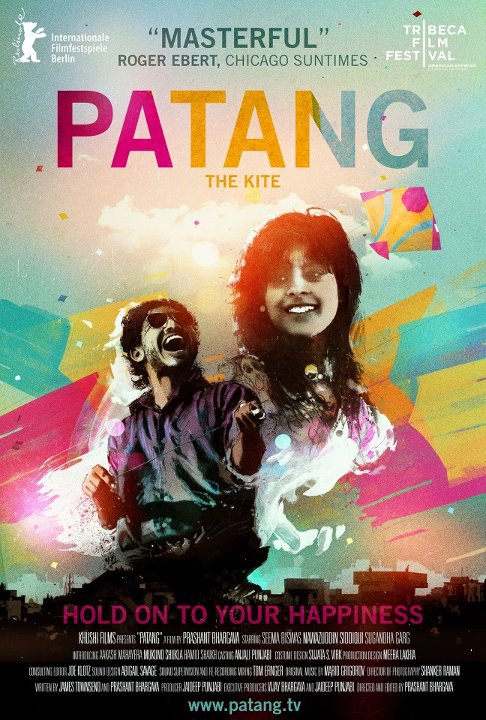 The film has been chosen for so many prestigious festivals plus esteemed critic Roger Ebert said about your film, "The storytelling is effortlessly made part of the hypnotically beautiful visuals, and woven into a kaleidoscope of colors, faces, music and a little romance. Bhargava is masterful in the way he allows his story to emerge from his mosaic, instead of spelling it out by the numbers. Evokes the old and new Indias side by side as well as I've seen done." How does that all feel?
I put a lot of life into this, it has been seven years of my life and to be welcomed into such prestigious film festivals and to be applauded by the critics is amazing. It really is a celebration of the city of Ahmedabad. It is a celebration of all those people from my own family, my parents to my family who invested in the film, to all the people that worked on the film. This is something that was made from the earth. What I mean by that was that it was a community driven effort. So to have that recognition is something that is more than just for the film, it is the recognition for so many that worked on this. I just feel really honored and really touched. It also inspires you, you gotta make another one.
What do you hope audiences will take away with them after seeing the film?
There is a line in the film that Seema who plays Sudha says, "We don't hold on to our past or our sadness, we hold on to our happiness. Our little, little happiness." That is the message of the film to me. The journey of these six characters during this festival and that everyone is transformed by the energy of this festival and their lives are improved in a little way. I have had the wonderful opportunity of seeing that, whether it is screening in Mexico to Berlin, New York or Ahmedabad, people have come up to me and said that the film has touched me in that way and it has alerted me to my own little happiness.
Patang opens in the US and Canada on Friday June 15th! Stay tuned we will have a full review of the film as well as interviews with both Seema Biswas and Nawazuddin Siddiqui!