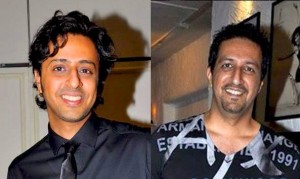 Beginning with Hamesha in 1997, the great musical duo of Salim and Sulaiman Merchant have given Bollywood's actors and actresses, and of course, fans some of the greatest music heard and danced to in Hindi Cinema. They are the gentlemen behind incredible soundtracks such as Aaja Nachle and Chak De! India in 2007, Rab Ne Bana Di Jodi and Fashion for 2008, Rocket Singh: Salesman of the Year and Kurbaan in 2009, Band Baaja Baaraat (2010), Ladies vs Ricky Bahl and Love Breakups Zindagi for 2011 and so far in 2012 Jodi Breakers with more to come. Phew! The mind boggles with how many great songs are on those OST's and how many tracks of theirs I have added to my all time favorite song playlists. Besides composing, the brothers have embarked on a world tour. They just finished up a hit US tour and now are getting ready to thrill and entertain UK audiences on July 14th and 15th. I had the fantastic chance to chat with Salim and Sulaiman and both conversations were fabulous, fun, interesting and make for a very good read. Check out what they told me about how they create music, their all time favorite song and what audiences can expect from there very first live concert in the UK!
Their journey to Bollywood
Salim: It's been actually a cakewalk, quite honestly. I mean lot of people do have to struggle and have their problems to enter this industry and score movies and do songs, but quite honestly for us it's been a cakewalk. We had worked in advertising before the movies, so it was a gradual progression. We had done about 50-60 commercials and advertisements and within six months our work got noticed. One day a director, Sanjay Gupta, noticed our work. He really liked one of our commercials, which we were working on in the next studio. He just pulled us in and said 'I want you guys to score my movie' and that film was Hamesha. Ever since that, there was no looking back; every year there was a milestone in our career, Dhoom (background score), Kaal and more. There were songs like 'Chak De India', 'Rab Ne Bana Di Jodi', 'Fashion' and 'Kurbaan'… all amazing. We got this great opportunity to score great films and there was no looking back after that.
Creating their music
Sulaiman: I think there's a lot of spirituality that goes into it first of all. Beyond that then we divide how we work. Salim does all the musical elements, I do all the rhythmic elements, the rhythmic percussions, and then Salim records the vocals behind what you hear. Then I sit down and mix and that's how we have a product.
Salim: Mostly the script drives everything; we have songs marked out in the story.
Sulaiman: Every time that you hear a script or you read a script, you are actually seeing colors and seeing visuals and that becomes the inspiration point for a song. So you are looking at different elements, the background of a film, the storyline and how it progresses and where it goes and how things become real. We like to do a whole reading of the script and go with the flow of the film. So there's a lot that relies on the script because that is finally the big one in terms of your inspiration.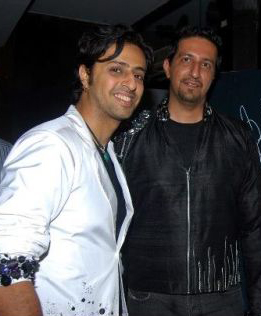 Salim: Then there is the idea, which comes from the lyricist. Or I crack the hook: like I wanted the words 'Aaja Nachle' in the song and also wanted 'Chak De India' in the track – I try to bring the titles in my songs. It was a little difficult with Fashion because "fashion" is a little bit drab, so I made it 'Fashion ka Jalwa'. So yeah, basically there's an idea, there are grooves and there are recommendations of that groove. The song basically gets married to the groove and my brother does all the rhythmic programming and I come up with the tunes.
It starts off with a jam in the studio, which sometimes ends of up being scrapped, or it turns into a big hit. It really is the interaction between Sulaiman and me. Sometimes it is really late at night and we jam and we make a song. Sometimes it takes two or three days to come out with a song that we are satisfied with that we continue working on. Sometimes I sing the song in my head a couple of times before I pull Sulaiman into the song. Once it all starts to come together we start elaborating on the arrangements and we get the other musicians, the guitars and this, that and the other, percussions and strings, singers and chorus – all kinds of things. That is how it goes; it's quite a beautiful process. It's creative yet tiring, but very satisfying that much I can say.

Inspirations
Salim: Obviously it is at that time what I am feeling, what I have been through, my travels, my personality, my interactions with people and family and my feelings – it is all that. Music is a reflection of my personality. As I change and as I grow older or younger (laughs), I go through different phases in my life from being a composer, to a singer, to a reality show judge, to a celebrity. It is all so beautiful the kind of journey I have had. Basically the music just reflects on everything and all that is really inspiring. What you experience, see and do, changes you as a person, as a composer and as an artist. I really enjoy working on songs, which are a brilliant representation and reflection of my personality. It is really hard to explain and express. But, yes, it is fab!
Most of the time we are doing songs that are basically just script driven and there are situations which I am bound to. So for example, like 'Haule Haule' (Rab Ne Bana Di Jodi): it was a situation where Shah Rukh was going on a scooter and he gets his first tiffin. I am supposed to write this song and the script says, 'Slowly he falls in love with her', so we just translated that to 'haule haule ho jayega pyaar'. Then I just stared playing the (he sings the lead-in notes paa baap baap baap paa…da tha daa daa tha- you hear them don't you?) that started off the song. Then Sulaiman came in with a beautiful, infectious groove. I liked the word Haule Haule and I started off the song with (he sings) 'Haule Haule…Haule Haule' and kept it going simple, you know, because the song was made for Suri, the character played by Shah Rukh in Rab Ne. It needed simplicity in its tune, in its music and in its soul. It was beautiful actually, really beautiful. Some times good things happen really quickly. And honestly to make things simple and make things easy is the best but the most difficult thing. It is also the simplest thing.
It really depends on your energy and your tuning with the director, your feeling at that moment, what you want to give back to your audience and to your friends and fans. It really is a combination of a lot of things.
Favorite songs
Salim: I can't really pick one, but I think if I did it would have to be 'Shukrah Allah'; it is beautiful and has a great energy. It is kind of timeless. There is also 'O Re Piya' from Aaja Nachle, 'Maula Mere Le Le Meri Jaan' from Chak De! India, 'Yeh Honsla' from Dor… there are bunches of them. There is 'Ali Maula' which is very ritual and prayer-like and it also is special because I have sung it.
Sulaiman: I have a few. I actually think that all songs we do are small little babies that we create and send out into the world. It's very difficult to actually distinguish between a good song, a hit song and a big song. It's kind of crazy to do that. But having said that, 'Ali Maula' (Kurbaan) is one of the songs. We actually started it off as a prayer. It was something that we didn't want to release, did not want it to become a commercial track, but it all worked out so beautifully. Salim sang that song for the first time and it was very spiritual. It was a very magnetic connection that we had to the song. Then Karan (Johar) heard it and he said, 'You know what, I think that's just perfect for the film that we are doing. It's called Kurbaan and it's a very Islamic film.' He said, 'I want to use the song somewhere'. I trust Karan's judgment and knew the way he would use the song would just be perfect and it worked out very nicely. So that's one song that I really feel very proud about and I feel very connected to.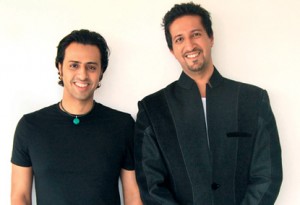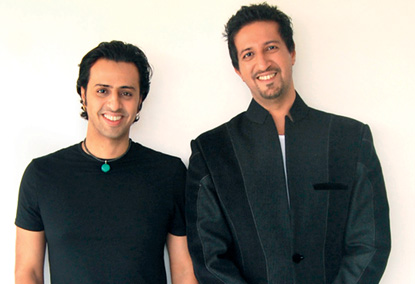 I Really loved the songs of Aaja Nachle
Sulaiman: Oh yeahhh!
Especially that last Laila Majnu play with 'O Re Piya'… actually I thought the whole play was one of the best things I have ever seen. It was just incredible.
Sulaiman: (Can hear his excitement) That is! That whole thing started off at 25 minutes, if you want to know, and it finally ended up as 12 minutes. We actually scored 25 minutes of that whole thing. The whole process started off with the whole fact that okay… we are suppose to do a 25 minute scene in a scene. It's almost like a picture in a picture kind of a situation that you are creating music for and it is 25 minutes of epic. The beautiful thing is that the music is back to back. You have to compose the whole thing before it's picturised because everything is lip-synced. It was kind of crazy. I remember it was January and we were working nights and trying to figure out the drama and how it unfolds. It was written and we had to put it into music. It was quite crazy and it was quite epic, but we had a lot of fun doing the whole drama and the way it unfolds and how you take it down into the love section and how you build it towards the Laila Majnu drama. It was a lot of fun.
The UK concerts!
Salim: We always only made music in the studio and we have just started performing live like one and half years ago. Everybody says, 'Where were you guys? We love these songs and we have always wanted to hear them live!' This is a time for us to give something back to all our fans because we have received so much love and affection from them. In the concert, we give them the songs they love so much in a live and very different, very, very fulfilling way. Different live because we have the Urban Soul Orchestra and they are going to be doing all of our music live with us. It is very beautiful. We also have an amazing band and some of the musicians that have also played our OST's will be performing with us. Then we have three incredible artists singers Benny Dayal, Shraddha Pandit and Shadab Faridi, they have sung most of the songs in the recent past. We have an amazing bunch of backing vocalists so all in all some great musicians and some great singers. It is amazing. It is really inspiring and very beautiful. Honestly, I get moved by my own songs when listening to them played live because they are such artists. It is quite an experience and it is an experience we want to give back to the people and our fans so they will remember it for a long time to come.
Sulaiman: We are so excited I can hardly even tell you. We've done a very, very successful tour in the US and we had so much fun performing for the US audience. We've got a full-blown orchestra performing with us, which is amazing, and it's something that we only do for our concert tours abroad. So that's something is amazing to look forward to. It's amazing because you feel the connection you have. That whole band performing with you… we have some amazing songs that we want to deliver. I feel on top of the world. Every time we perform, it sucks the life out of you because you are giving your 100% to the audience. You want to feel their energy and you want to give them a 100% of what you've got. A lot of effort goes into performing for an audience. It's something that we love doing, we love sharing our music, we love sharing our experience every time that we perform on stage and I'd love everybody to be a part of that experience. It's going to be a lot of fun. It's an audio-visual experience that you'll not want to miss.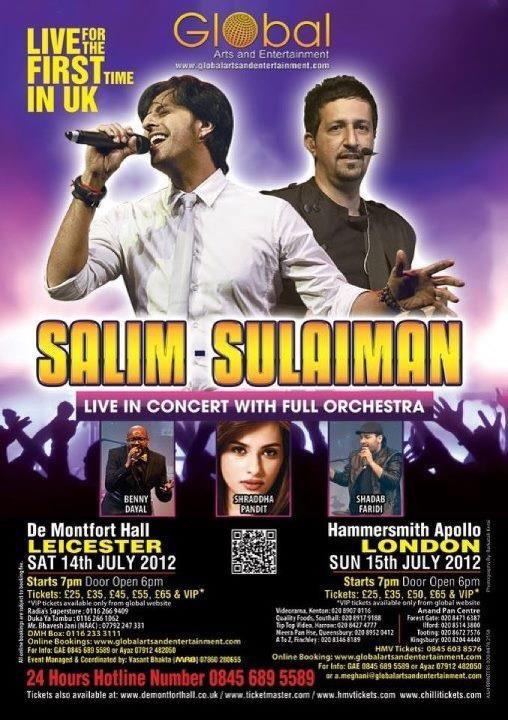 Then I ask about Heroine…
Sulaiman: Aaaaah! That's a bad one. (Laughs)
I thought I'd sneak it in…
Sulaiman: (Laughs) Hmmm, I can tell you Heroine music is going to be really, really awesome. We've been working on it for a while. We've got really, really big artists performing the songs; you've got Shreya, Sunidhi, Rahat, and Salim singing couple of songs. It's going to be a visual treat and an audio treat that's for sure. The songs are really big. I know that the songs that we have done, the way they have worked out, are probably going to be the biggest that we've done so far. So you guys can look forward to some amazing music.
Fan's Support
Sulaiman: You know fans are what make our music popular. People are who we rely on to make our music what it is. Without people I would be listening to my songs in my car and feel very proud of it, but people are what make our music what it is, they are the ones that make our music popular, they make it successful. I believe and respect all the people who like our music and would go out there and buy the CDs, buy our music. I am really am happy to say that we have a great fan following.
If you are in the UK you can see the fab duo at Leicester De-Montfort on the 14th of July and London on the 15th at the prestigious HMV Apollo Hammersmith. Certainly seems as if this is a concert not to be missed! We will definitely try and catch up with Salim and Sulaiman before the release of Heroine so watch this space for hopefully more!